Overwatch's Hero 30 is combat medic Baptiste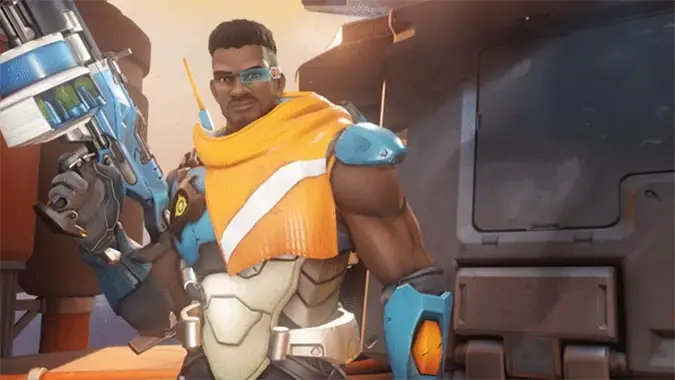 Jean-Baptise Augustin, as expected, is Overwatch's 30th hero — and from the looks of it, he'll be a Support hero. Kind of out of nowhere, the Overwatch Twitter and Facebook accounts dropped a Hero Origin Story video about Baptiste. At the time of this writing, there's no word on when he'll be out, but I'd guess he'll be available this week on the PTR.
"I'm going to fight for a better world," he triumphantly says in the video. "For some that means a bandage, for others, a bullet." Baptiste explains suffering from the war and being picked up by Talon. As we know from the teaser last week, Baptiste left. Now we know why. Full video below:
Judging from the video and an in-game screenshot that's floating around, it looks like Baptiste will be a Damage-and-Support hybrid hero. He might play like Ana where his gun — which looks like it has healing ammunition — will restore health to allies but also damage enemies. He might even have bits of Junkrat with grenade-launched heals, but it's incredibly hard to tell based on the little information we have.
His voice actor, Benz Antoine, is a Haitian actor that matches the character's background and apparently "non-English lines," as most Overwatch heroes do.
His hero portrait almost looks like he was in the Soldier program like Reaper and Soldier: 76. Then again, when you have the opportunity to wear a cool visor, who wouldn't take it? I'm very interested in what his thoughts are on the current Talon members and what he knows. The teaser shows that Sombra knows about him for sure. He left them for a reason in the game's ongoing story, and it might lend some more clues to fan theories about the organization crumbling. It's going to be especially interesting to hear the in-game spawn room dialogue between him and Doomfist.
As usual, Baptiste should launch on the PTR soon and go live in the game within two weeks after that. This should all happen just before the game's Archives event in March. How do you feel about Baptiste as Hero 30? Are you excited for a new Support? Disappointed? Oh! And what do you think his abilities will look like in action?