We played new Overwatch hero Baptiste on stream and this is what happened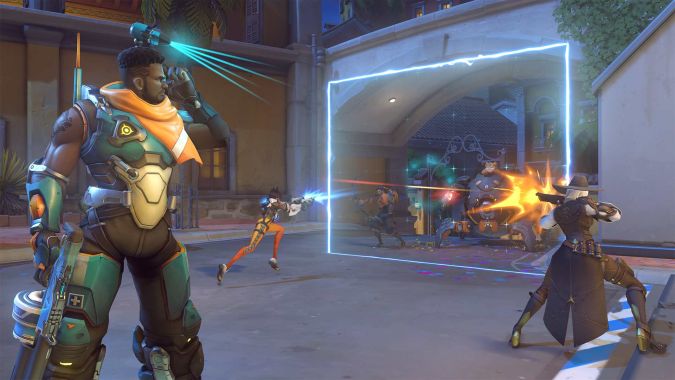 New hero Baptiste hit the Overwatch PTR today, so we jumped online to test out the newest Support hero. This is all the stuff we found out.
Baptiste has some game-changing abilities that — on paper at least — could be some of the strongest things in the game. Not only does he have a rifle, he has the ability to heal allies, jump great heights, amplify damage and healing, and grant temporary invulnerability. Even after a few hours of playing him, it's clear that he's going to be a difficult hero to get into, and he'll have a lot of opportunities to change the outcome of fights.
Ultimate abilities like D.Va's Self Destruct can't even kill Baptiste or his allies if they're inside his Immortality Field.
Even something incredibly powerful like a Reaper Death Blossom won't necessarily kill the Immortality Field's emitter before the target gets healed or escapes. The invulnerability lasts for a second or so after the emitter is destroyed.
Baptiste's Ultimate ability increases damage sent through it by 50 percent, just like Orisa's Ultimate. That means everyone who manages to line up behind it will deal massive damage. The damage increase also stacks with other damage amplifiers, so it might get to the point that a Widowmaker body-shot will one-shot you.
When you put everything together, Baptiste has so many abilities that can be used in tons of different situations. They're easy to screw up, but if you nail them, you'll be both eliminating enemies and keeping your allies at full health. The No Limits Arcade Mode we played on the stream doesn't realistically show off his impact in a real game though. You can imagine how frustrating it will be to use something like a Pharah Ultimate and not secure a single kill. You might even get shot out of the air before you get to ult.
Baptiste is currently available to play on the PC PTR servers. He'll likely go to the live servers and console version of the game in two weeks or so. Be sure to follow us on Twitch if you want to know when we'll be streaming more Baptiste and other games in the future!