Off Topic: If you've ever wanted to see Stardew Valley turned into an esport, today's your chance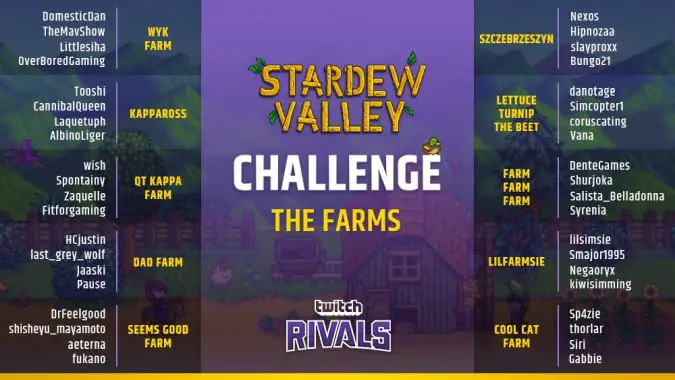 Some mad geniuses designed a way to turn peaceful farming simulator, Stardew Valley, into a competitive esport — and those mad geniuses also found a way to involve a $35,000 prize pool. Yes, you read that right. The event promises to be full of death, destruction, and betrayals the likes of which you can only watch on HBO.
Okay, so maybe it's not that intense. But it's still competitive Stardew Valley, and I am all for it.
"How the heck do you make Stardew Valley into an esport?!" you might be asking. Great question! The official rules are actually pretty straightforward, with the overall competition taking place over the course of six hours, between 10 different four-person teams. Each team is competing in a number of different categories:
Complete the Most Bundles – Teams compete to compose and deliver the most bundles to the corresponding bundle rooms in the community center. Teams will be ranked based on number of bundles delivered, followed by least amount of time.
Earn the Most Gold – Teams compete to earn the most gold within the designated Tournament period.
Mines Deep Divers – Teams compete to reach the bottom-most floor of the mines.
Obtain Legendary Fish – Teams compete to catch all five legendary fish in the least amount of time.
Master Curator – Teams compete to collect and deliver the most rare items to the Musuem in the least amount of time.
Twitch Rivals breaks down the specific prize amounts nicely, but a single team could theoretically take home $21,500 for doing the best in each category. Granted, that's unlikely to happen with how many teams are competing and how the prizes are earned — but it's still possible!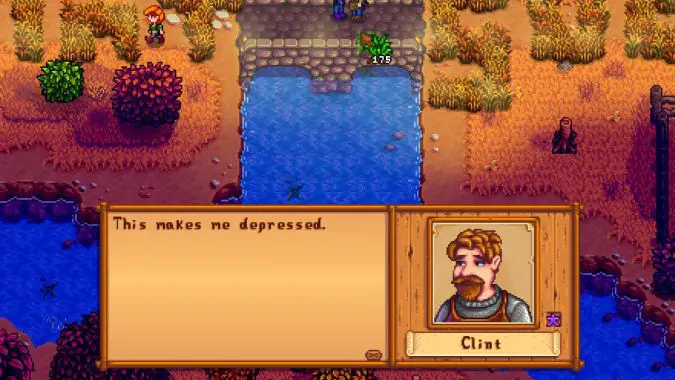 I'm actually super excited for this event, but this was the only Stardew image I'd saved to our media gallery, and it makes me laugh. Freakin' Clint.
Frankly, outside of the general craziness that watching 10 teams compete in Stardew promises to be, I'm excited to see how crazy the min/max games of different teams are. I only ever scratched the surface when playing the game — trying to figure out which layout would allow the most crops in my farm, which fruits I should turn into wine, what crops netted the most money per time spent growing, etc. — but I imagine some of the teams will have prepared quite a bit for this. I've always been a fan of speedrunning, and this is in a similar vein, so I genuinely can't wait to see what happens. But even if the teams by and large have not prepared for crazy levels of min/maxing, I'm just excited to watch a bunch of dorks compete over making the best farm for six hours. Could you really ask for more?
If you're familiar with any of the streamers participating, each should be streaming to their own channel. If not, Twitch Rivals will have the event from multiple perspectives, allowing you to cheer on anyone from "Lettuce Turnip the Beat" all the way to "Dad Farm." Personally, I heard about this event via negaoryx, so I'll be tuning in there and rooting for "lilfarmsie" — but I won't judge you if you want to go full Twitch and support "QT Kappa Farm."
The craziness begins today at 9:00 a.m. Pacific, roughly an hour after this post goes live. I, for one, cannot wait.