What are you hoping to see out of Overwatch's 30th hero, Jean-Baptiste Augustin, gameplay or otherwise?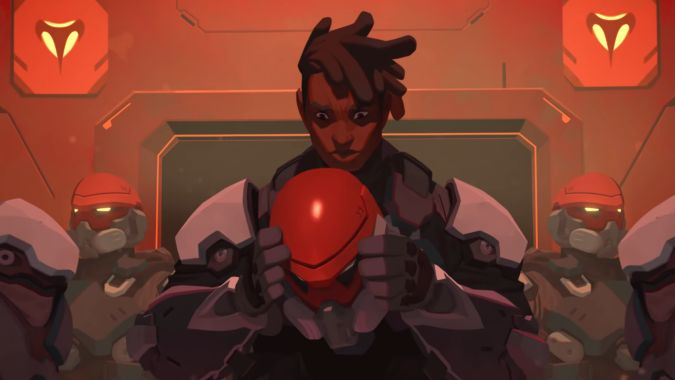 In a move that genuinely shocked me — and many others, I'm sure — the Overwatch social accounts casually dropped the release trailer for Jean-Baptiste Augustin, the game's 30th hero. Baptiste, as he's apparently wont to go by, is a former Talon agent who made the fateful decision the fight for a better world — one that works against Talon. He's going to do that by…Uhh…
Well, we don't actually know yet. I mean, it seems pretty obvious that he's going to be a Support character with a healthy supply of damage output, much in the way Moira and Brigitte both hybridize the Support game. But outside of that, we have a one or two solid looks at his gun's shape and not a whole lot else to go on. For my take, his gun looks a heck of a lot like a grenade launcher — sort of a much more "official" take on Junkrat's weapon of choice.
And that, in turn, has me wondering if maybe he's going to be the inverse-Junkrat. Will he lob healing grenades that bounce wildly? Then again, what if it's an advanced take on the Tommy Gun, and Baptiste rapid-fires rounds and rounds of healing ammo at his allies? I admit, I'm really curious, and I have no idea what his playstyle will look like. On one hand, I don't want him to take away from Ana's uniqueness or end up being a better version of her. I like her "healing with a gun" shtick, and if Baptiste is going to do the same, I want Blizz to have a really unique implementation of it.
But that's just gameplay — we haven't even begun to talk about the lore! As is, well, pretty much an ongoing feeling, I'm hoping Baptiste's release means we'll get heaps more lore drops now. You know, as though Blizzard had been hoarding it all until the next hero and is ready to drop it all on top of us. Since I'm a realist, though, I'll settle for Baptiste giving us a closer look at Talon. We've seen bits and pieces of the organization via other heroes, but we don't really know a whole lot. I'm hoping Baptiste — being a former Talon agent gone good — is our "in" to the inner-workings of Talon.
How about you? What are you hoping to get out of Overwatch's newest hero? Do you have gameplay wishes? Lore wishes? Or are you just hoping he manages to break the GOATS meta?