WoW
Mar 7, 2019 2:00 pm CT
Patch 8.1.5 brings new power — and 10 ilevels — to your Heart of Azeroth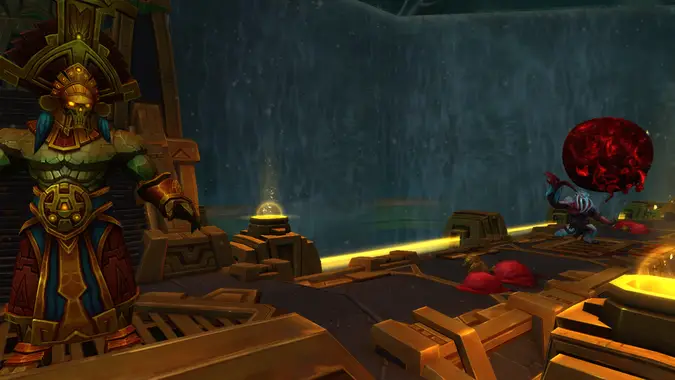 Maybe you already knew that in patch 8.1.5 the Titan construct MOTHER meets up with Magni Bronzebeard in an attempt to save Azeroth. Now the folks at Wowhead have a new revelation — the latest PTR build reveals that as a part of that storyline, a series of new quests will allow you to raise the item level of your Heart of Azeroth by an addition 10 levels.
The questline in question involves both Brann and Magni Bronzebeard working to bring the Matron of Tenacity, Herald of Endless Research — MOTHER for short, and wow, is that not a great big "we started with the word we wanted and then backronymed the heck out fo it' acronym?" — to the Chamber of the Heart where we first got our Heart of Azeroth in Silithus. However, to getting MOTHER there isn't as simple as walking into Uldir and asking. Of course not, because nothing is ever that simple in World of Warcraft. Instead, we have to activate a Titan Waygate, fight off a swarm of Faceless Ones, save MOTHER from their Old God clutches, and help get that Waygate online to evacuate Azeroth's last, best hope so she can start analyzing the damage to Azeroth. Supposedly, after 77 days (which may be more time than Azeroth actually has left, but no pressure) we'll find out what MOTHER thinks we should do.
I'm not sure why we're stopping at MOTHER and not recruiting anything from Ulduar or Uldum or any other Titan facility. Why doesn't Ra-Den make an appearance? What's Odyn up to while the planet is dying? Nonetheless, helping Magni with his recruitment of MOTHER means that at the end you'll get a sweet 10 ilevel boost to your Heart of Azeroth, and that's always nice. Since patch 8.1.5 will be dropping on March 12th, that means you have five days to get ready to help save the world yet again.