Where is the most "interesting" place you've ever gotten stuck in WoW, and how did it happen?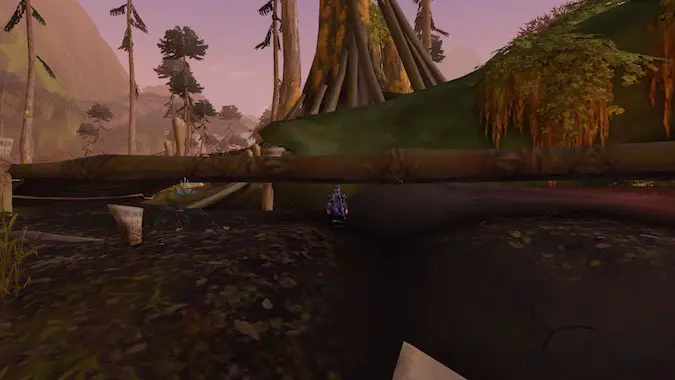 I have the incredible knack of getting into — but not out of — a wide variety of unusual places. My guild can attest to that, I assure you. Take what happened on Tuesday as an example.
We were running Uldir, and one of our guild requirements is that you get yourself to the raid. We do not summon except in rare conditions — it's part of requiring guild members to take responsibility for themselves. I landed at Fort Victory, mounted up, and started riding toward Uldir. Along the way — if they aren't too far off the route I take — I stop to herb or grab a treasure chest. I tend to stick to the road because I'm not interested in showing up at Uldir with a train of Blood Trolls bent on my destruction.
"Oh look! A chest and it's not that far off the road!" I had to kill a couple of crawgs and Blood Trolls to get to the chest. Nowadays, they don't contain anything I need but I still like opening them. I headed back to the plank road and attempted to jump up onto it. Instead, I fell through it. In the screenshot above — taken after the raid — I was stuck under the other side of the road. The hill and the angle of the road didn't allow me to see anything other than the back of my character's head. When I tried to use my Improved Flight Master's Whistle, I was told I had to be outdoors for it to work. Um… It was getting time for the raid to start. Hearthing would put me all the way back in Boralus. At this point, I was asked for me ETA. Sheepishly, I had to tell the guild what happened and that I could only hearth to Boralus. After a round of hearty laughter, I got summoned.
This is not — as I have mentioned — unusual for me. I've gotten stuck in the mountains between Highmountain and Suramar before, too. I don't remember what I was doing but I fell and survived but couldn't get out of where I was. I've been stuck behind potted plants. I gotten stuck above the throne room in Ironforge while on my Tauren when we were doing a For the Horde run years ago. One of the reasons I dislike Vashj'ir so much is how many times I got stuck under building bits. I'm grateful for a fast cooldown on my hearth or having a number of things which can take me places — even if they aren't quite where I want to go — because I'm stuck.
So it's confession time. Where is the most "interesting" place you got stuck and how did you get out? I don't mean you tried to drive a Tauren kodo into the inn in Kharanos. I mean a time you legitimately could not move other than hearth or be summoned or — if all your hearths were on cooldown — you humbly asked a GM to get you out of your predicament. I routinely see a treasure chest in this Nazmir location. I'm going to give this spot on the road wide berth now and approach it from a different angle.