Is a Diablo TV series on the way?
Last year, speculation was rife that we were going to get a Diablo Netflix series, perhaps a Castlevania style animated show. These rumors were fueled by people like me who desperately wanted to believe them, but also by Andy Cosby tweeting about working on a Diablo series — though he took the tweet down almost as soon as it went up. Almost as soon. This being the internet, Cosby's tweets got noticed, and since the man wrote the soon-to-be-released Hellboy sequel and created the TV show Eureka, his name even being conjectured to be involved with a new Diablo series got people excited. However, BlizzCon came and went and there was no announcement of any such series.
Now, however, a trademark filing with the US Patent and Trademark Office seems to have breathed new life into that speculation. Searching the Trademark Electronic Search System at the USPTO brings up the following listing, which was filed by Blizzard on March 8. If you'd rather look at it in a larger size, you can click this link.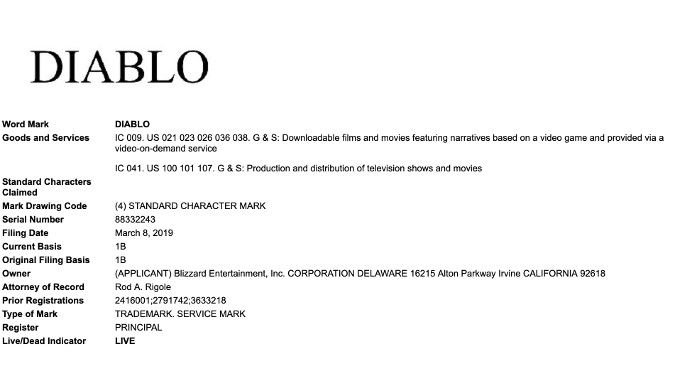 Before you ask, yes, this is Blizzard. We know Rod Rigole is Blizzard's Deputy General Counsel, and he's represented Blizzard before (you may have seen his name attached to the court case against Honorbuddy). And it's a fact that Blizzard, like many companies, is incorporated in Delaware — it's even listed on their FAQ and EULA.
Don't get too excited
There could be a lot of reasons why Blizzard has filed for a trademark for "downloadable films and movies featuring narratives based on a video game and provided via a video-on-demand service" as we see above. This absolutely could just be a case of Blizzard filing for the trademark just to make sure it's secure in case they want to make something later. But the speculation from last year about a Diablo show on Netflix would dovetail nicely with them making something for a "video-on-demand service" as listed in the trademark filing. Blizzard's been pretty radio silent about all things Diablo since BlizzCon 2018, but with both Gamescom and this year's BlizzCon yet to come, it's quite possible that last year's rumor could become this year's announcement.
I hesitate to get too giddy. We haven't heard anything from any of the players from last year and there's nothing from Blizzard on this subject, just a trademark filing. It doesn't mean we're getting a Diablo animated film or feature or series or anything. It certainly doesn't mean a Netflix live action Diablo movie.
Now if you'll excuse me I'm going to go scream into my pillow demanding all of these things.