Off Topic: The sudden Sonic the Hedgehog redesign is another example of why crunch sucks and unions are needed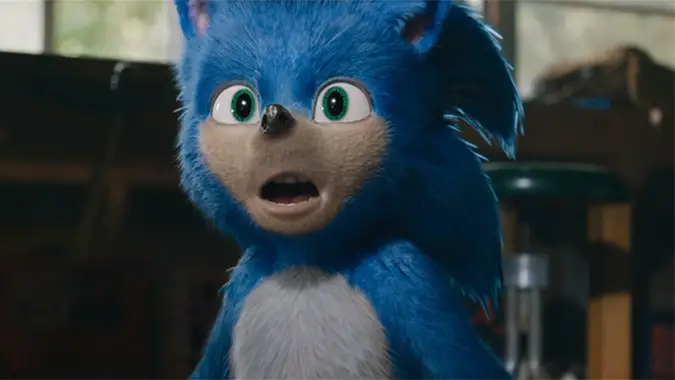 Sonic the Hedgehog, the upcoming live action movie that stars Ben Schwartz and Jim Carrey, features an CGI version of the beloved character that a lot of people don't like. And now it might be changed because of the fan reaction — which could mean bad news for the workers creating CGI Sonic.
If you saw the trailer, you might see why. Sonic's design is significantly different than Sega's depiction of him in their games, upsetting fans and puzzling others. The original poster for the film hinted at a muscular, furry, and wide-eyed Sonic and the trailer that was released earlier this week confirmed it. It looks awful.
But so does the movie surrounding Sonic. The tone is confusing, and the writing for characters like Dr. Ivo Robotnik is cringe-worthy. The entire idea of a cartoonish hero contrasted with real people has been done many, many times before — and it's being done seemingly better with the upcoming Detective Pikachu. Regardless of how Sonic looks, the film looks bad. Maybe in a good, ironic way, but definitely still bad.
Thank you for the support. And the criticism. The message is loud and clear… you aren't happy with the design & you want changes. It's going to happen. Everyone at Paramount & Sega are fully committed to making this character the BEST he can be… #sonicmovie #gottafixfast 🔧✌️

— Jeff Fowler (@fowltown) May 2, 2019
Director Jeff Fowler went to Twitter to announce that Paramount and Sega will make changes to the design of Sonic just six months away from the film's release. Put another way: the visual effects workers on this film will likely have to rush and work overtime to re-do every scene with Sonic. That's hundreds or thousands of hours of work that probably won't even improve the movie.
Like with Blizzard and the rest of the video game industry, the visual effects industry has severe problems when it comes to crunch periods — something unionization, which the video game industry is currently fighting for, could help with. In fact, Blur Studio, which has done work on many game cinematics, is one of the VFX houses working on this Sonic film. When large companies decide to make last minute changes — like completely redesigning the main character — it trickles down and hurts workers. Without a union, there's no way for workers to fight for healthy and fair labor conditions.
This kind of decision disregards the real people that work on projects like this. The billion dollar companies making movies and games are willing to do anything for potentially higher revenue — including working its employees grueling hours to hit deadlines. before human lives. Putting big businesses ahead of the health of workers is disgusting, dangerous, and needs to stop, even at the cost of having a bad movie about your favorite fictional character.