Now live! The Dalaran Heist, Hearthstone's new single player adventure is here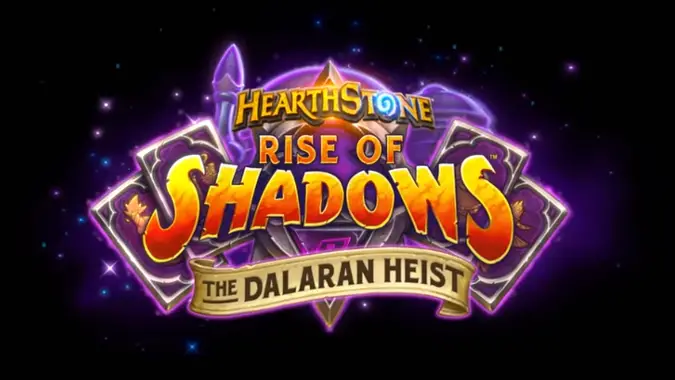 In the Hearthstone's Year of the Dragon, the developers want to deliver the most ambitious single player experience ever, but with the mode scheduled for release soon — it's due out this Thursday, on May 16 —  we still had more questions than answers. Game Designer Giovanni Scarpati came to the rescue with a wealth of detailed information, including the name of the new mysterious new adventure: The Dalaran Heist.
Silly trailers aside, this mode continues to iterate on the same basic model from the Dungeon Run from Kobolds and Catacombs, Monster Hunts from The Witchwood, and to a lesser extent, Rumble Runs from Rastakhan's Rumble. It looks like a lot of funn,  but before we get into the details about how the new mode plays, let's talk about when and how we'll be able to play.
The first wings of the Dalaran Heist are live
The first two chapters available right now, and the next three chapters will release over the new few weeks. The first chapter is free for all players, and each subsequent chapter costs for 700g for a total of 2800g — or you can pay $19.99 and get all four.
I find it interesting that Dave Kosak said the team didn't release single player at the same time as the expansion because it splits the player base — but this model will split the player base, too. The pricing for The Dalaran Heist is identical to the original Adventures, but those original Adventure purchases came with all the cards from the Adventure. While you'll get a few card packs for completing The Dalaran Heist, it's nowhere near enough to complete your Rise of Shadows collection. Some players will invariably have to choose between spending gold/money on card packs for the ladder or for additional Chapters of the single player mode. Players will still be choosing where to spend their time and money — they're just doing it a little later.
Single player content is some of my favorite in Hearthstone, so that's where I'll be when each wing launches.
But with the first wings here, let's look into what we know about gameplay so far.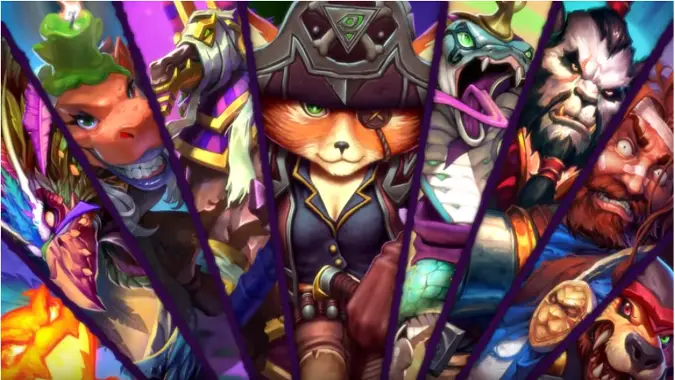 You'll play a brand new cast of characters
In Dungeon Runs, you picked from the nine basic Hearthstone classes. Monster Hunts provided the choice of four special heroes with unique hero powers. Rumble Runs represented the classes with various Troll heroes. In the Dalaran Heist, you take on the role of one of the League of E.V.I.L. Henchmen. Like Rumble Runs, these are custom characters representing the nine classes, but there's no Troll theme here: the Henchmen pull from a myriad of races including Vulpera, Sethrak, and even a Tol'vir.
Here are your Henchmen options:
Mr. Chu, Panderan Warrior
Squeamlish, Kobold Druid
Ol' Barkeye, Gnoll Hunter
Captain Eudora, Vulpera Rogue
Vessina, Sethrak Shaman
Krizitki, Naga Priest
Rakanishu, the fire elemental from Togwaggle's lantern, a Mage
George the Fallen, Human Paladin
Tekahn, Tol'vir Warlock
Players saw George the Fallen and Mr. Chu in the Henchmania Tavern Brawl this past week, but many of them are brand new. You initially have access to only one Henchman — Rakanishu — and it's not clear how the other Henchmen unlock.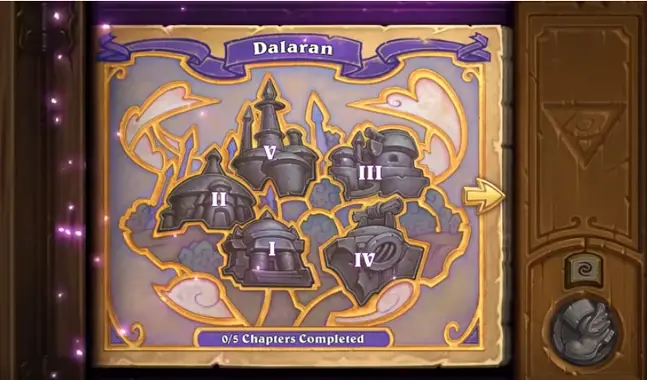 The heist will have five chapters of twists and turns
The Dalaran Heist is broken into five chapters, which seem similar to the wings from the older Hearthstone single player adventures like Curse of Naxxramas or Backrock Mountain. Each chapter represents a different location within the city. The opening chapter is the Dalaran Bank, followed by the Violet Hold, the Streets of Dalaran, and the Sewers. While the name of the final chapter hasn't been released, on the in-game map it looks a lot like the Violet Citadel. You must defeat one chapter before the next one opens up.
Each chapter has unique bosses and a unique rule called a "Twist." In Violet Hold, minions are imprisoned and appear on the board encased in a purple orb — but they're released later in the fight.  But in the Sewers, the Twist swaps the attack and health of all minions. So if you're looking at a card bucket and see Kalecgos, he'll become a 12/4 in the Sewers.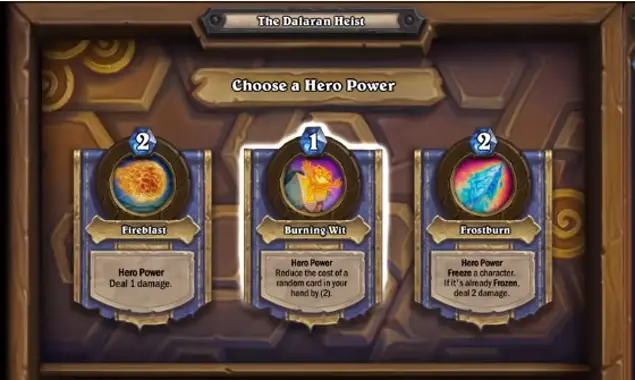 Customize your Henchman
While your first runs will use the standard hero powers, over time you'll unlock two additional hero powers per class. These provide an alternative way to play, but shouldn't feel as defining as the custom hero powers from Monster Hunts.
One of Captain Eudora's (Rogue) hero powers is Cut-less. It's essentially Backstab on a button — it deals two damage to an undamaged minion — and should play well into a Tempo-based game plan. Rakanishu (Mage) will gain access to Burning Wit — reduce the cost of a random card in your hand by 2, and Frostburn — freeze a character or deal 2 damage if its already frozen. Elsa, I mean Jaina, would be proud.
Hero powers are unlocked with an achievement-like system from actions you should earn naturally, like drawing a certain number of cards or freezing a certain number of minions.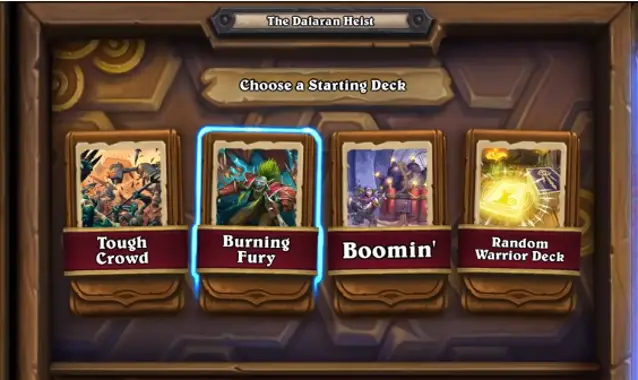 Craft your deck
After selecting your Henchman and hero power, you'll choose from one of four starting decks. Three of the decks are like Deck Recipes with a distinct theme, while the fourth is a random deck. Mr. Chu (Warrior) has Tough Crowd (a Berzerk and Taunt deck), Burning Fury (a Rush deck). and Boomin (a Mech and Bombs deck). As you move through the run, you'll draft new cards from familiar card buckets like you saw in Dungeon Runs and Monster Hunts. Scarpait claims they've ensured you'll start with a decent curve, which means you'll have cards with a low mana cost to play on the early turns. This could have strategic implications on how you build out the deck.
For the first time, you'll be able to manipulate your deck at various stages of the adventure through a run via an encounter with an Innkeeper. You'll receive a random assortment of special cards that allow you to change some cards. Some of these special cards allow you to make room in the deck by removing weak minions or allow you to recruit powerful minions from the Innkeeper to use for the rest of your run.
Tracking your victories was one of the big requested features from Rumble Runs, and the developers heard loud and clear. Dalaran Heist tracks victory by Hero, Chapter, Hero Power chosen, even by starting deck.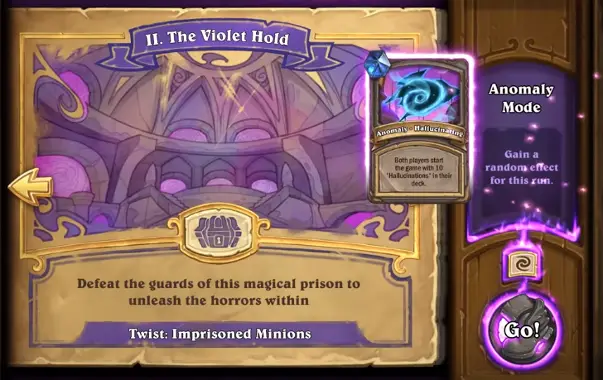 Heroic Hearthstone makes a return
Heroic mode is making a return. It opens on a chapter by chapter basis as you defeat that chapter on Normal. Based upon past Heroic modes, these will be downright brutal with some favorable RNG needed to win the later bosses.
Once you've unlocked all five chapters, you'll gain access to the Anomaly mode. This adds a special rule to the run. Like the first iteration of Shrines, you can't choose the rule and it switches each run so you can't practice since the next run will generate a different Anomaly. One Anomaly places 10 Hallucination cards in each players deck. Another causes spells to cast an additional time on random targets. My favorite might be the one that grants you a random treasure for playing a high cost card which I assume means anything over 7 mana. Anomalies provide greater replayability to the Dalaran Heist.