What achievements would you create using the Statistics panel?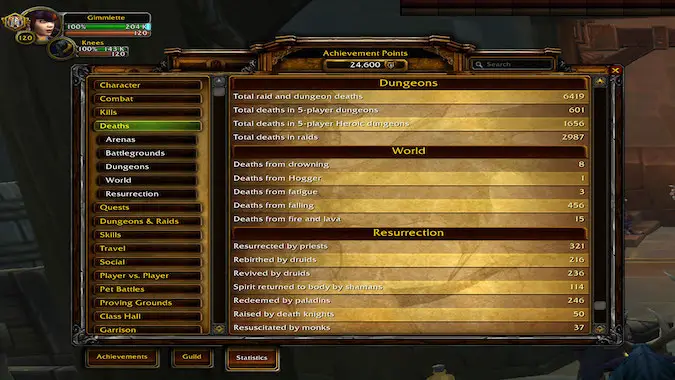 First of all, how many of you know about this panel? I see a few hands. On your Achievement panel, at the bottom, you'll find three tabs — Achievements, Guild, and Statistics. That last tab has some very interesting numbers collected by the game since achievements were first introduced. On the left, is list of all the categories for which there is a line item. My favorite panel is noted above — Deaths. I lead the guild "Spectacular Death." Of course I'm going to want to know my spectacularity in dying.
I only have ONE death to Hogger. We used to have a method whereby higher levels could get killed, but it doesn't work since he's gone to the Stormwind Stockade. Classic won't be collecting statistics so all those deaths you're going to get from Hogger won't be recorded.
What can the statistics tell you? In the case of deaths, you'll see where you tend to die the most. The categories show how much gold you've ever had; the item you've consumed the most; how many quests you've done; how many class hall and garrison missions you've done. They show how many times you've been in certain raids; how many hugs you've given; how many flight paths you've taken; your PVP wins or, in my case, losses. The Combat section is a little strange. "Largest hit dealt" for me is 328,042,936. Technically, I don't think that's possible, although the "Largest hit received" — 11,331,887 — was probably a boss where you had stack to distribute the damage amongst all raid members.
I got to thinking. They keep these statistics but for what purpose? In PVP, pet battles, garrisons, and arenas, there are achievements based on how you do. But for something like "Deaths," there aren't achievements. On one of my visits to Bwonsamdi, he remarked, "Ha! Now dat was an impressive death!" Yes, it was.
I would like an achievement for reaching 5,000; 10,000; and 20,000 deaths. Maybe call them "Grave Digger"; "That is Impressive"; and "Spirit Healer's Best Friend." I was poking in my panel after a particularly death-dealing raid and I was at 14,556 total deaths. That's not THAT far from 15,000. Hmmmm. Something to work on this summer.
I also see I'm not quite at 500 deaths from falling. "It's the Sudden Stop at the End" could be the achievement when you hit 500 deaths from falling. Why not an achievement based on impaling yourself on various spires? Or how about gliding over specific locations and have the glider run out? The achievement could be "Trying to be Icarus."  In the guild we joked about one called "But I Am Playing" which was "Stand around in a city talking to people for 100 hours of game time."
So today's questions are if you could create an achievement from a line item off the statistics panel, what would it be? Also, is there a statistic that's not tracked and should be?