Off Topic: Hideo Kojima's bizarre Death Stranding game is actually coming out this year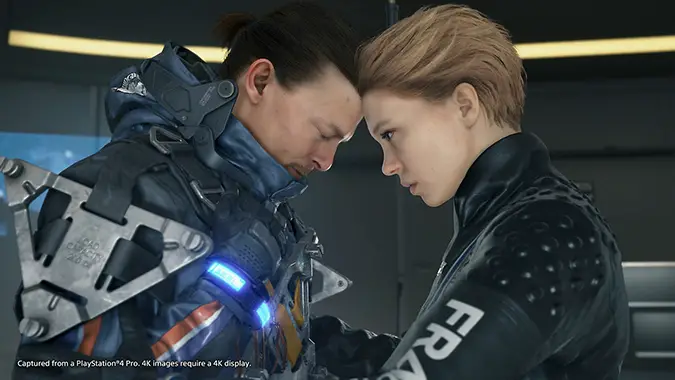 Death Stranding is officially on its way to release this year, but it's unclear if all of the disparate themes and imagery will actually make a good game.
It's been three years since we first saw images of Death Stranding, Hideo Kojima's strange action game. Despite long trailers and teases, the game has mostly been a smattering of babies, floating figures, and Norman Reedus. Just a few days ago, I wouldn't have bet on the game coming out this year given how vague the information was about it — but I should have, because tucked into the latest bizarre trailer is a November 8 release date.
The nine-minute trailer features much more Norman Reedus, along with co-stars Mads Mikkelsen, Léa Seydoux, and Lindsay Wagner. There are babies and there are tar-covered, humanoid monsters too. Occasionally it cuts to Sam Bridges, the main character, stepping through huge, rocky landscapes using tools like a ladder and a rope to explore. And of course there are firefights too. Bridges performs the same type of third-person shooting we saw in Kojima's last game Metal Gear Solid 5: The Phantom Pain.
Tonally, the game looks like a mixture between a thriller and a horror game. There's a propelled pace to it that halts when the invisible horrors start to stalk Bridges. The lull breaks and you watch him try to outrun a cloaked beast that sends jets of black goo up into the air with every step.
All of this is to say that it's a Kojima game. It's beautifully weird and filmic in the way that all of his games have been. As Kojima's catastrophic stories are unfolding, there are always touching scenes between stunningly-rendered human beings. The stories might look like a mess, but the man usually has a vision to see through.
But the question is will it all come together? Kojima makes massive games that struggle to find a place between film and game. Sometimes it's stunning like this sequence in Metal Gear Solid 4: Guns of the Patriots. Other times it feels laborious and you wonder if he'd be better off choosing one or the other. That's not to mention his serious, serious problems with depicting women. I'd like to hope that nothing horrible will happen to Fragile in Death Stranding but it's not like Kojima has a good track record. It is a new world separate from the Metal Gear games, so there's hope.
The game is a PlayStation 4 exclusive, and it's up for pre-order now. The pre-orders include a bunch of items that surprisingly tell us even less about what this game actually is. You can get yourself golden glasses for Bridges, as well as a golden hat and golden armor plating. Why the gold accessories? I have no idea, and if other Kojima games are any indication, it probably won't even be remarked upon in the game itself.
Shockingly, we only have a handful of months left before the game is out and we can find out for ourselves: it will be in stores on November 8.