WoW
May 31, 2019 4:00 pm CT
Can I still buy the Warcraft 15th Anniversary Collector's Edition?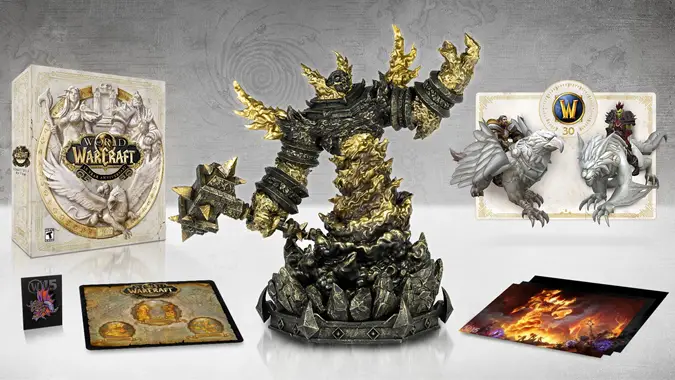 To celebrate 15 years of WoW, Blizzard announced the World of Warcraft 15th Anniversary Collector's Edition in May, which was a bit of a surprise. It comes with a bevy of goodies at a fairly hefty price tag, but its availability is incredibly scarce. Here's where you can still buy the limited edition game.
The game — which is expected to be released around October — includes a 10-inch Ragnaros Statue, Onyxia Pin, a map of Azeroth mouse pad, art prints, 30 days of game time, and Alabaster Mounts for both Horde and Alliance players. The whole bundle costs $99.99 and is available for pre-order a list of retailers.
Of course, the game was available at the official Blizzard store, but it sold out within minutes of it being available. It's possible Blizzard could open pre-orders again, but it has yet to announce any plans to do so.
You're best bet is to regularly check this list of websites and make use of their in-stock alerts to know exactly when it's available again.
There's always the option of going through the listings on Ebay, but the prices are incredibly inflated. The top results are upwards of $70 higher than the retail price. If you're a collector though, you might consider this option as a last resort.
At the very least, you can hold out hope that there will be another influx of stock in the far future. Occasionally, retailers will still have these collector's editions laying around and will put them on sale. This happens quite often with other games. If I were you, I wouldn't wait that long. You never know how rare this edition of the game will be. And by the looks of it already, it seems pretty hard to get.
Keep an eye out on these links and consider following someone like Wario64 on Twitter for updates and you'll likely be able to snag one of these fancy versions of the game.