WoW celebrates 15th anniversary with a special Collector's Edition and in-game event rewards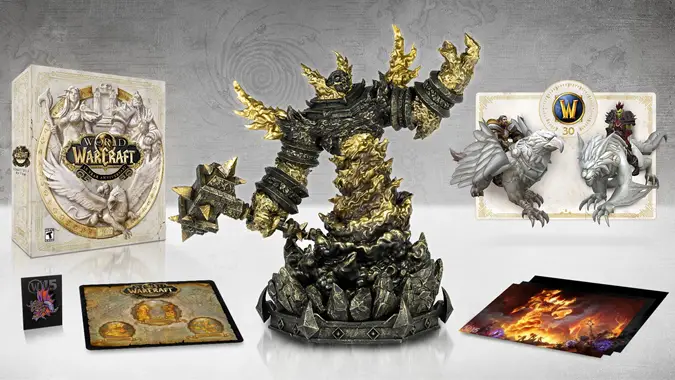 WoW is turning 15 years old this November, and to celebrate they're not only holding an anniversary event in-game (with mount and pet rewards), but also offering a pretty fancy Anniversary Collector's Edition.
15 years is a milestone for Blizzard, so they're offering a special 15th Anniversary Collector's Edition that also kind of functions as a WoW Classic Collector's Edition. With WoW Classic coming out this August, it seems pretty fitting. WoW Classic is included for free with any subscription to the live game, but the Collector's Edition is Classic-themed to honor where it all started. The Anniversary Collector's Edition box costs $99.99, but it comes with a fancy black and gold Ragnaros statue that probably pays for itself. Also included are the typical physical and in-game goodies that other Collector's Edition boxes have:
Onyxia pin
Map of Azeroth mouse pad
8 frameable fine art prints of WoW's iconic moments
In-game Alabaster mounts: Alabaster Stormtalon (Alliance) and Alabaster Thunderwing (Horde)
30 days of game time
The Anniversary Collector's Edition will release on October 8 and can be pre-ordered now through the Blizzard Shop. The in-game Alabaster mounts can also be purchased through the Blizzard shop for $25 in August. If you don't want to wait for the Collector's Edition to ride them, you can buy them separately and receive a $25 refund credit to your Blizzard Balance as long as you attach an Anniversary Collector's Edition by March 31, 2020.
The 15th anniversary falls on November 23, 2019, and WoW will be holding its annual in-game anniversary event around that time. This year's event details are sparse, but it looks like they're going to spruce things up with challenges and old bosses. If you complete all the challenges, you get a fancy Obsidian Worldbreaker dragon mount that resembles Nefarian. For pet collectors, a mini-Nefarian also accompanies it — simply logging in during the event will net you a Lil Nefarian pet.