WoW
Jun 21, 2019 6:00 pm CT
How to get the new Fire Eater's Hearthstone from Midsummer Fire Festival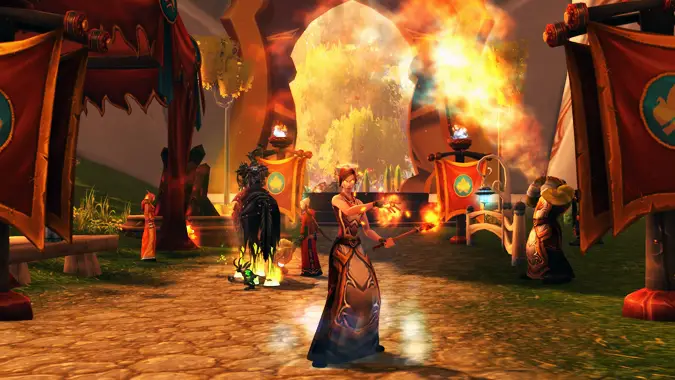 There's a brand new Hearthstone toy for the Midsummer Fire Festival, so I bet you're wondering what the quickest way to get it is. Well, you're in luck. Partly because we'll tell you, and also partly because it's super easy.
The Midsummer Fire Festival runs this year from June 21 to July 5. The Fire Eater's Hearthstone costs 300 Burning Blossoms. While it may look daunting, it's actually pretty easy to get within a matter of hours. That's if you only need the new toy. If you need anything else the Midsummer vendor has to offer, Wowhead has a handy guide on how to get everything.
The easiest way to get Burning Blossoms is to fly around and either honor or desecrate the various bonfires spread around the world. I found that flying around Eastern Kingdoms and then Broken Isles got me 310, but there is an easier way. If you're wanting the new Battle for Azeroth achievements, you get 45 Blossoms from visiting all six bonfires on Kul Tiras and Zandalar, and then you can hit the three "neutral" zones — Pandaria (105), Broken Isles (85), and Draenor (75) — to get to 300. These zones are great because you get 15 Blossoms for flying to a single neutral bonfire, as opposed to 5 and 10 for flying to two bonfires. Even if you don't have flying for Legion or Warlords, the fires are located right next to flight paths and are easy to get to.
Here are the locations for the new bonfires on Kul Tiras and Zandalar, with coordinates (which are the same for Alliance and Horde)
Drustvar – Arom's Stand (40.2, 47.5)
Tiragarde Sound – Bridgeport (76.3, 49.8)
Stormsong Valley – Fort Daelin (35.9, 51.4)
Zuldazar – outside Dazar'alor (53.3, 48)
Nazmir – Zul'jan Ruins (40, 74.2)
Vol'dun – Vulpera Hideaway (56, 47.7)
Note, doing the Desecrate quests will flag you for PVP and dismount you. However, if you don't want to wait for the 5 minutes it takes the flag to fall off, a neat little trick to remove it is to simply hop on a flight path to somewhere.
There are a couple handy addons to help with getting to the bonfires. Candy Buckets and HandyNotes + HandyNotes SummerFestival will show the locations on the map and allow you to click on them to create a waypoint. I had issues with HandyNotes blocking the waypoint function, but was able to use them with Candy Buckets.
Happy flame-hunting!