The Queue: Still no lasers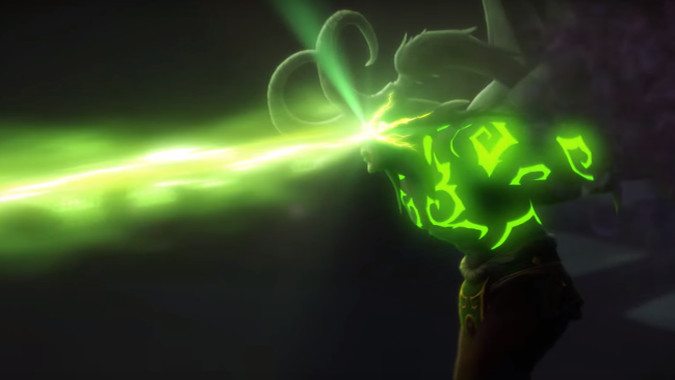 Went to the eye doctor this week. Still don't have the eye lasers.
Let's do that Queue that you make come true.
---
USAGISENNIN ASKS A QUESTION THAT HAS A 'WHY NOT BOTH' ANSWER
Actual WoW dialog:
Genn: You fight pretty good…for an elf.
Lor'themar: Well, you fight pretty good for a wolf.
Does Lor'themar not know how trash talking works, or is he really just that bad at it?
Yeah, why not both sums up my every possible answer.
---
TKC ASKS ABOUT PATCH 8.2
Q4tQ: is it too early to call 8.2 a disaster?
Personally, I can't stand going to Naj or Mech for more that an hour or so at a time.
Years ago, I wrote an article for wow initié if you'll forgive my French that was titled The Danger of Assuming Personal Experience is Universal. It talked about how players assume that their experience in game is the same as other people. It's been one of the biggest bête noire I have in my time writing about this game.
For example, I think Nazjatar is one of the best zones they've ever done, and I frankly can't see how you can compare it to Argus, or Tanaan, or the Timeless Isle and say it's a bad zone. And I really don't see why only wanting to play a zone for an hour or so means it's a disaster.
This doesn't mean you're wrong to dislike it. Everyone has their own perspective and their own take on things. It just means that for every player who is not having fun, there's likely at least one who is — some of the things I enjoy most in game mean nothing to others. Like transmog, which is my favorite thing ever — lots of players think it's dumb and don't bother with it at all. I'm sincerely sorry you're not enjoying the new zones, but they're far from a disaster from my perspective and I definitely think it's a bit soon to dismiss the whole patch as one.
---
I HOPE THOMAS STRANGE IS WRONG
/adjusts tin foil hat, fastens chin strap, uses the good ear plugs
So, since Azshara is defeated in the Eternal Palace — killed presumably — that means the naga will be without any meaningful leadership. I mean, I guess all sorts of generals and commanders will lead their specific troops, and may have some influence over the naga population in general but… the majority of the naha are basically without a leader. They could — in theory — do whatever they want.
So maybe they could join up with a faction or whatever? Another neutral race, like pandaren. And Nazjatar is like, a perfect starting zone for them. Their models were updated and started wearing clothes (shoulders and pants, anyway) in Legion. So… I guess it's just a matter of how they would fit on a mount that's really a problem.
Hey, we got pandaren and demon hunters. I'm not ruling out naga. And it would be a huge, splashy fan-service-y thing to break out in the next expansion. Especially is the next expansion is Old God themed — who better to lead the fight against the Old Gods than former servants of the Old Gods?
I wouldn't mind playable Naga, but I absolutely positively do not want Azshara to die here.  Oh my word no. If she does — if we actually kill Azshara at the end of the Eternal Palace — I will be so very bummed out. It would be the biggest waste of a character we've been waiting years to see. I do not want that.
---
TGRHWKE, I AM THANKFUL FOR COPY AND PASTE BECAUSE THERE WAS NO WAY I WAS GONNA SPELL YOUR NAME RIGHT BY MEMORY
QftQ: Say Blizz does the level squish in 9.0 and drops the level to 60 to make it equal to the cap in Classic. Blizz introduced the boost token because players wanted to get to end content quicker and felt the grind to ever increasing levels was too much.
Will the boost token still be relevant if the number of levels is reduced or do you see Blizz discontinuing it?
Yeah, it would still be viable because they're not going to make it so you revert back to level 60 but every expansion is now at level 60 so you just level to 60 in Azeroth and everything else is optional. They've made it clear they intend to make it so there are less levels, but the same basic amount of time to level to max, so the entirety of Vanilla WoW would take up, say, 20 to 25 levels, TBC and Wrath would get you to 35 or so, Cata and Mists would take you to 45, Warlords and Legion would get you to 55 and Battle for Azeroth would take you to level 60. You'd spend just as long to get to level 40 as it wonce took you to get to level 90, and so, level boosts to max would still allow you to jump into the next expansion.
---
SILVERKEG ASKS A QUESTION THAT HAS ME WONDERING
Q4tLiz: Will the Gnomes ever establish a New Gnomeregan and have their own home city or are they destined to be scattered around Azeroth?
Who knows, maybe after this expansion nobody gets to have a home city anymore. Maybe they all get destroyed in the constant total war that Sylvanas is bringing and we end up a bunch of refugees on a floating island seeking a new place to call home.
I would like it if the Gnomes got a home. Someone mentioned maybe settling down in Mechagon, and that might be cool, but I'd prefer if they got to retake Gnomeregan. It's time. It's long past time.
Okay, that's the Queue this week. See y'all next week, remember Anne's up Monday so ask her lots of pertinent questions and stuff.