The Queue: I went outside, I came inside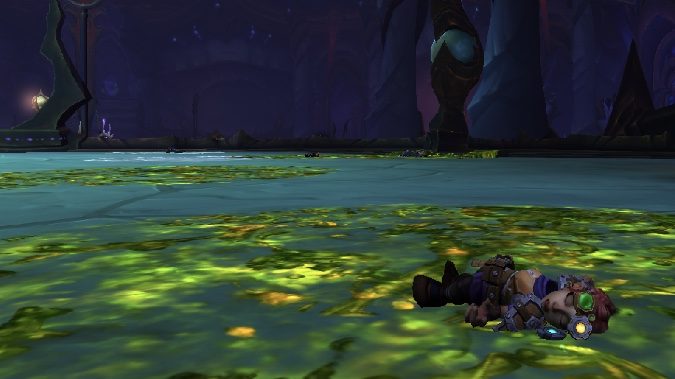 After a great deal of work dying and trying to find the entrance to Azshara's Eternal Palace, and escaped the horrors of Nazjatar to venture inside, where it was also horrible.
Sigh.
---
CROWBARD ASKED:
Can I have my question on the main page?
Yes.
---
RED ASKED:
Q4Liz: without spoilers, what do you think of where the story is headed for the final patches of BfA? Are you excited, or disappointed? Do you have any predictions about what happens, and what the roles of major figures (Azshara, Sylvanas, N'Zoth) will be, not only for BfA, but going forward to the next expansion as well?
I was never keen on BfA's Horde vs. Alliance narrative, but Blizzard has been teasing us with hints of Azshara and N'zoth stories since before Battle for Azeroth, but we've only gotten the smallest glimpses of N'zoth working in the shadows. Finally, in Crucible of Storms, we had our first look at N'zoth's plan — not that I understood it, but I could certainly tell something was going on.
Sure, sure, Sylvanas' death cult Horde is interesting, but I've been looking forward to seeing one of Azeroth's most powerful mages — Azshara — finally coming into the main storyline. Now I only have to wait until all of this plays out.
---
TETSEMI ASKED:
With Bejewelled, the Maze game, the uncross the lines games, and other mini-games now as WQ's what mini-game should they put in next?
I really do enjoy Bejewelled… (at least I did once I realized the game I was playing was basically Bejewelled), but I think the next mini-game needs to be Tetris. Whee!
---
Maple syrup is delicious and does seem worth rebelling for, I just didn't realize anyone had done it.
---
RJ ASKED:
Do you prefer Nazjatar or Mechagon, and why?
I don't think it's a matter of like or dislike, at least not yet. Right now I'm almost exclusively hanging out in Nazjatar because I'm working on gear and Nazjatar is where all of the Benthic gear is. I've been told that Mechagon is much more fun (and with less of the twisting and turning that makes exploring Nazjatar kind of miserable), and I know I ought to be playing there, but my brain can really only hold so many things at a time, and Mechagon doesn't fit right now.
All of that said… Mechagon is probably my favorite, but Nazjatar seems the more useful of the two. For now.
---
ANNE ASKED:
Exactly how easy do you think it would be for an average player that hasn't really played much Hearthstone to get into the game at this point? Has it gone past the threshold of easy to learn, difficult to master?
I think Hearthstone still easy to pick up. The game's concepts are simple, and the basic cards offer some good deck-building options even when you don't have a massive collection. Brawls (sometimes) and single-player modes (most of the time) also offer unique challenges that don't require a card collection. And you don't need a tournament-quality deck to have fun and enjoy the strategy of the game.
But…
New players won't have the best cards, not by a long shot. It's time-consuming to build a collection from scratch, and the newest sets and legendaries always add interesting mechanics and a big boost of power to your collection. Even though Hearthstone gives away free packs at the start of an expansion and offers lots of ways to earn gold (which you can use to buy cards), a new player could be easily frustrated. All in all, Hearthstone either takes financial investment or a fair amount of work to collect new cards, which in turn help improve your play.
Is the game itself difficult to pick up? No. But building a fair collection of cards to give you better deckbuilding options — which add to the game's fun (and your own chance of victory) is difficult. (Or at least time consuming.) Even though I feel Hearthstone has done a fair job preventing the game from being completely "pay to win," because decks using basic and common cards are still playable, building a card library from scratch is a daunting prospect.
But if you want to do it, now is the time. We're about to get some really fun summer-themed (which is to say fire-themed, which is to say Ragnaros-themed) brawls that reward expansion packs when you complete them. And when the expansion finally does launch, logging on will earn you even more cards, giving your collection a kick-start that will help you enjoy the game.
---
Well, according to you…
Apparently it was a squirrel. A DEADLY, DEADLY SQUIRREL. One which is also able to come and go as it pleases, I guess.

The real concern now is the crawlspace the pest control dude showed me. The one with about a bajillion spider nests.

— Mitch (@MitchFizzl) July 10, 2019
I mean, it's possible that you're lying to yourself and there's only a vicious alien monster in your basement. Which might be better, actually.
So with that cheerful story, I'm going to flee the internet (or at least the Queue). Good luck out there, people, and try to avoid any dangerous squirrels.