The Queue: It's not a democracy, it's a Mitchtatorship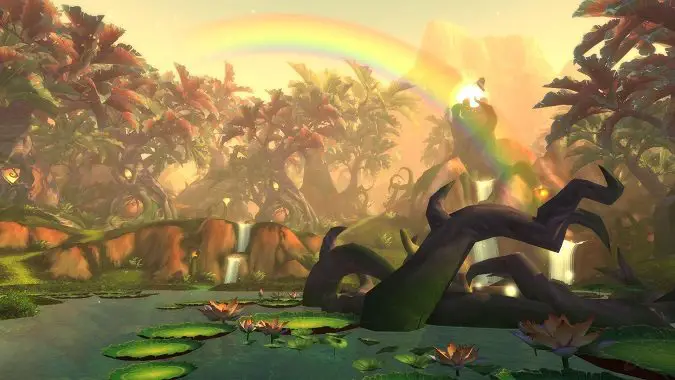 Today's title comes via Pumabackup. Well, technically, it comes via the comments. But Puma's the one who alerted me of its presence. Three cheers for Puma!
Pu-ma! Pu-ma! Pu-ma!
Anyhow, let's Queue.
---
ENO HAS A LOVELY QUESTION ABOUT… RAINBOWS?!
QftDarkLordofShadowsMitch because no one would ever expect him to talk about this subject: We have rainbows in Nazjatar. Is this the first time we've had rainbows in World of Warcraft? Edit: As part of the background, not toy created.
It's not, actually! Though they aren't exactly in abundance. There's a double rainbow in the Battle for Gilneas battleground (and an achievement around it), and there's at least one in Sholazar Basin, if not more. Gorgrond has some as well! I'm sure I'm missing a few, but you get the idea.
---
AUSSIEEEVEE TAKES IT BACK TO THE BEGINNING:
QFTQ: Why do you play WoW? What attracted you to the game? What kept you here? And what makes you keep playing?
Bonus question: How long have you been playing WoW?
I play WoW because it really IS an entire world. I was attracted to the game originally via how much X-Play used to talk about it, and because I was familiar enough with Warcraft 3 to warrant trying it. I had no idea what I was getting into. What kept me here for a long time were my guildmates (and subsequently the raiding scene), though nowadays it's more because I've invested a lot in the game and it's just… well, it's part of what I do now. My friends and I have a little group which runs Mythic+ dungeons weekly, and that also keeps me around. I may play less than I used to, but like I said — WoW has been in my life so long, it's a part of who I am.
Which I guess ties into your bonus question: I've been playing since March 2005, when I was 12 and in 7th grade.
---
PUMABACKUP HAS ONE THAT'S SURE TO BE CONTROVERSIAL:
QftQ: What's your favorite part of Chex Mix?
Mine used to to be the little pieces of rye bread, but I think these days is the occasional piece of Chex that's so coated in seasoning, it looks like it's been burned.
I'm in the "tiny pieces of rye bread" camp, though I really do enjoy almost all of it. And now I'm very hungry…
---
MISTAH JAY HAS A QOL REQUEST:
Q4tQ: Should quests include a note on how much rep you receive upon completion?
I think it would be nice, but I don't think they need to be there. You're going to get the rep one way or another. The best use for this would be to plan if you were about to get a huge amount of reputation and wanted to apply a buff of some kind. But then again, if you're that serious about rep, you probably have said buff to begin with, right?
---
RED REMINDS ME OF ALL THE TIME I DON'T HAVE:
Q4Mitch: have you ever played Doki Doki Literature Club?
It seems like it's be right up your alley
I haven't, actually — though that's not because I'm intentionally avoiding it or something. I just don't have the time I'd like nowadays : There are a lot of other shows I have on my list that I'll get to… one day…
---
SPENCER MORGAN HAS A GOOD IDEA:
LEGO Warcraft: the original trilogy. Yes or no?
At first, I thought you meant making LEGO sets out of the original trilogy (like, the areas and fights and such), and I would be ALL for that. But if you mean a video game adaptation? I'd also be amused at that, to be honest. It would be pretty fun to watch various units explode and buildings to build themselves as LEGO bricks.
---
SPENCER MORGAN REMINDS ME OF THE PERFECT GIF:
Q4tMitch: would you like me to turn you into a LEGO person? I could build you a nice house that is already paid off.
Would you like a Scarlet Crusader heritage armor for the Forsaken? Mainly because it would mean the one race that can't be paladins would have the shiny new crusader armor, and NO ONE ELSE!
Have you ever seen the LEGO figure that looks like it's made of human skin? No? Well, here's a GIF if you want to see such a terror. You've been warned.
I don't think I'd want it as the Heritage Armor, but I would love Forsaken Paladins or more armor themed around the sorts of things you find in their zones.
---
RED GETS A TRUNCATED QUESTION TO CLOSE US OUT:
Going through that line of thought… N'Zoth's power in Hearthstone is the ability to bring back all the Deathrattle minions that died this game when it's summoned. Deathrattle minions in Hearthstone are minions that do something when they die, and they are often undead minions.
With all of that in mind, Q4TQ: do you think that N'Zoth's power of bringing dead things back to life (or unlife) will also manifest itself in WoW? Do you see him actually bringing back dead characters as his servants? If so, do you think he'll stick to the "regular" undead, or could he even bring out lore figures from the past that we thought to be dead for good?
Spoilers for the recent Azshara cinematic below, just FYI.
As mentioned in the comments, this is an idea Taliesin floated around in his recent analysis video. I'm a little skeptical of it because of how the Void seems to hate Death and Sylvanas being "outside the cycle," but N'Zoth does appear to bring Azshara back from death at the end of the Eternal Palace raid, and her eyes open quite widely in the process. But, again, I'm a little skeptical that Azshara was 100% dead when that happened.
Anyhow, I feel like all eyes being opened may refer to N'Zoth bringing back the rest of the Old Gods rather than the dead denizens of Azeroth. Azshara does mention the Black Empire rising again, so it would make sense if we saw more than just N'Zoth. Also, the other Old Gods have certainly been active. They're not technically dead, but N'Zoth powering them up would help bring them back to the forefront.
That's all for today! I hope you have an excellent Thursday. Except… You Know Who.