What kind of Overwatch hero will Mauga be?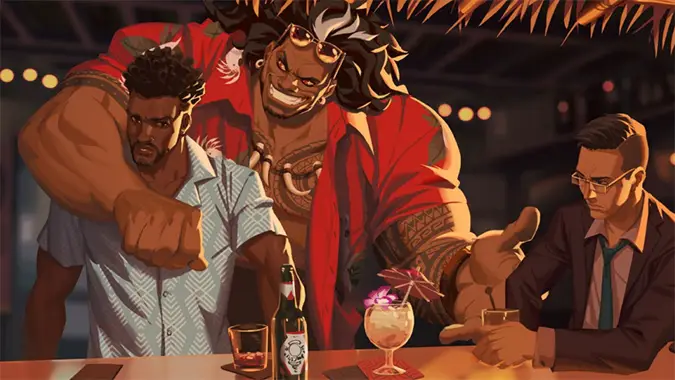 Overwatch has a lot of big plans for characters that we've heard of once or twice. We read a lot about Mauga recently in the Baptiste short story What You Left Behind, and although he didn't turn out to be our newest hero, he almost was.
Let's dig into what kind of hero Mauga could be when we eventually get him.
Who is Mauga?
Mauga is a soldier for the terrorist organization Talon and packs a gigantic shield that causes bullets to ricochet off of it. He's a tall man — evident enough in the story's art — who has great strength and equal cunning, according to the internal monologue from Baptiste. Mauga could massacre innocent people on a Talon mission, but he could also lie to keep a friend safe.
Many have pointed out that Mauga resembles a Heavy Assault unit that we've seen in the Overwatch Archives PVE events. That might suggest that he'll be able to wield two large machine guns and have a charge ability like Reinhardt. Given that, it's pretty clear that he'd be some sort of Tank hero. Mauga is not the kind of man who would be standing back and providing support or sneaking around to get the jump on an enemy: he would be up front and ready to slam into anything in his way.
Will we see Mauga in Overwatch?
This is why he didn't quite fit the abilities and tools of Sigma, the latest Overwatch hero. According to Game Director Jeff Kaplan, "[Sigma's toolkit] doesn't fit the personality of Mauga at all, because Mauga seems very aggressive, in your face." Sigma's ability to send projectiles at his enemies and strategically place his shield in any direction doesn't match the depiction of Mauga as a brawler.
It wouldn't be surprising to see Mauga as either a Tank or a sort of hybrid almost in the same style as Doomfist. Doomfist has the ability to engage enemies and gain shields when he hits his abilities. In many games, he almost acts like an off-tank, and Mauga might not be that different.
But there's still not a lot that we know about him, so Blizzard has a lot of room to play with what his abilities could be. Considering that he almost became Sigma, it seems likely we'll see him as a hero at some point.