What would your character's epitaph be?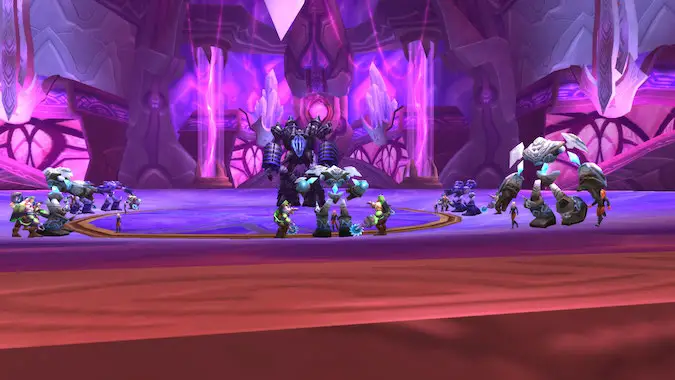 Let's set this up. I'm running around the whole of Azeroth from Cataclysm to The Burning Crusades looking for specific screenshots of specific bosses. When you've killed what seems like 11,451 mobs, you can be forgiven for feeling a bit punchy.
In guild chat I typed, "I think Ima pull everything because what could go wrong?" Nothing, really, because I'm a level 120 in Tempest Keep and if I could pull the whole of the raid, it might reduce my health by 25%. My guild members, however, know me, and one of them says, "Is that what you want your epitaph to be?"
Well, let's examine this. I have — currently — 14,827 deaths. Most of them come from raiding with 2,999 deaths. In environmental deaths, falling tops with 460 deaths. I'm very proud of my one death to Hogger before he was changed with the arrival of Cataclysm.
I think of all the ways I tend to get into a bit of a spot. As a Hunter, having a pet makes pulling more than a couple mobs a "meh" moment. There is, however, a limit. I probably shouldn't pull eight to ten level 120 mobs (especially with a couple of elites). But if I'm running Tempest Keep, pulling everything in the Void Reaver's room was easy: it's all about knowing your abilities and the mobs you're facing. I attacked Anub'arak in Trial of the Crusader and completely forgot he does a leech which is a percentage of your health, which led to a dicey moment when my health dropped to 5% before I killed him. Apparently the answer to "Ima pull everything because what could go wrong?" is "Oh that could go wrong."
So, if you could write an epitaph for your character (or characters) based on the way they usually die, what would it be? Are you an "Ima pull everything" person? Or do you turn to your guildmates and ask them to "hold my beer and watch this?" Maybe you're an "I'm going over the hill here because it's shorter to go that way" until the other side of a hill is a drop-off. Or perhaps you think "There are only five of them. What could go wrong?"
If you're wondering how to find your total deaths, click the Achievement panel and at the bottom, you'll see a "Statistics" tab. Click that. So many numbers.