The best WeakAuras for WoW Classic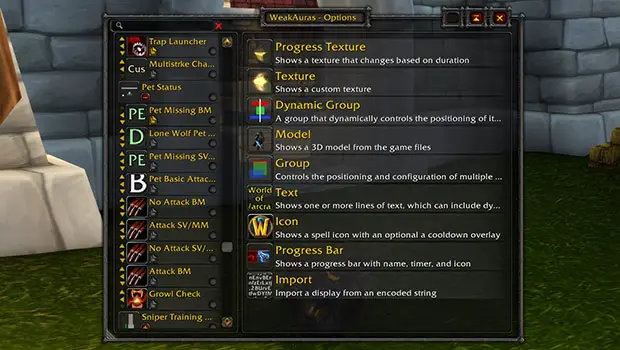 One of the best addons you can install in WoW Classic is WeakAuras. This tool helps you identify and track player and boss abilities so that you can play better, especially with the bigger demand from the original game. Here's how to grab WeakAuras and some of the most useful things to track with it.
First of all, WeakAuras 2 for WoW Classic is available to download on WoWInterface's website. It should function more or less like the addon does for the live game. Obviously, WoW Classic isn't properly out yet, so it might need some updates to work when the game goes live on August 26.
Dungeon and raid WeakAuras
If you visit the Wago.io website for WeakAuras, there are tons of pre-made trackers for all of the classes and many of the dungeons and raids. You've got everything from Molten Core to Stratholme there. It wouldn't be a bad idea to install the dungeon and raid ones just to get a handle on some of the mechanics early. You'll likely come to know all of the dungeons intimately, because they take so much time and effort to run through — but having them on day one should give you a head start. And as for the raids, you should definitely have those installed unless you're using something like Deadly Boss Mods — which is also available for the original game. Molten Core is available here.
Character-based WeakAuras
There are some generally useful WeakAuras like this Status Bars one that puts a health and power bar around your character. You can also get a Swing Timer for melee and ranged characters. Similarly, if you need to understand the game's re-introduction of deadzones when it comes to enemy hitboxes, you can install this tool.
WeakAuras for your UI
Continuing in that same vein are some useful WeakAuras like an auto dismounting one for when you cast abilities, as well as a max camera distance tool.
Class-based WeakAuras
The list on Wago.io isn't fully complete yet, specifically when it comes to individual classes. There's a WeakAura so Priests can track their buffs like Inner Fire and Power Word: Fortitude, but that's about it for now. You should keep an eye on the page as the game nears its launch. It's all neatly organized so you can drill down to specific things like different specializations and specific Dungeons.
Here's everything we know about WoW Classic as well as the earliest date you can log in and make your character and prepare for the launch.