Blizzard fights WoW Classic queue times with increased realm capacity and better population info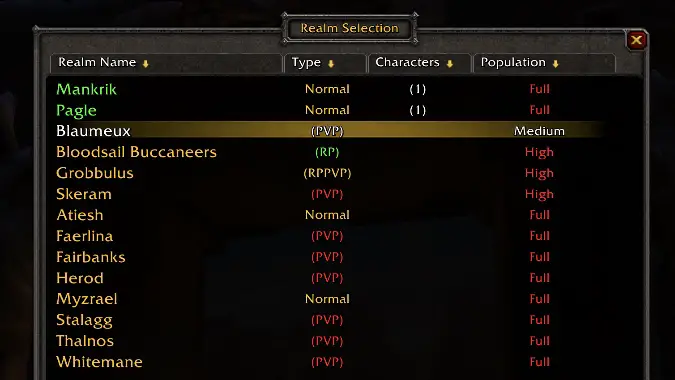 Only a few days after its launch and WoW Classic realm populations continue to rise and incur long queue times. Blizzard reacted with a slew of new realms since the game's launch, but each one fills up almost immediately in the evenings. In two new changes to further prevent confusion and frustration, Blizzard has "substantially" increased the realm capacity and now displays realm population more accurately than it did before.
When you visit the realm list in the game, you'll be faced with a list of the game's 30 servers to play on. On the far right you'll see the usual population category. Each realm will read the current population of players in the server at the moment, whereas before it would only tell you how many players are on it compared to the higher population realms. This change should help you understand what kind of server you're about to log into by giving you a more accurate representation of the amount of players on it.
This matters because WoW Classic utilizes Blizzard's new layering technology lets the servers handle more players than they could back in 2004. Laying splits players up into individual virtual servers within the realm, letting more players enjoy the game without overcrowding zones. A medium realm now is way more packed than a full realm in the original game.
The changes reveal that Blizzard wasn't prepared for the amount of players that are actually playing the game at launch. Although many servers have been added, hours-long queue times for realms like Faerlina and Herod continue to be a major problem. The increase in capacity will hopefully cut down on queue times, and maybe (hopefully) eradicate them for some servers.
In all its messaging, Blizzard continues to reiterate that the queue times are a necessary roadblock for maintaining healthy realms for the future. Nobody wants to roll a new character on a fresh server to have it never fill up or dwindle in numbers when they eventually remove the layering tech. At the same time, nobody wants to come home from work or school and get to play the game for a total of 30 minutes before they have to sleep.
Overall, the queue times seem to be improving. More servers means more places to go, and more room for players means less time waiting to get in. But you can imagine a world where Blizzard launched with too many servers and offered free character transfers down the line. It would have made for a much easier launch without wasting everyone's time.