WoW Classic's realm population numbers are relative, which explains why even Medium realms have terrible queues
So, queues, huh? Who knew that WoW Classic would be so popular?
Blizzard has continuously been adding servers to keep up with the initial demand, but players are finding queues no matter where they go. Some have been perplexed that even the fresh servers are getting queues. One forum poster questioned why a realm listed as Medium would still have login queues and Ion "Watcher" Hazzikostas popped in to explain that the numbers are really just relative — which explains why sever populations keep swinging wildly from High to Low and back again.
It turns out that Blizzard's population ranges for servers — Full, High, Medium, and Low — aren't based on specific population benchmarks. We got a hint of that when, in warning people about the high number of characters created on certain servers, they explained that a Low-populated realm today has far more players on it than a High-populated realm back in actual Classic. Ion explained that the population displays are created "dynamically," meaning that it's all relative to the most populated server. When you have a server like Herod, maxxed out at character capacity, being listed as High population is still going to have a ton of people.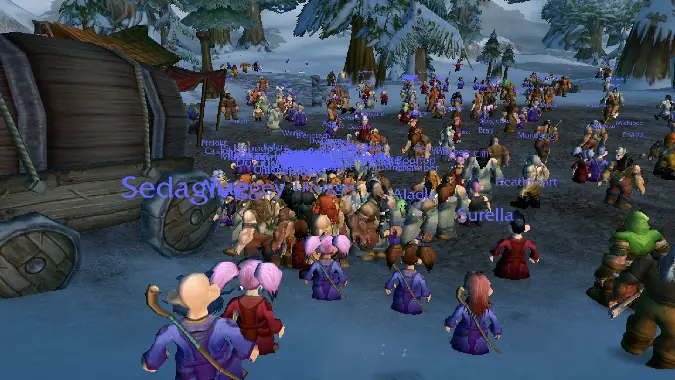 Since population displays have never really had an issue in the past, the amount of interest in WoW Classic is "skewing the algorithm." They'll be working on a way to change the display so that it makes more sense, such as only showing a server as Full when "Full" means "there's a queue" and not just "there are 17-hour-long queues."
But that can wait, since right now, Blizzard's top focus is server stability and monitoring the need for more servers. You may be wondering why they're trickling new servers in instead of adding a ton at once, but Blizzard is concerned about long-term population stability. Ion explains that currently they're waiting for new servers to completely fill up before they add more. This makes sure that the populations stay healthy in the long run. They don't want to add a ton of new servers just to have dead servers down the line. One of the major points about WoW Classic is that it emulates original WoW's server community. Having to merge low-populated servers or offering server transfers would degrade that experience.
It's actually oddly more reminiscent of Warlords of Draenor launch than the Classic experience, due to the unexpected influx of players. However, you still have the random disconnects and login crashes to tickle your nostalgia. If you're still waiting in queue, check out our vanilla Kalimdor and Eastern Kingdom galleries, or try one of Mitch's suggestions for various things you can do instead.