Hearthstone's Tombs of Terror single-player Adventure is coming soon, and this week's League of Explorers Tavern Brawl leads the way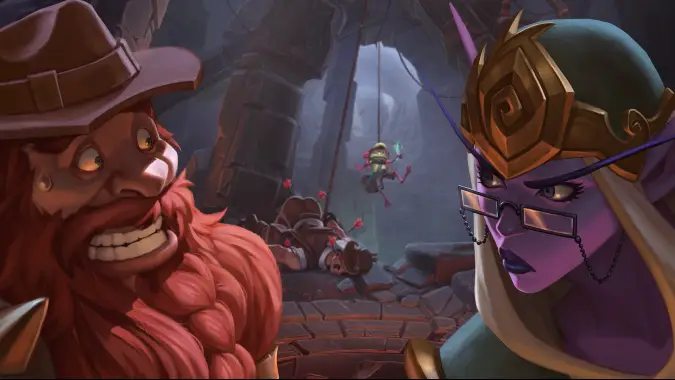 Though the Hearthstone team has teased a new single-player mode, they haven't had much to say about it until now. The latest Adventure is very much in the style of the Dalaran Heist, but it adds a few new twists and tricks. Since this expansion is all about the League of Explorers, this Adventure has us taking the role of one of the League's greatest heroes.
Sort of.
Just watch the trailer and you'll see what I mean.
It's best if you just don't try to understand
This Adventure is a continuation of the game's very strange storyline: back in the Rise of Shadows expansion, Rafaam and the League of Evil stole Dalaran by mounting rockets on it and flying away. Now they've brought it to Uldum and unleashed a series of plagues (i.e. the new Plague cards in Saviors of Uldum) to destroy the world. I don't understand why the League of Evil wants to destroy the world when previously they'd only wanted to steal from it, but this is Hearthstone and you just have to roll with the weirdness.
Unfortunately, in unleashing these Plagues, the League of Evil also unleashed some dangerous mystical creatures… including a monster that is just a bunch of Murlocs wrapped up like a mummy. I am not making this up, because I couldn't make this up. I'm just not that creative.
The mechanics of a new Adventure
In this Adventure, each hero is a combination of two classes, with cards from both. You'll be able to choose from:
Reno, a Mage and Rogue
Elise, a Druid and Priest
Brann, a Hunter and Warrior
Sir Finley, a Paladin and Shaman
We don't yet know if you'll start with some heroes or all of them, but whichever hero you pick, these class combinations are sure to make for some interesting deck-building.
Like all of these Adventures, you'll build your deck as you go, picking new cards and treasures after your victories, though Tombs of Terror adds a twist by giving each hero a collection of special signature treasures to unlock. Like the Dalaran Heist, you'll be able to unlock new starting decks and hero powers as you play, and you'll get to visit taverns — not that we know where you'll find one while tomb diving — to modify your deck.
It's a familiar format, but the new heroes and gameplay tweaks should keep it from feeling stale.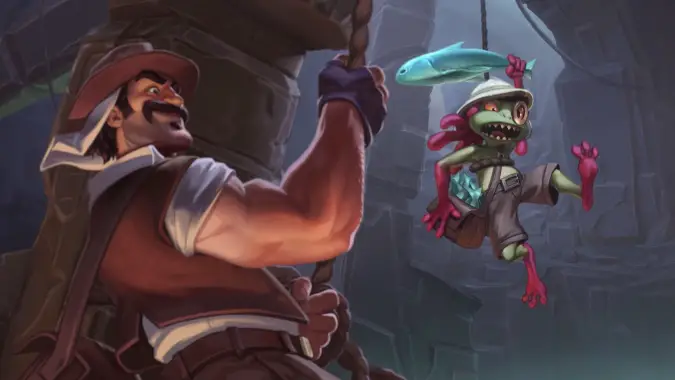 Tombs of Terror price and release date
The new adventure has four wings (plus a finale), and everything kicks off on September 17, with the launch of two wings, with the rest to follow:
September 17: Chapter 1 & 2
September 24: Chapter 3
October 1: Chapter 4 & Finale
The first chapter is free, but subsequent chapters will cost $6.99 each or 700 gold — or you can buy the whole lot for $14.99. You can pre-order the Adventure now, but frankly it doesn't strike me as a very good deal: the pre-order costs $19.99 and throws in an special card back and a random Saviors of Uldum Legendary. My advice is to save your $5 and craft the Legendary you want instead of paying for a random card.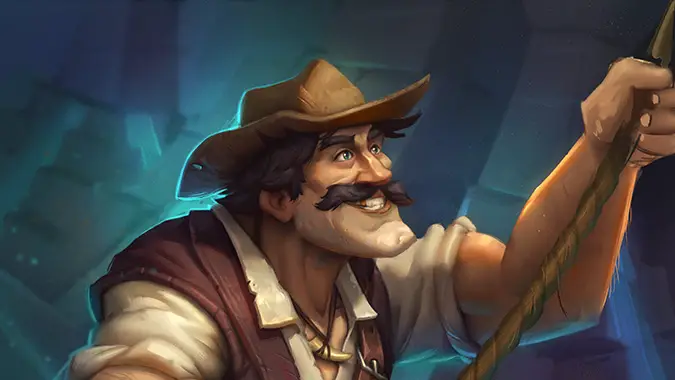 You said something about a Brawl?
This week's Hearthstone Tavern Brawl is something of an Adventure of its own. It's a Dungeon Run-style single-player mode where you take on the role of Elise and try to round up the rest of the League of Explorers so you can go off and save the world when Tombs of Terror releases.
Elise, seemingly the only competent one of the lot, must rescue Finley and Brann, then fight Reno — really, Reno? really? — before going on to tangle with Dark Pharaoh Tekahn. Fortunately, by the time you get to Tekahn, you have the help of the rest of the League (as cards in your deck). You go through the usual deck-building exercise, adding cards and treasures as you win each fight before the final confrontation. Here are the fights you'll encounter:
Terraviss: He's essentially a lackey of the League of Evil, and he's usually a pushover — however, you can run into trouble because Elise doesn't start off with many one-cost cards and you can lose your first turn with nothing to play. Terraviss has a Hero Power that summons a random weapon, and sometimes he pulls out powerful weapons and sometimes he's weak as a kitten. Go aggro and hit him as hard and as fast as you can.
Buried Finley: Poor Finley has gotten himself buried in the sand and you have to dig him out. Every round, the sandstorm does one damage to all minions and summons a new pile of sand. Each pile of sand is a 0/3 and while they're on the board, Finley is invincible — meaning you can't dig him out of the sand. Making things more complicated, whenever you destroy a pile of sand it summons an annoying Deathrattle minion, usually eggs that are easily destroyed by a few turns of AOE damage. Focus-fire the sand and then hit Finley himself for all you've got before you're overwhelmed.
Brann Bronzebeard: You find Brann fighting with an 8/60 untamed King Krush that he's trying to tame, and it's not going well. This match is formatted like a cooperative Tavern Brawl: King Krush starts on Brann's side and you get a chance to hit him, then he swaps to your side and Brann gets to hit him. At the end of each turn, Krush will attack a random enemy, which is pretty painful when he's hitting you in the face. Keep as many minions on the board as you can and beat down on Krush before he has a chance to kill you or Brann.
Reno Jackson: While the rest of the League was in trouble and needed your help, Reno is just playing around with his newest magical toy, and you have to rid him of all of his hit points before you can convince him to go play with the League of Evil instead. Reno has a hero power that does random damage to random targets — it starts at 3 damage and increases each turn, and you have to kill him before it gets too high. There's not much strategy here: just hit him until he stops hitting you back.
Dark Pharaoh Tekahn: This guy is trouble. His Hero Power adds a random Lackey to his hand, and all of his Lackeys are 4/4. He plays a zoo-style deck, and with those powerful Lackeys things can get really overwhelming really fast. Do whatever you can to keep board control while you whittle him down. I find this fight is really about luck: you may have the right cards to defeat him, and you may not.
Elise herself is a Druid, with the standard Druid Hero Power. The only thing to keep in mind when you're building your deck is that she's designed to have a Highlander deck in which your deck has no duplicate cards. All of the other League cards have special effects that only trigger when your deck has no duplicates, so avoid them as much as you can — or avoid playing those Highlander cards until you've played your duplicates. The only time this was a problem for me was with treasures, as card buckets seem to avoid duplicates — but it's good to be aware of.
You can earn a Saviors of Uldum pack by just trying this Brawl, and a Classic pack for winning a match.
It's an interesting preview of the Adventure to come, and I wouldn't be surprised if our experiences with Elsie are similar to what we'll see when Tombs of Terror comes out later this month.