WoW
Sep 10, 2019 3:00 pm CT
Recruit-A-Friend returns with new rewards and the Party Sync feature making grouping with friends easier than ever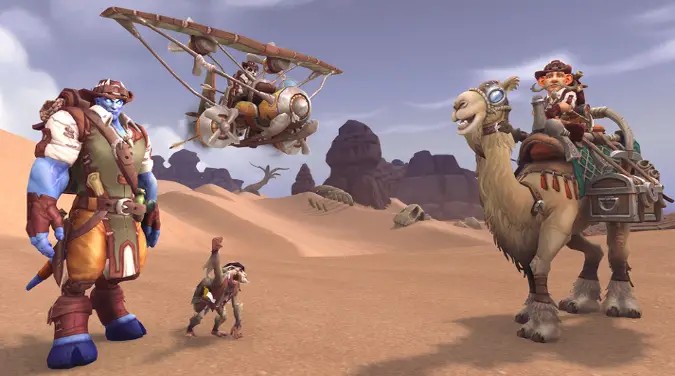 We reported back in June that Blizzard's long-running Recruit-A-Friend program was going on hiatus. Well, that hiatus lasted three months, and now, Recruit-A-Friend is back with all new updates. Some old favorites return — you and your recruited friends are able to teleport to each other with a 30 minute cooldown, and you also will earn 50% bonus experience when you're in a party with your friend. But there are also new rewards. These include cool transmog gear, a special pet in Rikki the Monkey, and the first visible backpack that I think I've ever heard of in World of Warcraft.
These rewards come with the amount of game time your friend or friends purchase. So if you recruit one friend and that friend buys 10 months of game time, you'll get 10 months of rewards. Likewise, if you recruit 10 friends and they each buy one month of game time? You'll get 10 months of rewards. This includes game time for you — every three months worth of game time your friends buy, you get a reward of game time. The maximum friend size is 10 players for Recruit-A-Friend and for returning players, they must have left the game over 2 years ago.
Here's list of rewards you will receive based on your friends' playtime:
Rikki – 1 Month
Game Time – 2 Months
Explorer's Dunetrekker – 3 Months
Title: Renowned Explorer – 4 Months
Game Time – 5 Months
Enchant: Stinging Sands – 6 Months
Renowned Explorer's Tabard – 7 Months
Game Time – 8 Months
Explorer's Jungle Hopper – 9 Months
Renowned Explorer's Rucksack – 10 Months
Game Time – 11 Months
Renowned Explorer's Attire – 12 Months
Also new with this version of Recruit-A-Friend is the Party Sync feature. This has a host of benefits — it will allow you to replay quests you've already finished on a character and temporarily adjust the level on a character to be the same as the recruited friend you're partied with, so you won't have to start a new character and won't have to worry about what quests you've already finished on that character. You can just get on your main, join up with your friends, and go do stuff with them to your heart's content.
Head over to the official site now to check out the revamp for yourselves.