What we'd like to see if Junker Queen joins Overwatch as Hero 32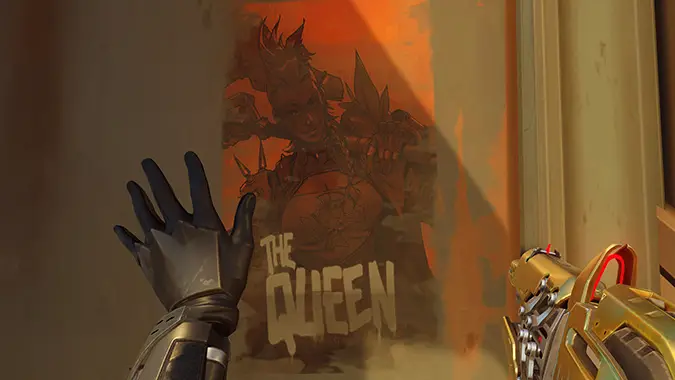 Overwatch players have long-awaited the arrival of the Junker Queen a new playable hero, and she'd be a great pick for Hero 32. She has a look, a voice, and an attitude that would fit perfectly into the game's roster of characters. But at the moment, we know so little about how she would actually function in the game. This is what we'd want in the Junker Queen if she ends up being the next hero.
Given the game's current set of Damage heroes, it seems like the Junker Queen would fit that role the best. She has a gigantic polearm-like axe and the muscles to wield it. It would only make sense for her to fight with that, as opposed to some kind of barrier or healing item.
Junker Queen would work beautifully as a Dragoon- or Warrior-esque type of hero. Her primary fire could be a cleaving attack with her axe that has a long reach, and her alternative fire could launch it into enemies to pull herself toward them. Her melee range focus would make you want to stay near enemies to deal maximum damage. She would still be weak in terms of survivability, but pack the damage output to make her lethal like Doomfist.
Her secondary ability could be something like an electricity-based trap that paralyzes enemies in place so that you can close the distance to them. Once you're near them, you can pop your Whirlwind ultimate that has her creating a cycle with her axe that either pushes enemies away or pulls them in. Think of it just like a Warrior's Whirlwind in WoW.
On top of all of that, I think it would be a smart choice to give her a passive ability that lets her ignore armor. If you consider that a lot of her melee attacks wouldn't be able to deal head shot damage, ignoring armor wouldn't be too imbalanced. Plus, it would provide an option for players struggling to deal with Bastion and Brigitte team compositions.
We've heard about the Junker Queen for two years now. It's about time that she's finally available in the hero select screen. Although there isn't any new rumors about her release, Blizzard has specifically said that they have big plans for her and have created a lot of concept art. Let's hope she'll show up at this year's BlizzCon as Hero 32.