The Queue: Queueniforms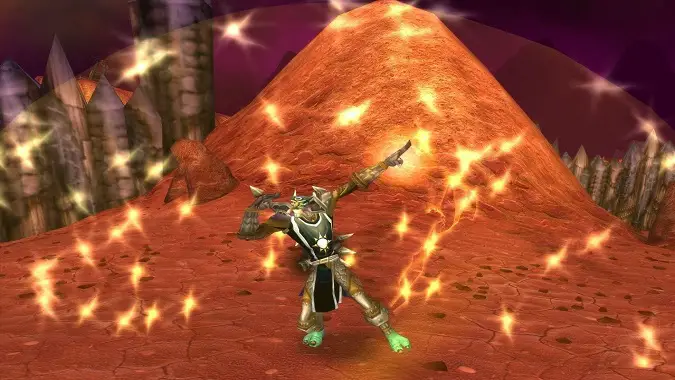 Hey, what would Queue uniforms (Queueniforms) look like? Would we put our last names on the back? Our site handles? How would we choose numbers? And would the colors be the same as the site's, or would we go totally wild with a totally random color scheme? Think about that for a bit.
Now, let's Queue.
---
RED HAS MULTIPLE QUESTIONS BUT I'LL ALLOW IT:
So, the War Campaign is over. Blizzard postponed the Goblin and Worgen heritage armors, despite the fact that they got their new models now.
Q4TQ 1: do you think there's a chance that the Worgen heritage armor questline will involve the Worgen retaking Gilneas?
Q4TQ 2: do you think there's a chance that the Goblin heritage armor questline will involve the goblins finally getting rid of Gallywix (and perhaps getting Gazlowe as their new leader)?
I think both of your questions revolve around things that could happen (the latter more so than the former), but they're both things that I don't think would happen in Heritage Armor quests. Those are just far too big of story beats to happen in a Heritage Armor quest chain. That said, I wouldn't be surprised if the Worgens' quest chain had them going back to Gilneas. It could even plant the seeds for them retaking the zone in the future but as a larger-scale effort for more players.
---
JALAMENOS, OF LAST LIGHT WANTS TO MOVE ON:
Q4tQ: Would you be ok with there being no patch 8.3 if the next expansion was added to your account for "free" as long as you have a subscription (like SWTOR does it)?
Not really. At this point, paying for an expansion is the standard and I'm used to it. More than that, though, I'd be more disappointed to see us not have an 8.3 patch. It feels like we need more lead-in for what comes next, something definitive from all the plots that Blizzard's been weaving in the background of the War Campaign. I want to see that in a patch, and then I want to see the culmination of those threads set off the next expansion. We got the culmination of the Fourth War's event with this patch. Let's bring some more thread together for 8.3 before we dive into the next expansion.
---
HUSSKIES, BEST BOI HAS A QUESTION IN A SIMILAR VEIN:
So.. Is Liz saying she's on team we-aint-getting-a-new-wow-expansion ? Because you're not getting a big 8.3 reveal at Blizzcon AND an expansion reveal.
I don't know if we'll get a big 8.3 reveal at BlizzCon, but I do think we'll have 8.3 AND an expansion announcement at BlizzCon. In wrapping up the War Campaign with 8.2.5, Blizzard has opened the way to present the 9.0 content without spoiling the fates of the major players. We'll probably have 8.3 datamining before BlizzCon anyhow, which means we'll know the general idea of what's coming and BlizzCon won't have to worry about focusing on 8.3 and an expansion all at once.
---
MAALIN HAS A TOPIC WORTH A LOT MORE WORDS THAN A QUEUE CAN PROVIDE:
QftQ: From all reports, Classic has been a huge success. What lessons, if any, do you think Blizzard will take away from that? I hope they'll see that it's the journey more than the destination. I fear that they'll use it as an excuse to remove QoL features. What do you think?
I don't think Blizzard's taken away any new lessons yet — or at least I hope they haven't. Classic is a success because it's barely a month old. People are still leveling. Content is still being discovered. You know what happens when a new expansion releases? It's a huge success. People are leveling still one month in. New content is being discovered one month in.
Classic will be an experiment in the long-term success of a old content. The short-term success is nothing new, and I hope Blizzard's not seeing the (alleged) subscriber boost and using that to make major decisions.
As far as how the reception — i.e., players' feelings toward the game, not stats and figures — will affect decisions? Maybe a dev will find an ability or a mechanic from way back when that they'd forgotten about and try to find a way to implement it (like, say, Sentry Totem). I don't think they'd ever remove QOL features, especially since those could just be replaced by addons. There are things I like about Classic that I'd love to see in modern WoW — removing the amount of melee self-healing in the game chief among them — but I'm not sure they'd ever take a major design feature like that from Classic and implement it into the modern game. The modern game philosophy is just so different that it would feel too drastic a change unless they made it happen gradually over time.
---
SPENCER MORGAN SPEAKS BLASPHEMY:
Q4tQ: when will Mitch realize he can do better than Sylvanas, and stop chasing her?
Does he deserve better? (I suppose that depends on whether you view morality as something concrete, or as a subjective societal convention)
He should settle down with a nice nerubian woman.
I still love Sylvanas. I don't deserve better, because she's the best. Get your crazy ideas out of here!
---
MISTAH JAY HAS SOME BAIT FOR ME BUT I DON'T TAKE IT:
Q4tQ: was anyone else disappointed with the end of the War Campaign?
Q4tQ: Does anyone still have the Eye of N'Zoth on them (not the toy, the permabuff)?
Of course I still have the Eye of N'Zoth on me! I'll keep it until the game forcibly removes it from me. And when it does, I'm confident it'll be for the greater good.
---
ELAINEDESHALOTT WANTS TO MAKE SOME MUSHROOMS HAPPY OR SOMETHING:
Does anyone know how much of the Sporeggar rep grind is part of the zone quest achievement.
I do not. But I do know that the Glowcap Festival is an easy way to get Sporeggar reputation. Unfortunately, it's not for a while.
---
I don't know if it hints at that so much as it's Blizzard trying to acknowledge they understand and hear players' various concerns or views. Some of the major beats have been set in stone for many years, which doesn't provide as much wiggle room to actually change the story — but small interactions like this at least help players know Blizzard sees them.
That's all for today! Be kind to each other. And also, don't forget your Queueniforms.