The Queue: Jellyfish. Why did it have to be jellyfish?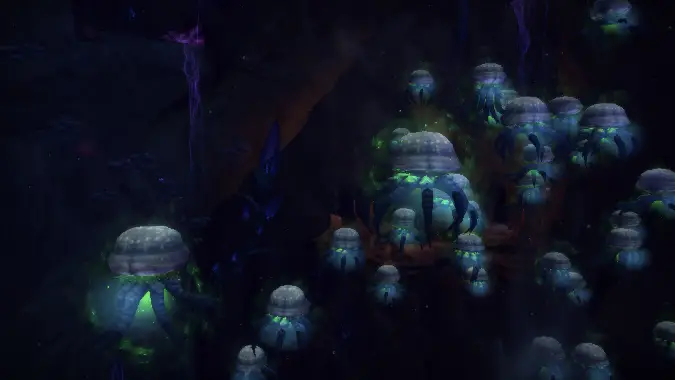 Ugh.
---
FUZZYBUNNY SAID:
We had a first death in Indiana from the flu. Get out there and get your flu shots, people! Supposed to be an especially rough flu season this year.
GET YOUR FLU SHOT, PEOPLE. Having the flu is miserable even if it is not actually fatal — and you getting a flu shot helps prevent people who can't get the flu shot, like infants and people with certain allergies, from getting the flu from dying. You don't want to have the flu and you don't want to spread the flu, so get a flu shot.
You can usually just walk into your nearest pharmacy and get a flu shot, no appointment required. A lot of insurance companies will cover it 100%, and even if they don't it usually runs $20 to $50.
You can find out where to get a flu shot at Vaccinefinder.org.
---
KALCHEUS ASKED:
Q4tQ Which of the Coming Soon panels are you most excited for?
The one right after the opening ceremony. Whatever they have to announce, the panel right after the opening ceremony is usually a deep dive into the most exciting news.
---
RED ASKED:
Q4TQ: presuming that three of the four "Coming soon!" panels at Blizzcon are going to be OW2, D4 and the next WoW Xpac… what do you think is in the fourth one?
I can see a few options, but I think the most likely is remastered games. We know the Arcade space downstairs will have a lot of classic Blizzard games, like Diablo 2, Blackthorn, and Lost Vikings. With the excitement around WarCraft 3: Reforged, I could see Blizzard mining its game library for more titles to remaster, possibly also on mobile. (I mean, come on, WC3 and D2 would both be great on tablets.)
Alternately, I can see Blizzard pushing into TV with the rumors of a Diablo Netflix series finally coming to reality. I certainly wouldn't mind seeing an Overwatch animated series, either.
But while it would be amazing to have a panel of something completely new, it's also possible it could be a deep dive into the story, lore, or making of a newly announced title rather than something new itself. For example, if Overwatch 2 is announced, maybe we get a deep dive into gameplay in one panel and a deep dive into lore in another series.
I'm pretty excited by the BlizzCon schedule, but I'm also trying to temper my expectations.
---
GALDWYNN ASKED:
What "upgrades" are you going to choose for your Junker Gnome?
I want mechanical eyes so I could see everything. They would see in the dark, zoom in like a telescope, identify enemies' weaknesses, reminding me when my cooldowns are up, remind me that raid times are in a different time zone so I show up when they start… you know, basically an awesome pair of glasses with built-in WeakAuras and DBM, all in an awesome set of mechanical eyes.
I could be me, but better, smarter, faster… well, okay, probably not faster, but definitely those other things.
---
MEKGINEER SICCO THERMAPLUG ASKED:
What are they doing announcing Deathwing with Blizzcon just over a week away!?
I'm just as confused as you are. I can only think that they either wanted to get Heroes news out of the way to make room for other things at BlizzCon — there is one 45-minute Heroes panel on the schedule, but that's it — or they're planning a really big Heroes announcement and they wanted to make room for that.
I find the former more likely than the later, but there's so much uncertainty around this year's BlizzCon, I really don't know.
---
CORY ASKED:
Could Mechagnome racial abilities be tuned a little high in an effort to encourage more high-end Alliance raiding?
I think all Allied Race abilities are overpowered compared to the original racials… but Mechagnomes really have some killer racials:
Combat Analysis: You gather and analyze combat data every 5 sec, increasing your primary stat by 50, stacking up to 8 times. The data decays while out of combat.
Re-Arm: When you fall below 20% health, heal for 20% of your maximum health. This effect cannot occur more than once every 1.5 min.
These are both extremely powerful, whether you're soloing, raiding, leveling, PVPing, or anything else I might be forgetting. Combat Analysis is a power buff for any class or role and Re-Arm is a very large, life-saving heal, even on a 1.5 minute cooldown.
That seems really powerful, even amongst the really powerful racial abilities of our new allies — but I'm not convinced that it's there purely to make the Alliance competitive in raids. (What, is everyone supposed to pay for a faction and race transfer? Not that high-end guilds haven't done it before, but that's a big ask for correcting a huge imbalance between the Alliance and Horde.)
And then, this could also be toned down before patch 8.3 hits, making this whole conversation moot.
Have a happy Wednesday, friends.