Hearthstone's Haunted Carousel Tavern Brawl is not very spooky and not very fun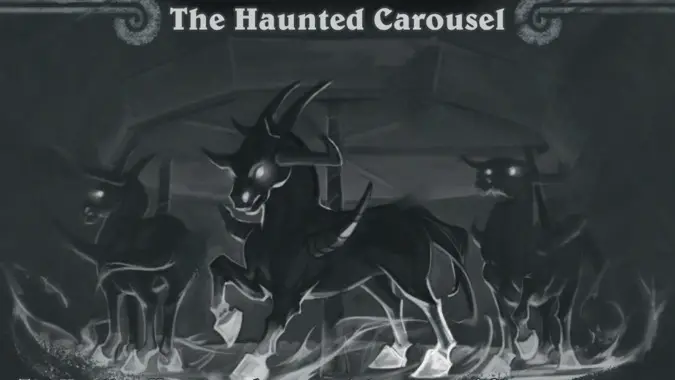 This week's Hallow's End-themed Hearthstone Brawl is the Haunted Carousel, and it's not the most exciting Brawl I've played, but it's not the least exciting, either. And while I wouldn't exactly call the Brawl fun, it has some great rewards so it's worth spending a bit of time on.
Tavern Brawl Basics
Name: The Haunted Carousel
Description: The Headless Horseman has cursed the carousel! Choose a class to get a random deck and climb aboard his Haunted Timeshifted Dreadsteeds. At the end of each turn, all minions will rotate!
Fun level: 3/10
Reward quality: 9/10
Difficulty: 1/10
Like the Carousel Gryphon boss fight from the Dalaran Heist single-player adventure, the Haunted Carousel rotates the location of minions every turn. Like a game of musical chairs, at the close of the round, each minion takes one step over, rotating around the board and switching sides when they reach the left-most (or right-most) side.
It's hard to find loyal minions these days.
Unlike the (sort of) friendly Carousel Gryphon, the Haunted Carousel can spin in either direction. The game specifies which way the carousel will rotate at the start of the match, so pay attention and you'll be fine. Or at least as fine as you can be when you're dealing with traitorous, backstabbing minions who decide to swap sides and help your opponent.
The "haunted" part of carousel comes in the form of Dreadsteeds. When you start the match, you and your opponent will both have two Dreadsteeds, and when each one dies, it summons another.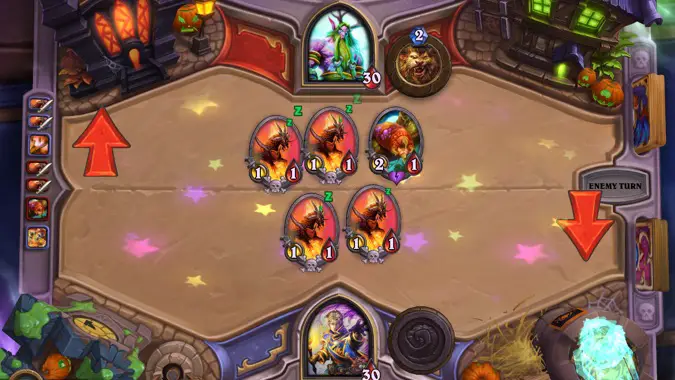 How to (sort of) win the Haunted Carousel Brawl
There are two ways to play this Brawl, and unfortunately they're contradictory. Either you play to win a match, thus earning your weekly Classic pack, or you play to summon as many Dreadsteeds as possible, thus earning a Rise of Shadows pack. If you play to win, there's a good chance you're annoying your opponent who is just trying to up their Dreadsteed count.
Fortunately, either way you go, playing the Brawl is pretty easy. You pick a pre-made deck for any class you want and jump into a game. The decks seem to be randomized and are generally pretty bad: you can easily go through the first round (or two) without any cards to play, and there's little card synergy. You'll get spell power cards without any offensive spells, or Battlecry-buffing cards without any Battlecries.
The only strategy is to play the cards you're dealt and work from there. If you want to win, focus all of your attacks on your opponent until they die. If you want to summon more Dreadsteeds, use your Dreadsteeds to attack your opponent's minions to get them killed (and thus summon a new Dreadsteed) — then repeat that 100 times. At the end of each match, you'll see the number of Dreadsteeds you've summoned so far, and thus find out how much of a grind you have left.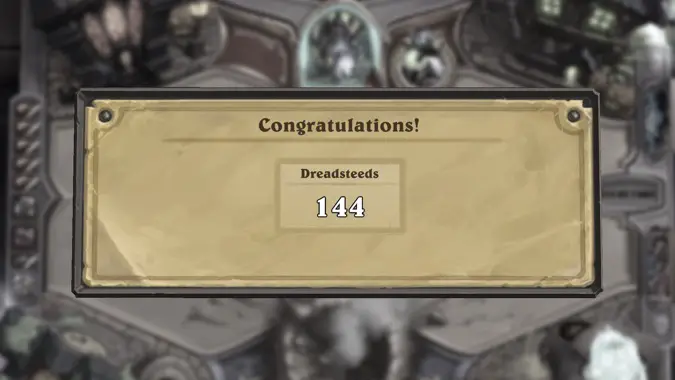 The fabulous rewards from the Haunted Carousel Brawl
The Brawl itself may be tedious, but the rewards are definitely above average. You can earn:
One Classic pack for winning one Brawl
One Rise of Shadows pack for summoning 100 Dreadsteeds
200 gold for playing (not winning) three Brawls
That's the equivalent of four packs from this Brawl — pretty nice!
Have fun?
This Brawl is amusing the first time, but as you work on summoning 100 Dreadsteeds, you will learn to hate it. So good luck with that.