Diablo 4 devs talk smashing bosses with stagger, customization with Legendaries, and the fate of the Auction House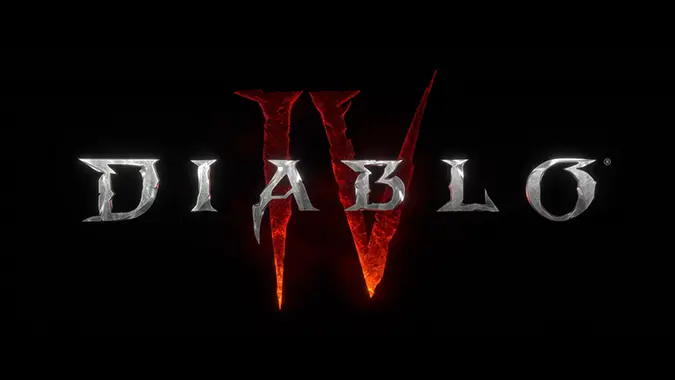 Blizzard Watch sat down with Diablo 4 Lead Game Designer Joe Shely and Senior Game Producer Tiffany Watt at BlizzCon to learn more about the darker and more dynamic title they're working on. Before we dive into the details, we want to note that the game is still very far from its release date, and any of these details may change between now and then. Much of this is about the philosophy of what they are trying to achieve as opposed to the iteration of it at this moment in time.
That said, here are some cool game features we discussed.
Stagger lets you bring down big bosses in unique ways
To add a layer of strategy to boss fights, the devs are working on a new feature they call the stagger mechanic. When players apply a crowd control effect — whether it be slows, stuns, or freezes — adds to the stagger counter bar on the boss. When the bar is filled, the boss is staggered, but this affects each boss in a different way.
For example, in the demo, a particular enormous boss has a sweeping blade attack. When staggered, some of the blades break off and the range of the attack is reduced. You can also defeat bosses without triggering the stagger mechanic: this is just considered a bonus if you have a build that can stack up stagger.
It makes for some great visuals, and it makes your crowd control attacks feel powerful even when they don't have their usual crowd control effects.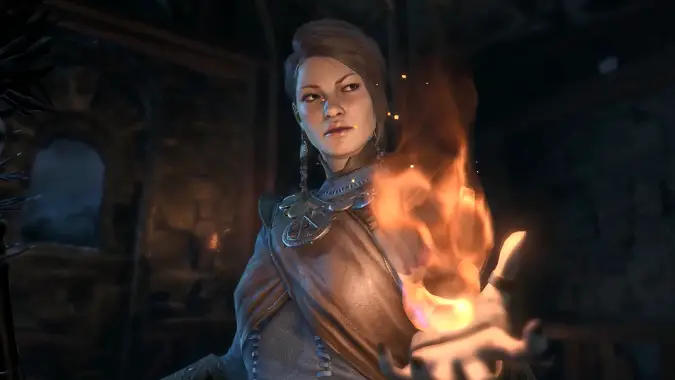 Legendary effects stack add more customization options
Legendary items in Diablo 4 will be more powerful than set items. The sets will give you a sense of how to play the class as you learn, but then you can riff on your playstyle through Legendary abilities and customize your build further.
Legendary effects can affect a specific class skill, and multiple Legendaries can be stacked for the same skill. For example, one Sorceress Legendary makes Teleport cost mana instead of having a cooldown, but it will teleport you in a random direction. A different Legendary adds a damaging nova when you teleport. So you can go after Legendaries that create a custom build focusing on a skill.
But just like in Diablo 3, not all Legendaries modify specific skills: some will provide buffs regardless of class. In the demo there was a ring that had a chance to spawn a hydra to fight for you, and any class could equip it. When I played it was a little strange to have my Druid invoking hydras, but I wasn't complaining.
The goal: to give you even more control over how you play.
Loot, trade, and our good friend Gary the Treasure Goblin
The trading system is still being actively developed, but we do know that Diablo 4 won't have an auction house. The team's philosophy is that you should the best items by playing the game, not by shopping for gear.
However, you can trade with your friends — but the devs are still exploring how that will work. The current system they're tinkering with allows many items to be traded without penalty, like crafting items and potions. More powerful items will bound when traded. Then the most powerful items will be bind on pick up. Similar to Diablo 3, the loot dropped by monsters are individual to each player, but when a player drops loot on the ground, other players can pick it up.
The treasure goblin will make a return in Diablo 4. He is affectionately named Gary by the dev team, though (unfortunately) that will not be his name in the game. He will be mostly the same experience: getting you to do things that you don't want to do in battle in exchange for big loot. One change in Gary's behavior is that he is so engrossed in his bag of loot that he won't react to you until you attack him. This is good news as it may allow you to finish off the creatures you are fighting before you chase him across half the dungeon map.
More loot is very Diablo.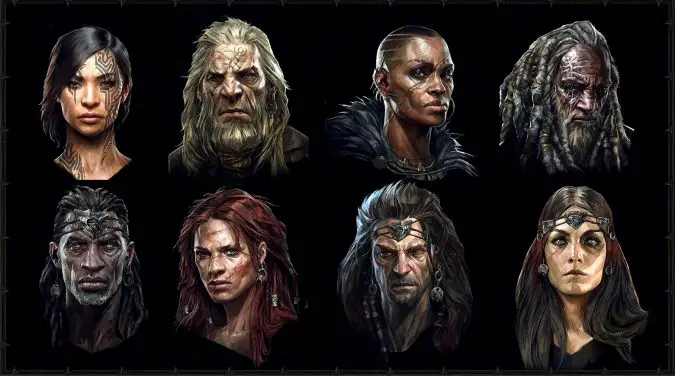 And all the little details
Joe and Tiffany had a few more bits of information for us, again with the caveat that all of this is still in development and may change by the time the game releases:
Console controllers will work on the PC version, but not keyboards on the console version
Local co-op is coming back, but console only
There will not be offline play, just like Diablo 3
They have big plans for crafting in the game, but there are no details yet
PVP is being designed along side the PVE experience, not after the fact as they (sort of) did with Diablo 3
Every skill for you class can be unlocked if grind it out long enough (with some help from Skill Tomes that will drop in the game)
Talent trees will force you to choose between abilities since you won't have enough points to gain them all

I played a Druid in the floor demo and saw two trees for that class: shapeshifting and destructive nature magic

You will be able to rearrange your skill bar just like in Diablo 3
And finally, this game is so early in development they don't even want to say it is coming "Blizzard Soon ™." Knowing this, I expect to the next iteration of it at BlizzCon 2020.