Just a Queue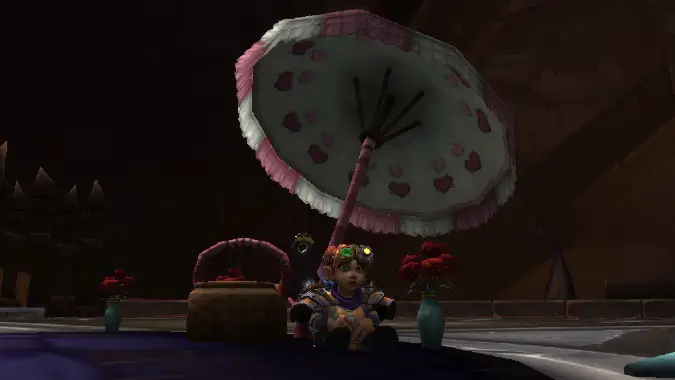 It's not The Queue, just A Queue. Some days just feel that way.
---
MOVEWOW ASKED:
Q4tQ: Of all the expansion end bosses which one did you feel the most sorry about defeating? Mine was Deathwing.Then in Legion they made me feel said about it again!
I feel pretty bad about killing Illidan in hindsight. We come down pretty hard on the denizens of Azeroth who will go to any means to defeat some evil, and then when we really need to defeat said evil off you are to free them from where you've left them imprisoned. It's a lousy deal.
And while we didn't defeat her, I also feel pretty bad about Maiev. All of that time hunting Illidan down and for what? Pretty much nothing.
---
FUZZYBUNNY ASKED:
Do you think all the various achievements, trying to get xpac items before the next xpac, trying to gear alts, get Rep for professions for many alts, etc., has led to burn out of the player base? I get so overwhelmed at times I just don't know which "task" I should do. My guild hasn't raided in a month, so I don't have that pressure right now.
I can say for sure that I'm burned out. I have a lot to do in game, but it just feels like a long list of chores. I ought to be doing Island Expeditions to max out my Heart of Azeroth. I ought to be doing Nazjatar bodyguard dailies for the Essence. I ought to be doing world quests to keep getting rep. I ought to finish leveling my Druid so I have a max-level gatherer. I ought do the Mechagon every day to get exalted. I ought to show up for my raid tomorrow. (We got Ahead of the Curve in September, and everyone's motivation is way down.)  I ought to PVP to get the PVP Essence. I ought to do grind out old reps for achievements. I ought to…
It's great to have things to do, particularly late in the expansion when we aren't going to get any new content for a while. It's just that nothing w have to do right now seems particularly exciting and it doesn't do much to drive me to log on.
---
XERIANNE ASKED:
With 8.3 in the new year when do you speculate we'll get the pre-launch event for Shadowlands?
Even though 8.3 is coming some time in January, I don't think we're getting the pre-launch event any time soon. My guess is summer at the earliest.
---
DERREK ASKED:
How on Earth does one win the Korrak's Revenge BG as Alliance?
Sorry, but I ask myself this same question every time I try to do any kind of battleground as Alliance.
---
TAURENITUP ASKED:
I have a question: does anyone here have an opinion on Google Stadia? I feel like it should be a big deal but it's like most people got their smarmy jokes out of the way and everyone else is bored with the topic already.
It's worth noting that Stadia is still in beta, but it still feels very much like a product in search of an audience. Right now to access the beta, you need to buy a $130 Stadia Premiere Edition which includes a controller, a Chromecast Ultra, and 3 months of Stadia Pro (which is $10/month otherwise). With this you can stream any games offered by Stadia Pro (which currently seems to be Destiny 2) for free, as well as get discounts on buying other games. Some time next year, anyone will be able to buy games and stream them without any additional purchases.
The big question mark for me here is the list of available games. The beta launched with 22 titles, and… they aren't all that new or exciting. There's Assassin's Creed Odyssey, which is a game I really love but it was also released 13 months ago. There are great games in the lineup, and some are newer than that, but there's nothing particularly inspiring there — and Google says games will cost the same on Stadia as they will on other platforms, so we can presume about $60 per game.
The advantage, of course, is being able to jump from playing on your TV to your PC to your tablet to your smartphone. That does sound pretty awesome, but the technology to make setup and streaming go smoothly don't feel like they're there quite yet. It's in beta, so maybe this will get better before it fully launches next year — but right now it seems like a service that's rough around the edges.
TLDR: It has a limited selection of games, won't play anything you own now (while both current and next-gen Xbox and PlayStation consoles have backwards compatibility), and isn't very technically polished (yet).
If you have good bandwidth and Stadia's streaming tech improves and its game selection improves, it will let you play games without the need to buy a console or maintain a gaming PC.
As someone with an investment in existing console games, I have trouble seeing the appeal. I'd have more flexibility on where and when to play, but I'd have to re-buy any games I currently own and the service doesn't have any new titles I want.
But the question really just comes down to whether Google can make streaming as smooth and seamless as playing on a console or PC. If yes, sure, this will appeal to someone, even if that someone isn't me.
So I hope you've all enjoyed me rambling a lot about everything except Blizzard. Have a good Wednesday, my friends.