WoW
Dec 3, 2019 2:00 pm CT
You can bring home Dottie the baby alpaca and help support Make-A-Wish and WE.org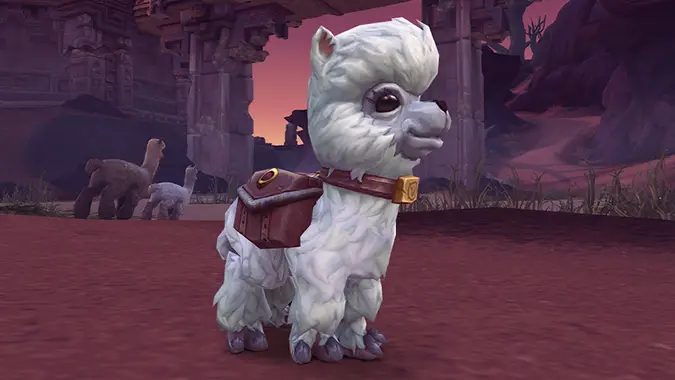 Dottie the baby alpaca came all the way from Vol'dun to help support Make-A-Wish and the WE.org charity. Blizzard's latest WoW charity pet and plushie is available for the live game. The company promises to donate 100 percent of the purchase price to both organizations (split equally).
You have two ways to buy Dottie before December 31. She's available as a $10 pet on the Blizzard Shop, and she's available as a plushie on the Blizzard Gear Store. The in-game pet doesn't take up as much space as the real life one, but if you head over to the store page you might give in. Dottie is a cutie and is begging to be hugged, not /hugged. The plushie is $29.99 and $10 of that will be donated to the charities.
If you don't know, Make-A-Wish has thousands of volunteers that go out and grant wishes to children diagnosed with critical illnesses. Blizzard has consistently worked with the organization to donate via in-game pets and has once added a character created by one of these children.
WE.org is another organization that seeks to help educate young people on social issues in Asia, Africa, Latin America, Canada, the US, and the UK. WE.org has social programs and events that help people develop skills to better teach and learn.
Meet Dottie, the adorable baby alpaca. When you adopt her in-game or in plushie form before December 31, you'll be helping the @MakeAWish and @WEMovement charities aid children in need!

➡️ https://t.co/YyDSSPQHJB pic.twitter.com/r5Aq9jnlPv

— World of Warcraft (@Warcraft) December 3, 2019
If Dottie is like any other charity pet, she'll still be available after the event. Any purchases of the pet after the event won't have any of the money go towards the organizations though. It's unclear if the plushie will stick around, but usually those eventually disappear off of the Gear Store so you may want to act soon if you want your very own best friend with small teeth who loves to eat.
For now, if you want to use Dottie in some pet battles or just have a short little alpaca follow you around, you should consider picking her up!