WoW
Dec 4, 2019 2:03 pm CT
How you'll level alts in WoW Shadowlands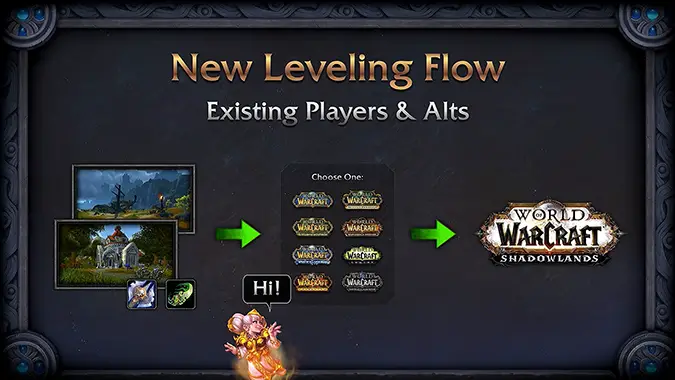 The leveling experience is drastically changing in WoW Shadowlands. Not only is the new max level being crunched down to 60, the entire experience from 1 – 50 will be customizable. Blizzard has done a lot of work to transform the early chunk of the game into something that feels closer to the modern design of the latest expansions.
How leveling works in WoW Shadowlands
The new level cap is 60. That means there won't be 120 levels to work through before you get to the newest expansion. Shadowlands will require you to be level 50 to start it — which means anyone that is currently level 120 will be 50 on the day it launches. For any of those characters, you'll simply take a ride to the Shadowlands and start experiencing the new zones and stories. As an added bonus too: any alts you have to level after your main will be able to jump straight to earning endgame progress for one of the game's new factions as they work through the story.
For new characters, the leveling process has considerably changed. First of all, if you're on a brand new account or specifically choose the option, you'll start a new character on Exile's Reach. This new zone is specifically created to introduce new players to the game and get them to level 10. If you prefer the old starting zones, you can always do those as well. We also learned at BlizzCon that both Death Knights and Demon Hunters will now start at level 1, but we have no idea if they'll have unique starting areas still.
Once you're level 10 (or choose one of the Allied Races), you'll get an option to visit any of the game's storylines: the base game, The Burning Crusade, Wrath of the Lich King, Cataclysm, Mists of Pandaria, Warlords of Draenor, Legion, or Battle For Azeroth. New accounts will be pushed towards Battle For Azeroth. Each one will bring you up all of the necessary levels to be ready for Shadowlands. You finally get to choose what story you want to play through, and the time it takes to finish it won't be wasted!
Unfortunately, we don't know how this works for characters that are at some random level. Theoretically, the level squish should place anyone who isn't a fresh character at the appropriate level. But it's unclear if you'll be able to continue where you left off, and if you'll be able to swap to a different expansion to hit level 50.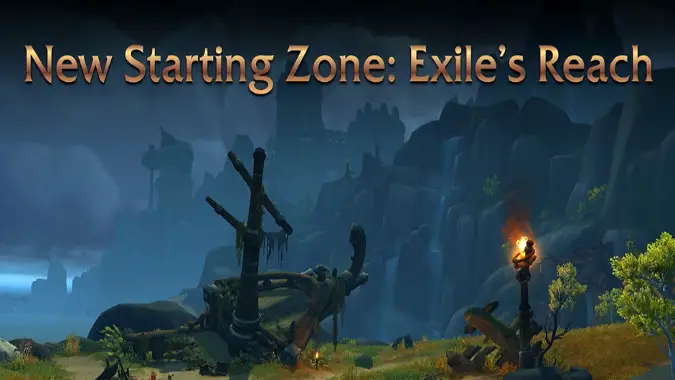 How to choose an expansion to quest through in WoW Shadowlands
The new system leaves us with a big question: which expansion do you choose to do in order to get to level 50? If you're going for the fastest route, you'll probably want to go for an expansion you know by heart. If you know the leveling paths through areas really well, or know what quests to skip, you'll likely make it through that expansion faster than one that is potentially shorter in the number of quests it has. That said, the later expansions are designed to be more condense and streamlined, so you'd be fine picking Battle For Azeroth or Legion.
If you want story relevance, then you'd be best off going for Battle For Azeroth. There you'll see Sylvanas' arc and be able to have that fresh in your mind before you enter Shadowlands. It would also be the least abrupt change in the game's quest design. If you go from the stale quests of Burning Crusade to the more recent content, it's going to be rough adjusting to the flow of it all. Unless you missed the game's earlier stories, you should generally stick to the newer content.
Above all, there's the potential that someone will time themselves during the expansion's beta and figure out which one is the most optimal for everyone. Depending on how much of a lead the winner is, you might consider picking that expansion, especially if you're someone trying to level up alts.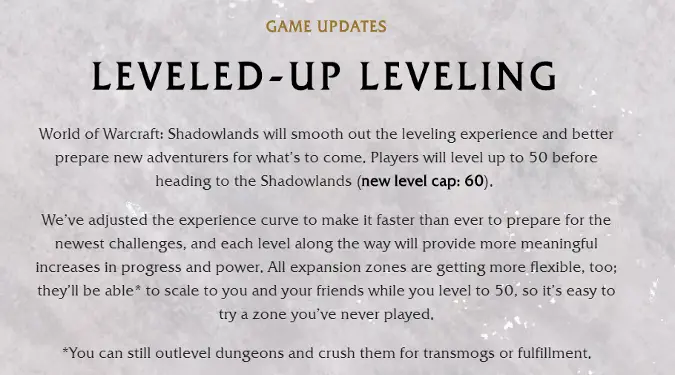 How long does it take to get to level 60 in WoW Shadowlands?
Right now, it can take upwards of five days of in-game time to reach max level. That doesn't count any experience buffs or knowledge of the content. But with the change in the leveling experience, it seems like that time could be cut down by a lot. If one of the game's expansions gets you to level 50 — and the quests aren't changed at all in terms of how long they take to complete — then it should be faster, and the devs have specifically said leveling to 50 will be 60 – 70% faster than it is now. Obviously we don't know how long enemies will take to kill and if the experience gains are equal to what you'd get now, but there's a real chance that it could take only a handful of days to get to level 50.
Even without knowing the particulars, the leveling experience in Shadowlands will be a lot easier to get through than it is now. It's a huge improvement for the game. Existing players can survive the leveling experience without falling asleep, and new players can actually enjoy it and catch up to play with their friends.