When does the Overwatch Winter Wonderland 2019 holiday event start?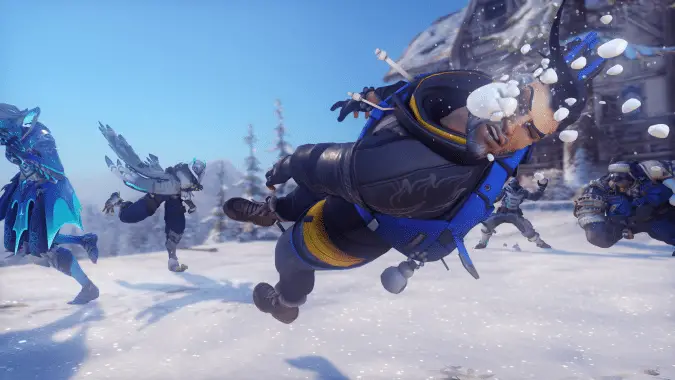 Overwatch's Winter Wonderland 2019 event is on its way. The snowy event will return with new skins, cosmetics, and the maps and modes we've played with before. This year, there hasn't been a load of teases leading up to the event, but a recent forum post has confirmed that it'll be coming very soon.
Game Director Jeff Kaplan wrote that patch 1.43 will go live the week of December 9th along with the Winter Wonderland 2019 event. Given how Overwatch updates almost always go live on Tuesdays, it's pretty likely that the event will drop on Tuesday, December 10th. That gives you the weekend and a little more to grind up some credits to buy all the new cosmetics.
So far, we only know of one skin. The gravity-bending tank Sigma will get a lich-themed skin that was shown off at BlizzCon 2019. The skin turns him pale white and gives him gigantic, frozen shoulder pads — it will likely be of Legendary quality and cost you 3,000 credits. The event itself will, presumably, have three to four other Legendary skins and a list of other cosmetic rewards from loot boxes that we should know about soon.
Winter (Wonderland) is coming…

Put your enemies on ice as Rime Sigma when Overwatch Winter Wonderland returns on Dec. 10. pic.twitter.com/yYf9OfQrc8

— Overwatch (@PlayOverwatch) December 9, 2019
In the last few events, Blizzard has introduced weekly challenges for Epic skins. Like the recent Mercy event, you'll have to win nine games in Competitive, Quick Play, or Arcade to earn the skin. Prepare yourself for this type of challenge to return.
It should be easy for anyone finds themselves a master of Mei's Yeti Hunt or Mei's Snowball Offensive — the two event-exclusive game modes. Both modes feature the titular character, but one of them is about defeating a big yeti Winston and the other is about defeating the enemy team. Yeti Hunt tasks four Meis to run around a snowy Nepal map to track a carnivorous Yeti before he eats them, while Snowball Offensive is a team-based deathmatch mode where you have to use piles of snow to load a one-hit-kill shot into Mei's gun. If you want easy wins toward the weekly challenge, I'd recommend playing Yeti Hunt on team Mei.
Other than the new modes, you'll be able to play on Winter-themed versions of popular maps including King's Row, Hanamura, Blizzard World, Ecopoint: Antarctica (Arcade), and Black Forest (Arcade).
Winter Wonderland 2019 won't offer any new game modes as Blizzard has said in the past. A lot of the development team is working on the sequel to the game versus adding to the current events. While sad, hopefully it means the new events coming in the future will be packed with fun stuff to do and earn.