WoW
Dec 17, 2019 7:50 am CT
Winter Veil 2019 adds a new Pepe costume then silently removes it, plus other holiday festivity
Updated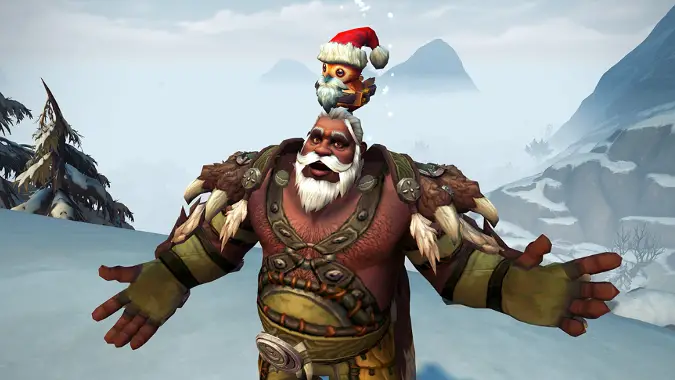 It's Winter Veil time, y'all! That similar to — but legally entirely distinct — Azerothian Holiday that we celebrate in World of Warcraft, replete with nonspecific yet utterly familiar decorations and displays of the spirit of this, and I must repeat, completely unique yet comfortably reminiscent time of the year. There are magical sleigh rides!
There was a new costume for Pepe that put him in a red Winter Veil hat and beard, but since the time of the publication of this post Blizzard altered the informational post we were reporting from. Originally this new costume was what we were most excited for, and now all mentions and art of Pepe Claus has been removed from the post, implying that we won't see him peering out at us from the heads of everyone we meet, like Elf on a Shelf but even creepier and more all-seeing. This year, anyway.
At least there's all the stuff we've seen in previous Winter Veil celebrations, such as Giant Snow Globes in Ironforge, Orgrimmar, and Broken Isles Dalaran to keep us busy.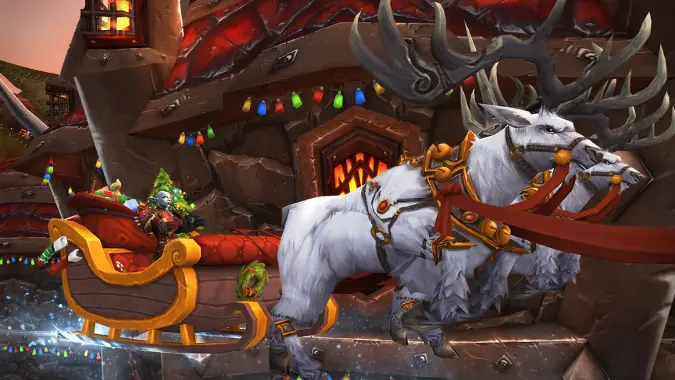 You can also go kick the Abominable Greench in his jingle bells up in Hillsbrad Foothills, as the quest You're a Mean One… is available for all 60 and up players. It's a daily quest, and it rewards all sorts of toys and fun items, including a dagger and a trinket that scale up to ilevel 395 at level 120. And of course, you can go run a bunch of dungeons and see if the bosses drop red or green Greatfather Winter hats (again, Greatfather Winter is a wholly distinct entity and not to be confused with any Holiday figures not from Azeroth) and let us not forget there will be presents under Greatfather Winter's Winter Veil tree at the end of Winter Veil — just log in and see what you get.
Oh, and don't forget that sleigh ride — you'll be able to catch it in Ironforge or Orgrimmar and take lots of selfies of yourself and your friends celebrating that Winter Veil spirit of complaining that you have to go out to your Garrison if you want a shot at the incredibly rare Minion of Grumpus mount. That's right, find that Garrison Hearthstone in your bags and head back to Warlords of Draenor content to farm up Savage Gifts for a chance for that mount and other stuff that's a lot less cool.
So join Smokeywood Pastures — who have no idea what hickory even is or why you'd farm it — to celebrate Winter Veil this year.