WoW
Jan 10, 2020 10:00 am CT
Jenafur the secret void cat Battle Pet now has tentacles… but we still don't know where to get it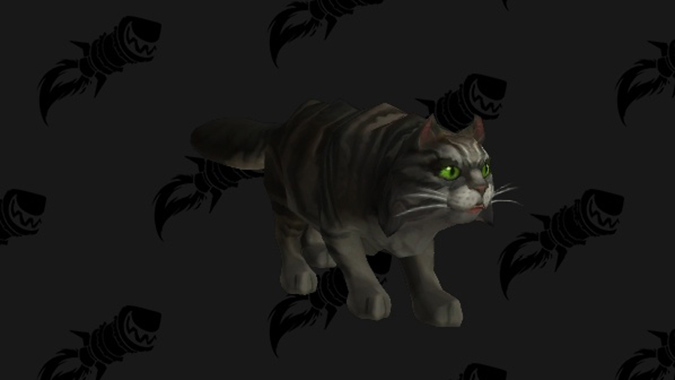 The search for Jenafur — WoW's latest secretive Battle Pet — has had a small update in a recent hotfix: The cat has grown tentacles. Given that we know Jenafur is a void kitty in some fashion, it's clear something has happened regarding the community's search that's been going on since last September. But the question is: What?
When we last checked in on Jenafur, we knew that to start the quest you have to find and speak to Amara Lunastar in eastern Ashenvale. She talks about her missing cat, and you can tell her that you'll keep an eye out for her via a dialogue option. From there, you can ride out to Elwynn Forest and find Crazy Cat Lady Donni Anthania's empty cat food dish. It has big gashes — maybe from Jenafur's tentacle attack. Unfortunately, there hasn't been a lot of progress toward the Battle Pet for three months now.
We still don't know exactly how Legion's Return to Karazhan! dungeon fits into it, but we do know that the trail of kibble and other cats in it are the third step. Blizzard has since confirmed a few things to the Secret Finding Discord, like how the quest is solvable without a group, and that nothing about the secret prevents anyone with color blindness or hearing impairments from figuring it out. And most recently, we were given a phrase from the Discord's owner Super (presumably from a Blizzard developer): "Four Kibbles bounce in time, four kibbles count the time."
How any of this ties together into a solution to adopt a deadly little cat is beyond me. We'll have to leave that to the Discord and everyone else trying to pick apart the meaning here. But this most recent update could be a clue or an acknowledgement that they've changed the quest somehow. Perhaps they made it easier! We'll have to keep waiting and refreshing the Google document to see if anything comes of it.