The Queue: It's been one week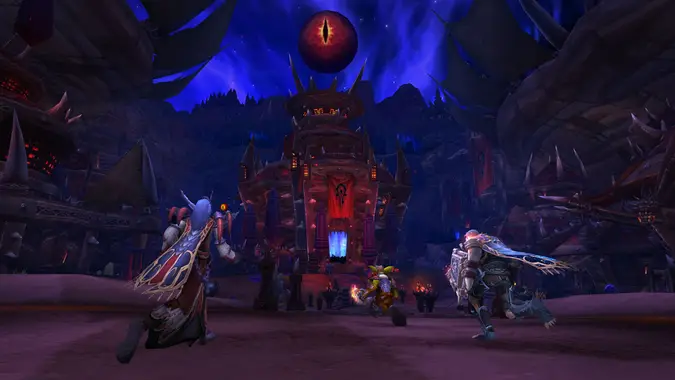 Well, I haven't frozen solid, but I am running dangerously low on food. Luckily our cold snap seems to be coming to an end. We now resume our regularly scheduled programming.
Nothing big or potentially world-ending happened while I was hibernating, right?
Let me just take a big sip of water…
---
JDMAC LOOKED AT ME COCKED THEIR HEAD TO THE SIDE AND SAID I'M ANGRY
Since the Queue title is "Befriending rats" What is the command to get Hogrus or Squeakers to do their special animation? 
I tried to fly Squeakers in Kul Tiras (where I cannot yet fly) and the animation I got was very, VERY cool. How can I trigger this in other areas? (I am guessing that command would work for Hogrus as well.) 
This was answered down in the comments but it can't hurt to answer it for visibility. Typing "/mountspecial" will get the mount you're riding to do something special. You'll see this happening when you press the button to jump while not moving in non-flying areas, but if you're in a flying area pressing spacebar just makes you take off. So if you're looking to show off the Rats amazing flying leap, or your Dragon's impressive wing-span you can just type it out.
---
RED LIKES THE SUSHI CAUSE IT'S NEVER TOUCHED A FRYING PAN
2BE: playable Kobolds vs. playable Murlocs 
Why not both? Give one to each faction. Alliance can have the Murlocs and Horde can have the Kobolds — or vice versa. Both races have ample reason to hate each of the factions, we've stolen millions of candles and slaughtered our way through probably billions of Murlocs. And both races have the most important feature for an Allied Race. They are bipedal. Sorry Naga fans, but I just don't see them relaxing that rule anytime soon.
---
RED IS SO DANGEROUS, YOU'LL HAVE TO SIGN A WAIVER
Q4TQ: do you wish Blizzard would add more instances to each Timewalking event? 
I'm all for it. Burning Crusade alone has only 6 different dungeons available for people in the Timewalking queue — out of a total pool of 16 dungeons. Let's get the rest of them in there! I haven't been to The Botanica or the Steamvaults in forever. As long as they did some tuning passes. I was just in Auchenai Crypts a month ago on my leveling Rogue, and the group fell apart at the first boss because we just couldn't survive the damage aura the boss had.
The limited selection is probably because they wanted to make sure that you had a good chance to see most of them over the course of the five runs required for the weekly quest. But I would dearly love to have a bigger pool to pull from so that I don't get three runs of Black Morass in a row again.
---
MISTAH JAY LOOKED AT ME, THREW THEIR ARMS IN THE AIR AND SAID YOU'RE CRAZY
Q4tQ: Is there any difference between having the Gift, rejecting it, and never doing the quest to get it in the first place (for 8.3)? 
The only difference between never doing the quest for the Gift and rejecting the gift that I can see is that when you reject the Gift you get a toy that lets you have the Gift whenever you want. Making anything special tied to just people who were wearing the Gift is less work for Blizzard, and helps to avoid issues that could come up around alt characters who missed starting those quests.
I don't know why you'd ever want to remove it though. N'zoth was nice enough to give you a Gift, and we should all be thankful that he got us something so special.
N̷̢̛͎͈̲̘̲̭̳̹͕̘͍̹̖̆̋̊̌̓͗̏̈́̆'̴̨̗̺͉͕̙̖͔̘̮͇̊z̷̫̩͂̈́͌̅͗͆̊̾͋̊͝o̴̧͕͍͈̯̻͉͖͙̭͗̔͒̽̈́͌͒͆͋̍̚ţ̸̯͕̯͔̻͓̪̑̆̏̆́͛͋h̵̼͊̓ ̶̙̦̗̈́̂̇̓͛͊̆̉͂̏̕͘l̸͓̀͒̄́̆̎̆͒̄ọ̷̡͎̭̰͓̗͐̕ͅv̸̨̨̨̯̦͇̟̟͍̗̣͔̐̾̚͜ẽ̶̥͉͚̺̇̈́̋͆s̷̨̡̖̙͎͓̮͔̗̹͓̩̣̐̃̄̑͆͠ ̵̧̯̲̼̙̹̓́̈́͗̊͜͜͝ŭ̵̗̦̙̣̮͈̮͎͊́̿̒̊͒͝͝s̷̳̞̪̩̰̖͉͚̘̭̝͚͎̙̾
---
MAALIN MAKES MAD FILMS, OKAY THEY DON'T MAKE FILMS BUT IF THEY DID THEY'D HAVE A SAMURAI
Q4tQ: How do you feel about the tuning of 8.3? It feels a bit hard to me right now. But will they nerf it? Expect us to upgrade with corrupted gear so it's easier (no thanks)? Or did they just aim it at higher level players in the first place? 
For me, the tuning is great! I'm coming into 8.3 with a 446 ilevel and playing a tank. Nothing will kill me, and I'll eventually kill anything I look at. Some of the rares will take me 10 minutes to kill, but I could do them solo. I'm not the average player here though and that's where the issues are coming from.
To feel comfortable in the new zones it seems like a 440 ilevel is what they've been balanced around. This won't be as much of an issue when we're in Season 4 and the item rewards across all sources are higher. Plus as more things get corrupted you'll be able to pick and choose the most powerful buff that doesn't bring too many drawbacks with it. As a tank player, I'm drooling over any of the effects that come with the damage based on how much health I have.
I do think they should've launched Season 4 right alongside the Visions patch just so players not coming out of high-end dungeons and raids could start to get the gear that can feel so necessary for the content.
---
LOTHARFOX SAYS IT'LL STILL BE TWO DAYS TILL WE SAY WE'RE SORRY
Am I missing something in the Horrific Visions? It seems I just want to rush into Thrall's room, defeat him, to collect the item so I can upgrade my cloak. Is there a reason to explore the rest of Orgrimmar? 
For the first five levels of your Legendary Cloak, you'll only need Thrall to get the upgrade tokens. However, the higher your cloak gets — the further in you'll need to delve. But by that time your cloak and Titan Forge should also have unlocked powers for you to make that possible. The cloak with the blanket protection to keep your sanity and the Forge with either flat increases to your damage done or extra points of sanity while playing groups.
There's a bunch of rewards for looking around a little more — Like the mailboxes! So far I've found one mailbox per area that you can interact with while not in combat. Clicking these will summon Angry Mailmentals, Possessed Packages, and a chance to spawn the Mail Muncher! Killing the Mail Muncher will let you loot a mount of the same name! The first mailbox is right outside of the Auction House in the main section of the Corrupted Orgrimmar Vision. Good luck!
Anna didn't fall for "You're Welcome" last week, but I'm pretty sure I've got her this time. Who can resist The Barenaked Ladies?
Todays Anna Earworm™: One Week
Make sure that you leave lots of questions for her!