The Queue: The Old Gods are dead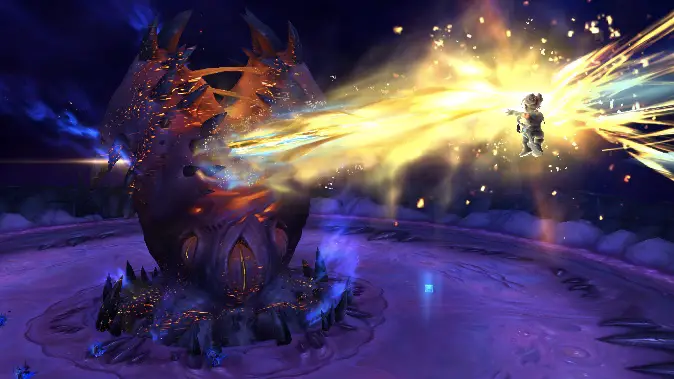 Long live the Old Gods.
---
CORY ASKED:
What's your impression of the N'zoth fight having literally just finished it on heroic?
So that was a thing that happened.
It felt a little anti-climactic honestly. Our group spent so much time on the first phases and we really only got to the final phase two, maybe three times before we killed N'Zoth. It was our first pull today and it just happened, like it was no big thing. I knew we were closing in on a kill, but I expected to spend more time learning the last bit of the fight before we got it down.
A lot of Ny'alotha feels like that. There's nothing wrong with it (though the eyeball and tentacle decor is a little questionable), but it feels like I've rolled through it without a lot of effort on my part. I don't feel like I'm playing at a particularly high level (though I am playing with some people who do) and I don't feel like I've had to push myself to play better. Ny'alotha is just a thing that happened. And so is N'Zoth.
---
RETPALLYJIL ASKED:
Q4tQ: Building off Mitch's hope for all races as undead, which race would you pick? (Assuming that it is only cosmetic and you are still a Forsaken no matter which "skin" you choose.)
Is it any question what I'd answer? Definitely Gnomes. Still adorable, but with a slightly warped sine of morality and a willingness to do just about anything to restore Gnomeregon.
---
ENO ASKED:
If this is Animal Crossing Watch now, are we supposed to speculate why the chicken crossed the street?
Surprisingly few chickens seem to cross streets, so we may need to make do with whatever animals we can find to watch. And apparently most of those are adorable video game animals.
---
PIDIA ASKED:
Q4TQ: Hearthstone prerelease tavern events going digital, thoughts?
In light of the ongoing global health risks associated with in-person gatherings, we're adjusting the functionality of Fireside Gatherings for the near future. Read more here: https://t.co/XUH4jS9nbm

— Hearthstone (@PlayHearthstone) March 19, 2020
I suspect that at least for a while, everything that can go digital will go digital — and everything that can't will just be canceled.
Personally, I'm into that. I haven't done any real life Hearthstone events because they make me exceptionally anxious — they can be run by anyone, they can be anywhere (my nearest regular Fireside event is in a bar I've never heard of), and there's no way to know if they're actually safe places to go. I've long been frustrated that Blizzard wants you to attend these in person events to get certain rewards, but also does nothing to ensure they're legitimate or safe. I agree that it's beyond Blizzard's purview to ensure that all fan get togethers are safe, but these are fan get-togethers where they give away official loot and it's a Craigslist-style list of sketchy places to go with strangers — just it's on Blizzard's website. I feel more comfortable traveling across the country to go to BlizzCon than driving 20 minutes to go to a local Fireside Gathering.
So that goes a bit beyond the scope of the original question, but Hearthstone's in-person events have always been a little odd in their official un-officialess. Though it doesn't have the same real life social elements, I think going virtual is a good thing — and right now, a necessary one.
---
ZARYAMOON ASKED:
Once you finish leveling your cloak, will you keep doing horrific visions?
You're assuming a lot to think I'm even doing Horrific Visions now, which I really don't.
It's just not content I enjoy. It's challenging content, which isn't a bad thing in and of itself, but it's challenging with a relatively high cost of failure, so you can't just keep hopping in to enjoy pushing yourself. It's a fair amount of grinding to get the vessels to go into Visions, and even if you collect as many mementos as is possible you can't keep running visions.
If you really challenge yourself — running new areas of the Vision, adding masks, or just exploring and experimenting with strategies — there's a fair chance you'll slip up, fail, and lose your vessel. So it's challenging content that encourages you to play very conservatively, because if you don't it's at least several days' work to get another vessel to try again.
All that just isn't my kind of fun, and I realized that I don't have to do it. I need the cloak to raid Ny'alotha, but I don't need a max-level cloak to raid Ny'alotha. So my cloak is level 7 right now and I feel no need to keep working on it. It's a real "if I get bored" task at this point.
---
MARK ASKED:
When do you think a) the beta starts, and b) when 9.0 hits?
My guesses are based off nothing but my own intuition, but a) June and b) August.
Ugh, that's a long time away. I hope I'm wrong.
---
MXSPOON ASKED:
So you have any hope left on us followers of @TheRealNzoth getting our just reward for holding onto their beautiful gift that absolutely doesn't ruin our tmog?
(also dogs are cute)
I was actually going to come up with an answer for this one, but N'Zoth itself came through with something that is better than anything I could have written:
I DIDN'T JUST RUIN YOUR HEAD PIECE TRANSMOG. I GAVE YOU A SPECIFIC EYE SO THAT WE COULD ADVENTURE TOGETHER. JUST YOU AND YOUR OLD GOD PAL. I'VE FELT YOUR HARDSHIPS. I'VE KNOWN YOUR PAIN.

I DO LAUGH WHEN YOU WIPE ON LFR N'ZOTH THO.

ALSO DOGS ARE GREAT.

— N'zoth (@TheRealNzoth) March 20, 2020
Though now that I know N'Zoth likes dogs, I kind of feel bad for killing it this morning…
And that's all I have for you today, my friends. Be sure to be kind to your fellow internet denizens this weekend, as we're all struggling. And while you should be social distancing yourself from other humans, you should definitely still pet your dog/cat. They'll appreciate it.
I'll see you back here next week, everyone. Stay safe.