Have an eggscellent time with Dr. Boom's Ignoblegarden! Tavern Brawl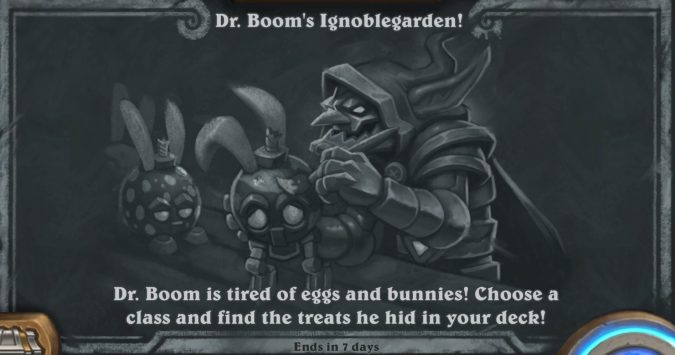 Spring is in the air (among other things we won't mention) and that means it's time once more for Dr. Boom's Ignoblegarden! Hearthstone Tavern Brawl. This is the same Brawl we played last Easter, when Dr. Boom has added some of his own delicious treats to your deck.
That is if your idea of delicious treats is things that blow up when you touch them.
"Jamie want big boom." – Jamie Hyneman, Mythbuster
Tavern Brawl basics
Name: Dr. Boom's Ignoblegarden!
Description: Dr. Boom is tired of eggs and bunnies! Choose a class and play with the treats he's placed in your deck!
Fun level: 7/10
Difficulty: 7/10
Replayability: 8/10
Format: Wild
Type: PvP
Deck: Provided
Rewards: 1 Classic pack
The treats come in form of a custom minions. You'll start with a egg on the board that hatches into a Bomb Bot. This is a Dr. Boom deck. What else did you think the egg would hatch into?
You'll also receive two copies of these minions:
Bloom Bot: Deathrattle: Summon a Legendary minion. Give it Rush.
Room Bot: Magnetic, Taunt, Deathrattle: Summon 3 1/1 Boom Bots.
Doom Bot: Battlecry and Deathrattle: Death 5 damage to ALL minions.
The rest of your deck is made up of… you guessed it, random cards. Should we queue up the auto-text? "You'll find everything from Legendary cards to Basic cards in your deck. You'll have some class cards and some neutrals, but there are no strict ratios — it's all random." I will say I've seen fewer Legendary minions this time around.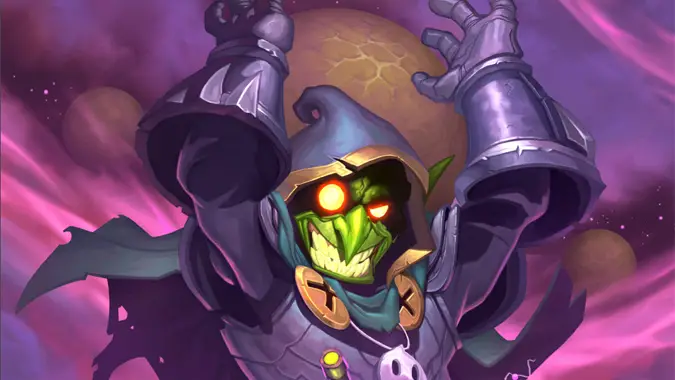 How to win Dr. Boom's Ignoblegarden!
The match hinges on your use of the special Bots. Doom Bot is a your best (and likely only) board clear. You should try to use the Magnetic property of your Room Bot. If you Magnetize them onto each other, you'll get a board full of Bomb Bots when it dies. This can act as another board clear, but also put significant pressure on your opponent's hero. With this being Wild format, there's a large range of outcomes for the Legendary you'll get from the Bloom Bot. Getting low rolls (weak Legendary minions) can sink you quick, but high rolls (strong Legendary minions) can win you the game.
Illidan's invitation must have gotten lost in the mail as Demon Hunters are not available as a class choice this time. The UI changes we've seen in the Ladder haven't migrated over to Tavern Brawls as of yet. Classes that synergize well with Mechs like Paladin and to a lesser extent Warrior are good choices. Warlock has several possible cards which gain a benefit from destroying friendly minions like the various Bots.
Once the enemy Bloom Bot appears try to keep the minions on your side of the board under 5 attack. You want to break the Bloom Bot yourself  have a chance to answer the Legendary minion. If your opponent can hatch it on his turn, they'll get a Legendary with Rush that they can send straight into your board — killing the Bloom Bot yourself lets you keep some control over the situation.
This Brawl was more fun than most 'random' Brawls. The Bots give a level of predictable strategic depth. It feels like their use is more important than winning on the shuffle.