What are you hoping for out of the last two Diablo 3 class sets?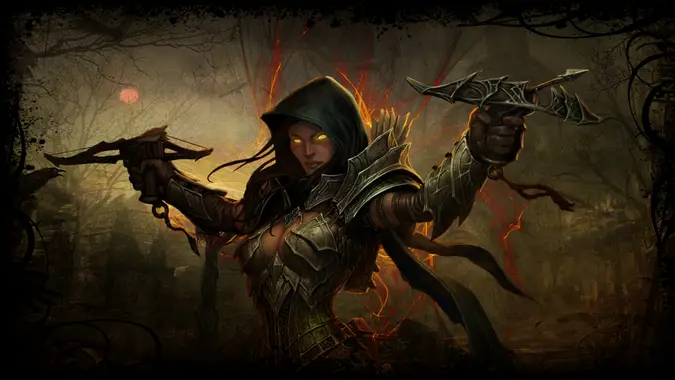 We got a hint as to the start date for Diablo 3's Season 21 in Community Manager Cydra's password heads-up post in the forums. We can expect all the usual exciting bits that come with the start of a new season, such as the new theme and unique rewards. But I'm most excited for one specific thing (which you should have guessed from the title): the remaining Demon Hunter and Necromancer class sets.
Season 19 (and patch 2.6.7) brought us our first sets: the Crusader's Aegis of Valor and the Monk's Patterns of Justice. Both sets were extremely well-received, as AOV Crusaders and POJ Monks topped their respective class leaderboards for Greater Rift runs during Season 19. We're already seeing the same trends in set performance during Season 20, and I fully expect to see leaderboard standings on par with Season 19 (chalking up differences to the season's theme rather than the gear).
Meanwhile, Season 20's patch 2.6.8 brought us three class sets: the Barbarian's Horde of the Ninety Savages, Wizard's The Typhon's Veil, and the Witch Doctor's Mundunugu's Regalia. The new Witch Doctor set is utterly killer — this class/set combo has the top Greater Rift clear so far in Season 20. I may be biased because I'm playing it, but it's been both a great addition and an almost guaranteed target for nerfs in the future. The Wizard and Barbarian sets received more mixed reviews; I'm hoping for some improvements on that front as well.
Now we look to the future — Patch 2.6.9 and our two final classes. Demon Hunter and Necromancer have needed some love over the last few seasons. Both classes have such potential for damage output; Necromancers at least have the benefit of Rat(hma) runs, but Demon Hunters are out in the cold. I'd love to see some gear sets that make either class a reliable group GR option for trash clears or Rift Guardian killer. Mostly, I just don't want to see these new sets go the way of Typhon's Veil — taken out of the box, played with for five minutes of PTR time, and stashed on a shelf.
Now tell me about your D3 experience. What new class set have you loved? What set (or sets) has not thrilled you? What are you most hoping to see when the last two show up?