The Diablo 3 Season 21 theme is Trials of the Tempests, which lets you blast your enemies with raw elemental power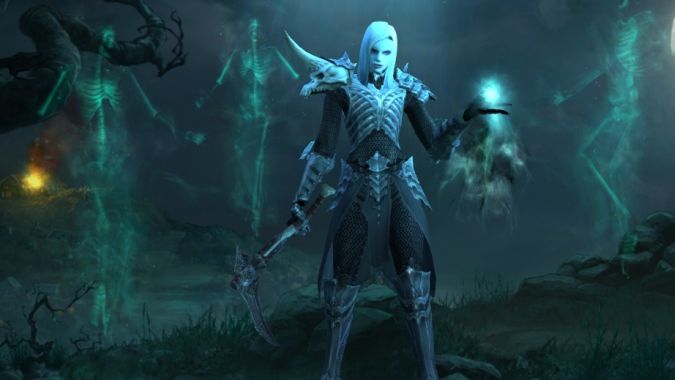 With the opening of Diablo's patch 2.6.9 PTR, we're looking at the beginning of the end for Season 20 — and the beginning of Season 21 and its new theme, Trials of the Tempests.
The elements have deemed you worthy. With you as their champion, the burning hells will face the Trials of Tempests!
Your character will occasionally (every 2 minutes) channel an elemental power which unleashes into the environment for a limited time:

Meteors rain from the skies around you.
Breathe lightning.
A wall of flame engulfs everything.
Release twisters of pure energy.
Crush your foes under the weight of rolling snowballs.
The theme seems pretty straightforward. Unlike the current Season, it's not a meta-buff that changes up gameplay by allowing you to adjust your Kanai's Cube powers: it's just straightforward AOE damage on a 2 minute cooldown that alternates between various elemental effects, including meteors crashing down on your enemies, occasionally just breathing lightning on things, giant snowballs, cyclones tearing everything around you, and walls of flame because why not?
Trials of the Tempests isn't likely to change the way you play the game — you can't control this buff or make it happen more or less often — but there are still a few questions to answer about the Season 21 buff. Does this count as elemental damage that you deal out to enemies? If it does, can you buff the damage with specific Legendary items or personal abilities that buff elemental damage? If so, it may be more interactive than it appears, letting you play up your new-found elemental prowess with the right items and abilities. At present I don't know, but it's worth considering.
But while we're most excited about the Season 21 theme, it isn't the only thing in patch 2.6.9: we'll also get two new class sets (for the Necromancer and Demon Hunter), as well as changes to Legendary items.
The PTR opens up on May 21 and is scheduled to last two weeks. That's pretty exciting, since it points to a mid-June to early-July start for Season 21 — and it's also good news for Necromancer and Demon Hunter players, who are getting significant buffs. Let's talk about what the PTR has in store for us.
Necromancers and Demon Hunters, your time is now
The new sets for Demon Hunters and Necromancers look great, but these classes get more than armor sets: a bunch of Legendaries have been reworked to fit these classes as well.
I'll just be up front — these are buffs. Every single Legendary for the Demon Hunter class that got reworked got a straightforward buff, and as for the Legendaries? Well, let me sum up all changes with a single example: the six-piece Pestilence Master's Should set bonus? It now buffs the damage of Corpse Lance and Corpse Explosion by 3300%, up from 1650%. Yeah. And that's representative of all the changes to Legendaries that were specific to each of these classes.
Oh, and Corpse Explosion? It got a straight up buff to its damage. How much, you ask? 1050%, up from 350%.
Here are the two sets:
Necromancer: Masquerade of Burning Carnival. The set bonuses are pretty sweet, with a two-piece bonus that causes your Simulacrums to no longer take damage, gain all runes, and the cooldown on the ability refreshed when you die. The four-piece bonus is along a similar theme: while you have a Simulacrum, damage is reduced by 50%. Damage you take is split with your Simulacrums as well. Finally, the six-piece buffs both your Bone Spear and Simulacrum, causing your Bone Spear to deal 10,000% increased damage, and Simulacrums gain triple this bonus. This is all pretty obviously intended to make Simulacrum a better deal for Necromancers, as has been the theme for previous new class sets in previous seasons, picking a class ability and really laying heavily into it.
Demon Hunter: Gears of Dreadlands. This set is a little different, more focused on your general damage than a specific ability. The first bonus for two pieces gives you a Momentum stack when attacking with a primary skill. Each Momentum stack lasts 2 seconds at a maximum duration of 10 seconds, and your Primary skills deal 10% more damage per stack of Momentum. Similarly, the four-piece relies on the Momentum ability again, as casting Strafe will automatically shoot your last used primary skill and also give 60% damage reduction while strafing and for 5 seconds after. While casting Strafe, you move faster per stack of Momentum. This means there will be synergy between your uses of Strafe and the amount of Momentum you've built up. But the six-piece bonus is just a straight up damage buff for wearing the full set: it causes primary skills to deal 10000% more damage. Certainly not a bad set, but definitely not aimed as strongly at buffing a specific ability as other sets have been. Still, if you like shooting things and Strafing, it's a great set for you.
If you want to get a look at the Trials of Tempests Season Theme or check out the new sets for yourself, we have a guide on how to join the PTR.
Season 20 is currently due to wrap up on June 21, which means we're likely to see patch 2.6.9 on the PTR the following week. We're currently predicting Season 21 will start on July 3, so get ready for Trials of the Tempests to start soon!