WoW
May 27, 2020 12:45 pm CT
This is the best week to earn Warsong Gulch reputation and achievements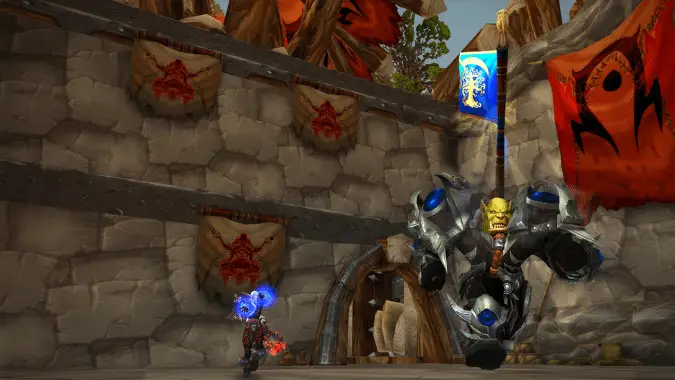 If you hate (or even mildly dislike) PVP but love filling your reputation bars, you'd best feast your eye holes on this word candy. This week marks the return of the Warsong Scramble PVP Brawl, which is incidentally also the return of the best way to farm reputation for your corresponding Warsong Gulch faction.
This isn't your ordinary Warsong Gulch match. What makes this week such a good week for Warsong Gulch reputation? Well, if you've never done the Brawl, the main shtick is that you can capture flags even if the enemy currently holds yours somewhere in the battleground. On top of that, there are random buffs throughout that make life more difficult — and a little more fun — for people. Finally, the game ends when a team captures 10 flags rather than the usual 3.
More flags equals more reputation. It's this last part that makes the Brawl so efficient for farming reputation. Each flag capture will grant you 100 reputation, plus you'll get another 100 if you end up winning. That's 1,100 reputation for a win. And even if you don't win, there's a good chance your team will capture more flags than a standard round of Warsong Gulch would have.
More flags also equals more achievements. On top of that, because there are so many flags to be captured in a given match, several Warsong Gulch achievements are much easier to get during the Brawl. Frenzied Defender, for example, is significantly easier. And any achievement that requires X amount of captures or returns will be a cakewalk during the Brawl. Really, unless you have literally zero interest in the reputation or achievements, you should be queuing for Warsong Scramble.
If I still haven't convinced you, maybe an anecdote will help. The first time this Brawl came around, I was partway through Honored with the Warsong Outriders. I did a lot of PVP in Vanilla WoW, and I'd done a lot of Warsong since then — yet, I was still only Honored. Before the Brawl was over, I had hit Exalted. I'd earned more in those few days than in the twelve years that came before them.
Whether you're interested in reputation, achievements, or just doing something a little different than the everyday game grind, Warsong Scramble is definitely worth the investment.