The new Overwatch novel puts Efi, Orisa, and Numbani on center stage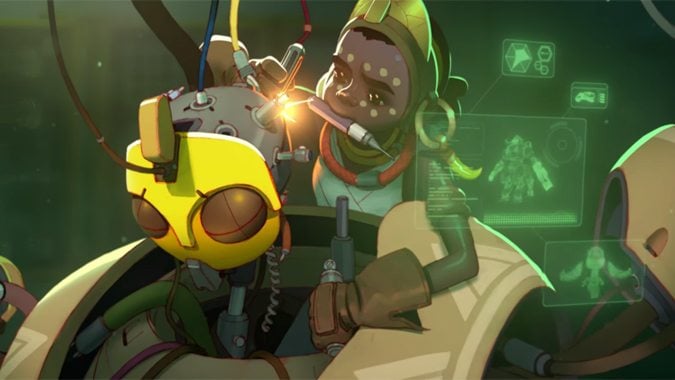 While Overwatch has put out cinematics, digital comics, and short stories in the course of fleshing out the world of the game, they're only now stepping into the world of novels with Nicky Drayden's The Hero of Numbani, an original work focusing on kid genius Efi Oladele and her budding AI peacekeeper Orisa.
With an advance copy of the book in hand, we wanted to take a minute to focus on Efi and Orisa, as well as the city of Numbani and their enemy Doomfist, to set the stage for the story to come. No spoilers, though!
Oh, and the book is available now at your vendor or library of choice, or directly from Scholastic.
Let's start with a visit to the Numbani…

The City of Harmony welcomes all, human and omnic alike
An Afrofuturistic city-state, Numbani was established in the Nigerian savannah as a place where omnics and humans lived in cooperation with one another. It stood apart from other locations in the game by showing a place that hadn't been torn apart by the Omnic Crisis, but instead thrived. This is touted as a big deal in the world of the game, where omnics don't have many places in the post-Crisis world where they enjoy equality.
The book emphasizes just how fully integrated omnics are in Numbani's community: they show up as school instructors, security forces, warehouse staff, as well as local artists and celebrities, and humans are also identified in similar positions. In contrast to how omnics are portrayed elsewhere in the world — an oppressed labor caste in King's Row, serving in blue-collar roles like groundskeeper or noodle cart chef in Lijiang and Hanamura, etc — Drayden delivers on Numbani treating omnics as people. It's not perfect harmony, but there are reasons for that which tie into the plot of the book itself.
The book does a lot more work to situate Numbani as part of the Nigerian region, delving into local foods and customs, and drawing comparisons with real-world aspects of the area, like the Carnival Calabar, a major culture and arts festival. At the same time, the notion of Numbani as a metropolis that's both seamlessly part of the West African savannah and yet also high-tech and futuristic is also driven home: "[t]he glass on the buildings blended into the too big, too blue sky, and nearly every tiered balcony boasted a garden of some sort, so that it was difficult to tell where the structures ended and nature began."
Afrofuturism isn't a concept that Blizzard invented, but this union of the natural with the artificial is a big component of it, and Drayden's prose resonates perfectly with how the city is presented in-game.

Efi is the star of this show
The hype campaign for Orisa, a year and a half after Numbani's reveal, started with an article introducing Efi Oladele, an 11-year-old mechanical prodigy who'd just won a genius grant for her technological accomplishments and was gearing up for a bit of travel before settling on what to do with her newfound funding. But the terrorist Akande Ogundimu assaulted Numbani to reclaim his namesake, the Doomfist, interrupting Efi's travel plans (specifically because Akande wrecked the airport). The industrious Efi's response was to look at the OR-15 security bots that failed to protect the city from Doomfist's attack, and she decided that she could improve on their design, creating something that could successfully counter threats like Akande. So she put together her shopping list and got to work, resulting in the activation of Orisa.
The Hero of Numbani fleshes out that story substantially, though we won't give away anything else.
We really only got a sketch of Efi in the lead-up to Orisa's launch, and the novel has a lot of additional details about Efi's life — the book is really her story and it stays in her perspective the whole time. The novel sample already tells us about Naade and Hassana, friends that she cajoles into helping her out in the workshop, and her fandom of Lucio. But in the pages of the novel itself, we get more details on her family, the people she knows around Numbani, and her life as both an almost-twelve-year-old and as an advanced International Baccalaureate student.
What's fantastic is that none of this comes across as window dressing; these relationships are important to Efi's entire presentation as a character, which informs Orisa's presentation when she appears in the book. That's important, since it's hard to give that much characterization to a one-month-old AI, but everyone was almost-twelve once. Efi is the most relatable element of Orisa's character, and understanding her does a great job of situating why Orisa is how she is.

Orisa really is very, very new at this
Orisa's origin trailer and her role in the game establish the idea that she's a very young AI who is doing her best to protect her city, with Efi as her off-screen creator and mentor. Because Numbani is a location that few other characters are connected to, and because Efi and Orisa are both too young to have meaningful connections with other characters, that means that they've been mostly left on the sidelines of the broader Overwatch narrative over the last several years. Forging those connections, and strengthening the ones that are already there (i.e. Orisa's relationship with Doomfist) is a big project of the book, and Drayden makes it fit into the world of the game seamlessly.
The story plays out similarly to many of the cinematics and short stories in that it showcases Orisa's in-game abilities in a narrative context: elements like Orisa's shield deployment, her graviton shot ("HALT!"), and her supercharger all get called out and expanded upon throughout the course of the story. This goes for other characters who show up as well, though I won't go into who.
And the story works rather deftly around the part where an almost-twelve-year-old was given clearance to load a lethal weapon (Orisa's fusion driver) onto an AI she ostensibly maintains control over.

Numbani has always had a nemesis in Doomfist
Even before the city's founding, Doomfist was an impactful part of Numbani (if you'll pardon the pun). The original wielder of the gauntlet, Adhabu Ngumi, was a hero across Africa during the Omnic Crisis. The man who inherited the Doomfist from him, Akinjide Adeyemi, was a warlord who preyed on the city alongside Talon. While the game established that the present Doomfist, Akande Ogundimu, came to Numbani to reacquire the weapon, the book goes on to make Akande a present, persistent, and looming threat to the city.
Which is entirely in line with Doomfist's stated goals: Numbani's existence as the City of Harmony is the antithesis of the chaotic world Talon wants to create. While Akande retrieving his gauntlet was a singular incident, the city's continued harmony is an obstacle to him.
Throughout the book, Orisa and Efi are doing their best to prepare for Doomfist striking again, for their own reasons: Orisa to get a spiritual rematch against the one who trashed her earlier incarnation as an OR-15, and Efi in a bid to protect her city from violence.

Who is the Hero of Numbani?
The key detail you want to know going into The Hero of Numbani is that it's a story of a girl, her friends, the robot she builds to protect her city, and the warlord who wants to smash it all. Everything else gets expanded upon throughout the course of the story and it all holds together as a cohesive and complete narrative.
Drayden's descriptions and dialogue are snappy, Efi is a heartfelt heroine, and overall it's an enjoyable romp that expands greatly upon what we already know about Orisa's origin. It feels right at home in the world of Overwatch, to the extent that even if this book wasn't a game tie-in, it would still be a solid YA novel on its own.
If that sounds like fun to you, the book is available now from major retailers — or you can pick it up at your local independent bookstore
Are you looking forward to The Hero of Numbani? Maybe have another hero in mind who might deserve the novel treatment? Tell us about it.