A random assortment of decks, Treasures, and Hero Powers make Hearthstone's Outlandish Burndown Tavern Brawl a wild ride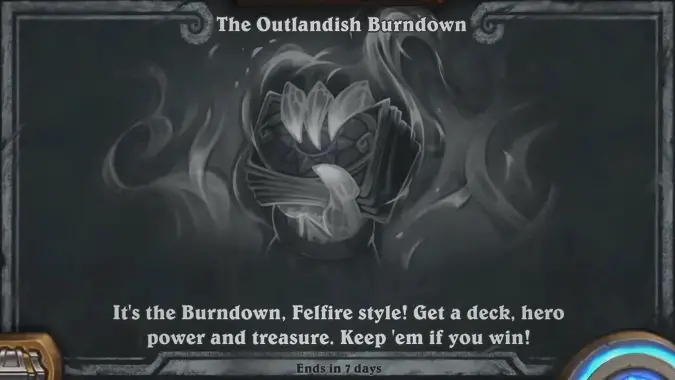 This week's Hearthstone Tavern Brawl is the Outlandish Burndown, a variation on a Brawl first seen last summer during the Midsummer Fire Fest-E.V.I.L., and again this March with some slight variations. You know, those more innocent times before our lives got turned upside down.
The "burndown" name comes the Brawl's peculiar backstory: Ragnaros was pitching decks against one another to find the greatest of them all. Now, of course, Illidan has come to crash the party, so the burndown has moved to Outland.
Tavern Brawl basics
Name: The Outlandish Burndown
Description: It's the Burndown, Felfire style! Get a deck, hero power and treasure. Keep 'em if you win!
Fun level: 7/10
Difficulty: 6/10
Replayability: 7/10
Format: Wild
Type: PvP
Deck: Provided
Rewards: 1 Classic pack
In this Brawl, you'll be randomly assigned a class, a deck, a Treasure, and a Hero Power. If you win, you'll keep the deck you have, and if you lose, you'll get a copy of your opponent's deck to play.
Decks
The decks are randomly-generated, but as during the first iteration of this Brawl, they are based on the dungeon run bucket system, giving them some degree of overall strategy and card synergy. You don't pick your class in this Brawl, so the best you can hope for is you receive a class you're familiar with.
Each deck has a name which is often a clue to its overall strategy. This list is what I saw over a couple of games and is not exhaustive.
Beasts and Buffs 7 – Token Druid
Glaives of Fury 7 – Mix of aggressive minions and giant minions
Big Demons 7 – Lots of demons to try to get cheap Jumbo Imps and copy with Ectoplasm
Fishy 3 – Murloc Shaman deck.
Big Beasts 18 – Big minion Druid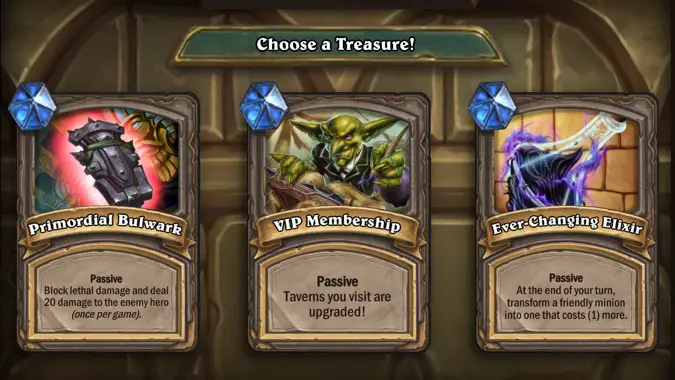 Treasure
The Treasures in this Brawl seem to include Treasures from all past dungeon run style adventures. These are the Treasures I encountered while playing, as an example of what to expect:
Increase your starting mana by 1
Reduce the cost of your minions by 1
Heal all friendly characters for 2 at the start of your turn
Double your starting Health
Hero Power costs 0 and can be used twice each turn
Draw 2 Cards at the beginning of the game.
Summon three Boombots (with Dr. Boom's Remote)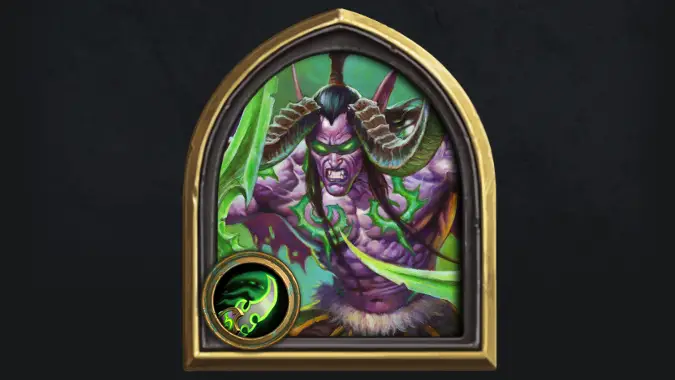 Hero Powers
Each class gets one of several upgraded Hero Powers, and you've played through recent Adventures, you'll probably recognize a lot of them. And if you don't like being surprised, this thread on Reddit has a roundup of them, including some I hadn't seen. Here are the powers we know about so far:
Demon Hunter
Burning Rage (Passive): After your Hero attacks, deal 1 damage to all enemies.
Combination Strike (1): Gain +1 Attack. If a friendly minion attacked this turn, gain +2 Attack instead.
1 mana: Gain +2 attack
Druid
Nature's Grasp (2): Summon a 2/2 Treant with Taunt.
Dragonflame (0): Deal 3 damage to an enemy or restore 3 health to a friendly character
Gronnic Strength (0): Give your minions +1/+1 (wherever they are)
Hunter
2 mana: Deal 1 damage to a minion and the minion right of it.
Gronnic Strength (0): Give your minions +1/+1 (wherever they are)
Paladin
Power Up! (1): Give a minion Divine Shield and Windfury.
Priest
1 mana: Discover a copy of a card from your opponent's deck.
Shaman
Passive: When you play a card with Overload, cast a random Lightning spell.
Warlock
Pain Split (2): Take 2 damage. Deal 2 damage.
2 damage, summon a 2/2 imp
Draw a Card (no health penalty)
Warrior
Undermine (2): Shuffle two Explosives into your opponent's deck. These deal 3 damage to the opponent when drawn.
Tank up! (2): Gain 4 Armor.
Invigorating Brew (2): Deal 1 damage to a minion and give it +2 Attack
After the match, you're shown a screen with how many times your deck has won and how many times your opponent's deck has won.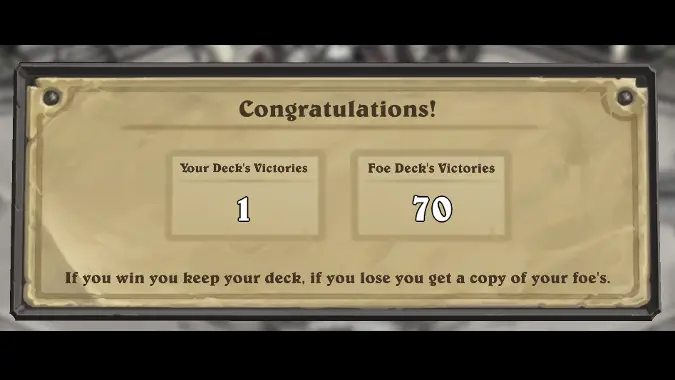 How to win the Outlandish Burndown Brawl
You can approach this one of two ways: try out a new, weird deck or wait a while and pick up a tried and true winner. You can jump in early when there should be plenty of decks in the mix to try out and work with whatever you get, or you can wait a bit and lose your first game to play with a deck that's been racking up wins.
The first couple of games are the hardest as you try to figure out the strategy of your deck so you can play to its strength. Think about how your opponent defeated you, and look at the name of the deck for clues. The decks I've seen so far have some clunky layouts. Minions are spread throughout the mana curve. One game, you could minions you can play on curve, so you have something to play each turn. The next game with the same deck, you may draw all your 7+ mana minions on the early turns and you're dead before you can do anything.
If you just want the pack, perseverance is the key. The longer the Brawl goes, the more likely you'll get a powerful deck and start winning. Good luck out there and may the best deck win.