The Queue: The Iron Giant, king of ugly cry movies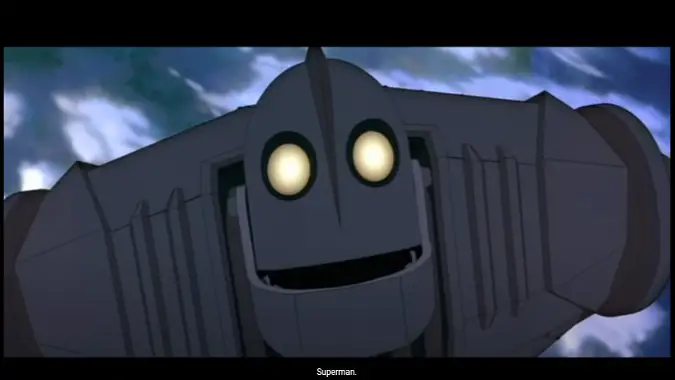 Title pretty much says it all.
This is the Queue. I still have blood junk in my eye. It's starting to improve a bit. I'm watching The Iron Giant and making myself cry over and over again.
What're y'all doing?
---
PHPRENTISS ASKS ABOUT MALDRAXXIAN (MALDRAXXITE?) ARCHITECTURE
Q4tQ: Given what we see in Maldraxxus, is it a retcon that Scourge Ziggurats and architecture is inspired by the Nerubians? Or am I over thinking things? Thank you!
Considering what we know about time being fractured and randomized in the Shadowlands, it's quite possible that Maldraxxus looks that way because the Scourge look that way, the cause can actually follow the effect in this case.
---
KALCHEUS HAS PRODUCED ABSOLUTELY NO EVIDENCE FOR HIS CLAIM OF FLUFFINESS
Q4Matt: What do you think about Alignment? Should it be removed for pcs, npcs, everybody?
I only really sweat Alignment for beings literally born on extradimensional planes which have an alignment bias, because they're literally places where concepts and ideas become real and so you can BE a being of pure good or evil or what have you. But for PC's in my campaigns, I leave it optional. As a result, there's no Alignment restrictions on Paladins in my campaigns — they have to hold to a code, but not specifically an Alignment.
I feel like real, living people can be evil, but it's often a very human, very selfish kind of evil — an evil not so much born out of pure diabolical malevolence but out of a lack of empathy, out of caring less about others and their welfare and more about yourself. So I generally don't make it an issue in my games.
---
SPENCER MORGAN WANTS TO ALLOW AN ALIEN BEING TO BECOME PART OF HIS BODY AND MIND
Q4tQ: would you willingly bond with a symbiote? What would you do with that power?
No, and therefore, nothing.
---
ELAINE DE SHALOTT WANTS TO DISCUSS TIMEWALKING
Off and on since they added MoP timewalking in Legion and more when they added WoD timewalking in BfA I've been hearing talk that the list of events is too long and Timewalking should be on a separate rotation overlapping with the other events. Lo and Behold! We have a special event with Timewalking overlapping with other weekly events. Do you think this might be a bit of a test run that may become the norm sometime in Shadowlands? If not right away, perhaps when Legion Timewalking is added presumably in 9.1.
It's certainly possible. Keep in mind I still can't actually see very well, so I haven't actually been playing much, but I'd almost rather they just have Timewalking up all the time — that there would always be a Timewalking era available, and maybe rotate it so  there's a different one every day and the order changes every week. That'd be cool and it would let us do more Timewalking, which at this point feels like a good move.
Then again, we'd probably need another attempt at balancing Timewalking so it rewards XP and gear that feels reasonable for the effort.
---
AMBULANCE ROBOTS , PRESUMABLY SUNG TO THE TUNE OF KARMA POLICE
I've had every reaction from a horse trying to get it to drink from a trough… except this one. XDDD
Imagine going to a show and everyone else's horse is "normal," and your competition partner is in the corner doing this.
I grew up on a farm where we had several horses including two Percherons. Big, beautiful horses. One day, my dog (Max, a Great Dane/Rottie mix) decided he was going to jump into the horse trough while Ramses, one of the two Perches, was trying to drink. He startled Ramses so thoroughly that the horse turned around and kicked that trough with the dog in it some ten feet in the air.
Max survived (I'm not sure how) and Ramses went on to turn kicking horse troughs into a sport.
---
FUZZYBUNNY ASKED ABOUT A POSSIBLE CONTINUITY CHANGE IN AN OLD COMIC
Q4tQ:
What do you think is the meaning of Blizz removing Velen's final lines from the "Son of The Wolf" comic?
I have three possible ideas.
Idea 1 — they felt the use of the words "Light" and "Shadow" would bias readers towards believing that the story was about something they didn't intend it to be about.
Idea 2 — They didn't intend to remove it. It's still present in the version on their official site. So it would be some kind of glitch or typo when they made the second version — maybe they used an older file and it lacked a later edit adding Velen's dialogue.
Idea 3 — We're going to end up time skipping into the distant future and this is some extremely subtle clue.
I think Idea 2 is the most likely, but I'm not ruling out any of them.
Okay, that's the Queue for today.
Su…per…man.
I'm tearing up again, y'all.