Become a Dual-Class Demon Hunter and wield incredible weapons in Hearthstone's Rumbledome Tavern Brawl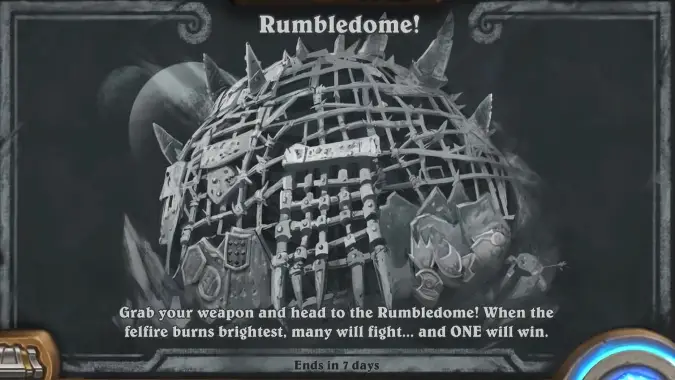 Demon Hunters have taken over in Hearthstone's Rumbledome Tavern Brawl. After getting left out of many Brawls, Illidan and his friends take center stage. You can see the amount of work that went into this Brawl from the design of the custom weapons to each Hero's own emotes.
Enter at your own peril and be prepared to bust a deal, and face the wheel in the Thunder… errr… Rumbledome!
Tavern Brawl basics
Name: Rumbledome
Description: Grab your weapon and head to the Rumbledome! When the felfire burns brightest, many will fight… and ONE will win.
Fun level: 3/10
Difficulty: 6/10
Replayability: 6/10
Format: Wild
Type: PVP
Deck: Provided
Rewards: 1 Classic pack plus a Legendary Quest
In addition to the Classic Pack awarded from your first victory, you'll receive a Legendary Quest when you log in. The quest asks to you to play four Tavern Brawl games. You don't have to win, but don't get any funny ideas — if you just concede right away, you won't get credit toward the quest.
Once you play your four games, you'll complete the quest and receive one Ashes of Outland pack, 1 Descent of Dragons pack, and one "Year of the Dragon" pack. The "Year of the Dragon" pack can contain cards from any of the Year of the Dragon expansions: Rise of Shadows, Saviors of Uldum, or Descent of Dragons.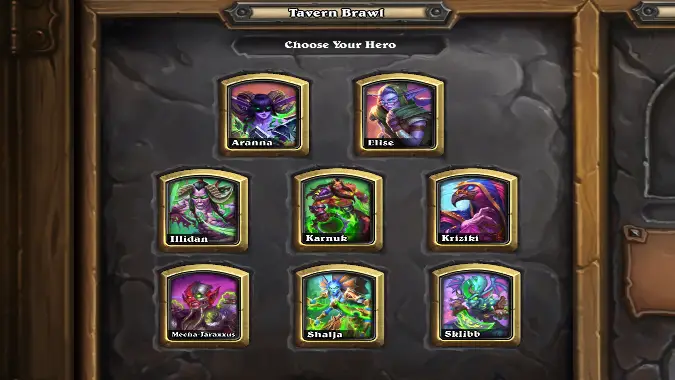 Choose your unique Hero
You'll take control of one of eight unique Heroes with powerful weapons. All but one is a Demon Hunter, but several are dual-classed. You'll select one to start the game and get a premade deck specific to that Hero. The deck will have the Demon Hunter cards you would expect along with the cards from the other class for dual-classed Heroes.
Who made the cut? Illidan brings some of his best recruits, along with some familiar characters from the Trials of Felfire Adventure:
Aranna Starseeker – Demon Hunter & Hunter
Elise of the Wasteland – Priest & Druid
Illidan Stormrage – Demon Hunter
Karnuk – Demon Hunter & Priest
Kriziki – Warlock & Priest
Mecha-Jaraxxus – Warlock
Shalja – Demon Hunter & Shaman
Skilibb – Demon Hunter & Druid
Kriziki uses the Priest Hero Power, Jaraxxus uses the Warlock Hero Power, and Elise uses the Druid Hero Power. The rest all use the standard Demon Hunter Hero Power.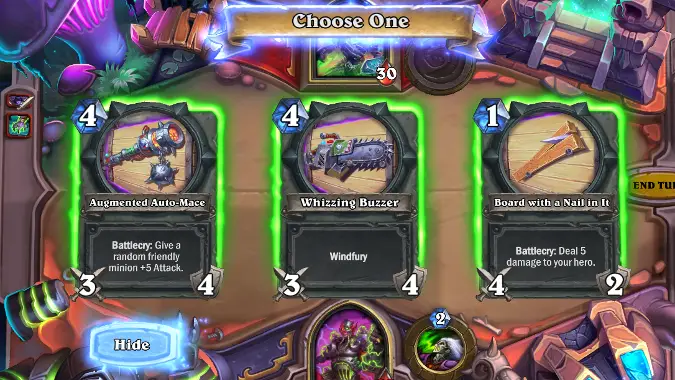 Choose your overpowered custom-designed weapon
When the game starts, you discover one of several weapons. You'll select one and it will go into your starting hand. Let's look at your choices:
Felfire Flamberge: Three mana, 3/3. After your Hero attacks, add a random Demon to your hand.
Snake on a Stick: One mana, 2/4. After your Hero attacks, summon a 1/1 Snake.
Improvised Flamethrower: Two mana, 3/2. Battlecry and Deathrattle: Deal two damage to all minions.
Scrapmetal Battleaxe: Two mana, 3/2. Battlecry: Gain five armor.
Whizzing Buzzer: Four mana, 3/4, Windfury.
Electrified Spear: Three mana, 3/2. Also damages the minions next to whomever your Hero attacks.
Augmented Auto-Mace: Four mana, 3/4. Battlecry: Give a random friendly minion +5 Attack.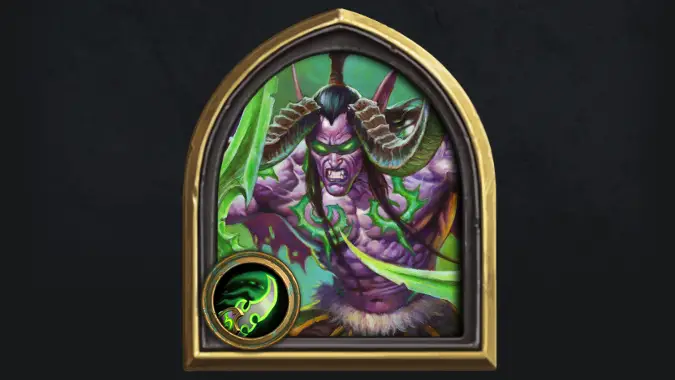 How to win the Rumbledome Brawl
Aggro is the name of the game this week. Grab the board from turn one and never stop pressuring your opponent. Use your Hero Power, weapon, and rush minions to keep your opponent's minion in check and hit the face early and often. You have several Lifesteal cards to heal you. You'll want at least one in your starting hand.
For Heroes, Mecha-Jaraxxus, Aranna Starseeker, and Skilibb felt like strong choices. Elise of the Wasteland, Shalja, and Kriziki didn't feel particularly strong. If you prefer a more midrange or control style of play, Karnuk can work , but he relies on having minions on board to buff. That's not always an easy task to accomplish. Jaraxxus has a similar deck to the one you face in the Adventure. While it is risky, Life Tap early to get those powerful, juicy cards in hand.
For weapons, Whizzing Buzzer is a great pick. It has the potential for 12 damage, and even more if you use the various attack buffs available to Demon Hunters like Inner Demon. I took an opponent down from 16 health to zero with it. Augmented Auto-Mace is yet another source of burst of damage. Electrified Spear is better used against minions than the enemy Hero. Improvised Flamethrower is held back by hitting your minions, but if you're behind on the board, it will help you recover. If you are going to try Karnuk, Scrapmetal Battleaxe is a good pick.
Crazy weapons make for a entertaining time if you love aggro decks
The weapons are completely overpowered. They would never be balanced in Ladder play. Playing with them and doing some insane damage combos provides much of the fun of this Brawl. If you love aggro decks, you may never want to see this Brawl go away. Remember where you are. This is Thunder… err.. Rumbledome.
Good luck, smash face, and enjoy your free packs.