The Queue: Purgatorius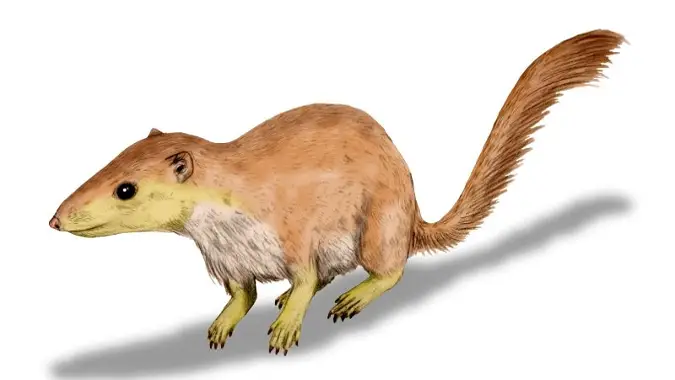 This is Purgatorius, a genus of eutherian mammal dating back around 66 million years. The type species was Purgatorius unio. This little animal was alive during the reign of the dinosaurs, and it may be related to — perhaps even ancestral to — modern primates. Even if it isn't, it is likely extremely similar to our earliest primate ancestors. I bring this up for a reason, that will be apparent once I start answering questions.
This is the Queue.
---
SPENCER MORGAN ASKED ME A QUESTION
Q4tRossi: do birds know where they come from?
I want you to look again at that picture of Purgatorius. If I had one of those in my hand and I showed it to you, would you say Oh, hi, grandpa? Probably not. Despite the fact that you very well might be the sixty six million years removed descendant of that very animal, we only know about our connection to earlier forms of life like Purgatorius through our complex society and its many means of storing and transmitting information outside of immediate communication.
As wonderfully complex and elaborate as birds are, and as amazing as their diversity and lineages are, it is extremely unlikely that they have an unbroken chain of cultural transmission going back over 65 million years. Just as the average human has no idea Purgatorius existed, birds likely do not know that non-avian dinosaurs, their ancestors and cousins, existed.
---
KALCHEUS WAS NEITHER THE FIRST NOR THE LAST PERSON TO TELL ME THIS
The expansion makes this go from ooh, cool to I must have this.
And good news, you were only the 4776th person to tell me this.
---
ELAINE DE SHALOTT WANTS TO KNOW ABOUT THE BLACK SERPENT OF N'ZOTH MOUNT
I posted this in another article but, QftAlphaQ: Can you tell from the Alpha if "Through the Depths of Visions" and the Black Serpent of N'Zoth mount will still be obtainable?
Sadly, I cannot tell you. The achievement is not listed anywhere — it's not under Expansion Features – Visions of N'Zoth, it's not under Feats of Strength or Legacy or anywhere. I cannot tell you if it's been removed or simply isn't accessible because the character I'm on is a pre-made, not my actual characters. I'm sorry, but I simply can't answer your question at this time.
I did look the mount up in the journal and it's still listed in the mount journal, and the achievement is still listed as the means to acquire it. I don't know why the achievement itself isn't findable, but perhaps they're still working on that with the various changes to leveling. All I know is that I don't know.
---
ELAINE DE SHALOTT IS BACK WITH A NEW QUESTION
Now that you have your shoulders is there any particular drop you are trying to get in game?
No, not really. I have pretty much everything I want except some Legion sets, but I'm not super obsessed with them or anything.
---
KALCHEUS ALSO RETURNS, THIS TIME OUT FOR REVENGE
Do you tailor your seasonal playstyle to the Season Set that's awarded, or do you play how you feel like playing?
I play a Barbarian. As soon as I get the right pieces, I pick between Frenzy, Seismic Slam or Whirlwind builds.
That's basically it.
---
ELIZABETH HARPER ASKS ME A QUESTION ABOUT BARBARIAN BUILDS
What are the best abilities to pick for my Barbarian in Diablo?
Well, it depends on what gear you have, but I absolutely love Call of the Ancients and Wrath of the Berserker, so that you can summon a small army of your ancestors and turn into a giant version of yourself while the four of you just ruin the world around you. If you have the Immortal King set, you can have near permanent Call of the Ancients, which means you're always running into battle with your grandma, grandpa and I assume some distant uncle nobody talks about.
I also love Whirlwind, Seismic Slam and Frenzy, as mentioned above. I often have multiple barbs so I can play with different gear sets.
---
SOEROAH WANTS TO TALK PRINCE OF PERSIA/ASSASSIN'S CREED
I haven't played the Sands of Time series since 2003 or 2004. I don't recall playing Warrior Within, so I probably didn't. If I were going to reboot the series, I'd probably want to root it in real, historical Persia, possibly the rise of the Persian king Cyrus the Great, founder of the Achaemenid Empire. I mean, the Prince is never named in the earlier games, who is to say it's not Cyrus, who certainly was a Prince of Persia before he became King of the whole Empire of the Medes.
As for Assassin's Creed, if I were in charge of that franchise, there would be at least three more games around the Misthios Kassandra or Alexios, exploring their role in history for the 2000+ years of their extended lives. The first game would be set during the life of Alexander the Great as he conquered Persia, then I'd have them head further east into Asia starting in the Indo-Greek dominion of Demetrius III Aniketos and ending up in Han China to meet luminaries like Sima Qian and Emperor Wu. The final game I'd set much later, after every single current AC game, with the Misthios killing Nazis and meeting a treasure hunting archaeologist who may or may not be a member of the Croft family, if I could get them to go along with it.
---
CHRYSYNTIDE ASKS A LOT OF QUESTIONS
1 — Well, I like playing Warriors. I enjoy coming up with a new mog, I'm excited when I slip on one of my lesser played alts and tank a dungeon for strangers and then leave, like a wandering tank version of The Man With No Name. I also like messing around with character customization on the alpha.
Also I really love tooling around on the Flying Cloud mount from Mists of Pandaria. I look like a miniature of my own character, ready for a D&D campaign.
2 — Blackwing Lair. That place would make excellent player housing.
3 — let's just say unpleasant and leave it at that. My dreams are… yeah. Yeah, we'll stick with unpleasant.
4 — Bastion is where people who were of service to others end up, it's pretty fitting for a man who was one of Azeroth's first paladins. And Bastion's a pretty heavily light focused realm, I think. I mean, there's even a quest to fight Void aberrations in Bastion.
---
GLOWING METEOR CARROT ASKS ABOUT CARD GAMES
What current Alliance or Horde leader would you want on your side in a card game?
Depends entirely on the card game, but honestly, the current crop? Eeesh.
I mean, I guess we could play Uno. Thrall would probably be pretty good at Uno.
Okay, that's the Queue for today. Thanks for the questions, and I'll see y'all next week.