The Sigma's Maestro Challenge event will have you throwing rocks to the rhythm with a new emote and skin to earn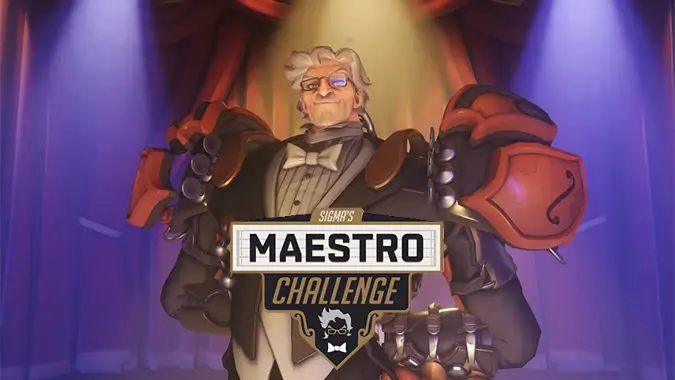 Starting today and ending on July 27, Overwatch players can work to earn the Sigma Maestro skin and — for the first time ever — an exclusive emote. Sigma's Maestro Challenge will require you to win some games to earn the cosmetics as well as watch several hours of Twitch streams to earn all of the special sprays.
Like all of the previous challenge events, you'll have to win nine total games in Quick Play, Arcade, or Competitive to earn the player icon, emote, and skin. The emote is maybe the best part — even if you're not a big fan of Sigma himself. On top of that, you have to watch six total hours of any Overwatch Twitch streams to get all six sprays. The sprays feature several heroes playing their own instruments, like Moira on a violin and Orisa with bongos.
It's time to face the music. 🎼

Unlock music-themed cosmetics, including a Legendary emote and skin! Sigma's Maestro Challenge is live until July 27!

🎻 https://t.co/3Q0ljzVmrn pic.twitter.com/YFwFkEDONt

— Overwatch (@PlayOverwatch) July 14, 2020
If you're not sure who to watch on Twitch, you can follow the sponsored streamer schedule on Blizzard's blog post. It's worth pointing out that the list includes several LGBT and BIPOC streamers compared to the previous white, cisgendered lists before. If you're not a big Twitch viewer, you might find someone to like here and actually watch versus leaving the stream on purely for the drops. Remember to link your Blizzard account to your Twitch account though!
You have the rest of the month to complete the event. It's good to remember that Blizzard has yet to release any of the challenge event skins in any other way. So, if you want the Sigma Maestro skin, you'd better get to playing the game before the event is over. Arcade is a good option if you want quick games that could easily get you the nine wins. Otherwise, you'll have to just grind it out — although it's hard to not win nine games with consistent play for a few days.