Diablo
Jul 16, 2020 10:00 am CT
Blizzard hotfixes Season 21's Trial of the Tempest, but will it be enough?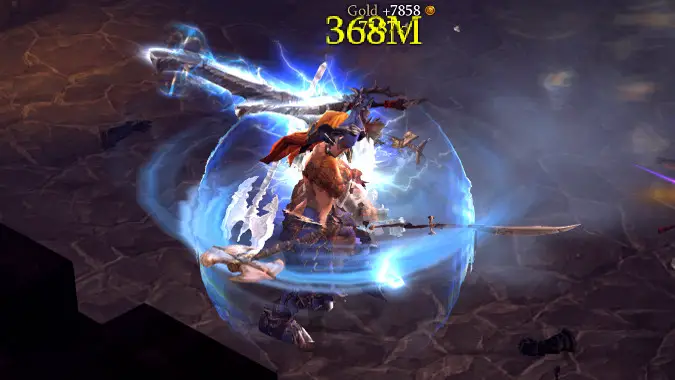 It's not a secret that Diablo 3's Season 21 has not been every player's favorite. It's to the point that there's been discussion about whether Season 21 needs to bring back Double Goblins, and not just by us here at Blizzard Watch, either — actual Community Managers like PezRadar have discussed the issue and conceded that it might be necessary.
One of the problems with the Trials of the Tempest buff has been its visual effect and how it intersects with gameplay. When it goes off, it can wash out other visuals and make responding to hazards on the ground more difficult. There have also been issues with it being stacked up outside of a Rift and then brought into the Rift, and pets haven't been applying the procs as one might hope.
Now, for a lot of players, this isn't even remotely sufficient — the open calls to straight up remove the Trial of the Tempest theme and buff entirely and revert to an older season show that for some players, there's simply no way for a kill streak style Season like Season 21 (and Season 19 before it, which similarly left a lot of players cold), and the fact that the Theme has had some pretty significant issues can't really be overlooked. It's fair to question if these hotfixes will be sufficient to make the Theme work for players.
The hotfixes are primarily focused on the visual and auditory cues of the hotfix, which were pretty distracting. I don't think anyone will mind them getting toned down a bit. But the changes to allow pets to stack the buff except in Set Dungeons point to the wider issue of the Theme not necessarily functioning as advertised, and I don't know if these changes or the changes to how the Theme interacts with Greater Rifts will be enough to cause players to forgive and embrace what is, frankly, a somewhat troublesome Theme.
I think Season 19 was one of the more interesting Seasons, and Season 21 has potential, if all the bugs and issues with the Theme can be addressed. However, I also don't mind saying that I think bringing in another Seasonal Theme in much the same way that Season 20 got Double Treasure Goblins might not just be a really cool idea. If that's what we need to make Season 21 feel worthwhile, then I'm all for doing it. I guess we'll see how these hotfixes go and wait to see if Blizzard decides to address this.
This morning we launched a hotfix to address updates for Season 21: Trials of Tempests. Thanks to your feedback, we've been able to focus on audio and visual accessibility issues and the functionality of the Seasonal Theme procs. FYI, as a hotfix, you will not need to update your game. Simply exit out and re-login to grab the update.
Hotfix Notes:
• Lightning flashes will no longer occur when the seasonal effect for Lightning Breath and Tornadoes takes effect.
• Audio horns has been removed from the PC version of the game. Console versions has had horns replaced with a light drum.
• Pets can now generate stacks of the Seasonal theme.
• Players can no longer carry an ongoing Seasonal theme effect into a Greater Rift. (Lightning Breath, Meteors)
• Players can no longer carry a Seasonal theme effect to trigger outside a Greater Rift to only have it begin inside. (Tornadoes, Snowball, Fire Wave)
• Pets no longer proc the seasonal theme in set dungeons. This is to address the issues of users having issues completing set dungeons.
As the season progresses, we welcome more of your feedback and want to give a big thanks to all of you for helping us get here – See you in hell!