WoW
Jul 21, 2020 5:00 pm CT
Don't get scammed! Here's how to sign up for the WoW Shadowlands beta and how to see if you've been invited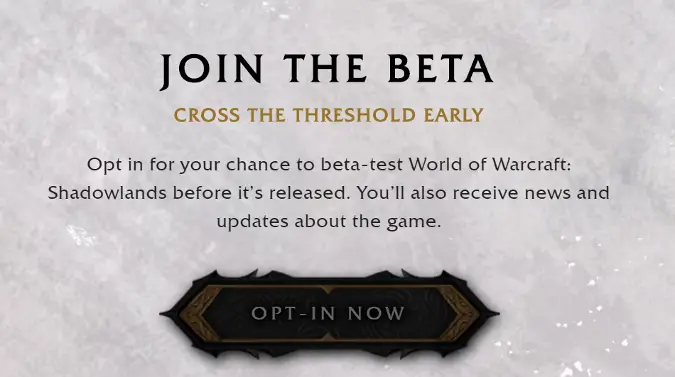 The Shadowlands beta is now live, and invite waves are going out regularly. But to get in, you need to sign up for the Shadowlands beta test — and avoid the common account theft scams that come alongside every beta. Officially signing up just takes a couple of clicks: you need to go to the official Shadowlands website and clicking beta opt-in button (in the top right or towards the bottom of the page). And if you don't remember whether you signed up, it should tell you if you have.
That's all you have to do. If someone is telling you that you need to do something else, they're wrong. Ignore any fishy emails or suspicious links promising you easy access to the beta, because that's a good way to get scammed. Even if they look legitimate, don't click on any links unless they're on the Shadowlands website. 
To check whether you have beta access, just open your Battle.net launcher. At the bottom of the screen, there's a dropdown to select your game version — click it and look for the "Shadowlands Beta" option. If it's there, you have access. If it isn't there, you don't.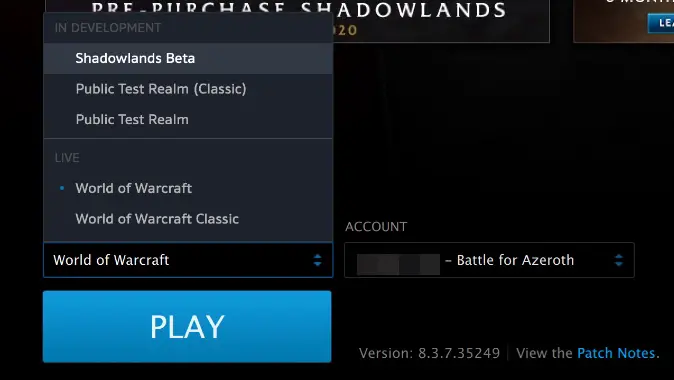 How long will the Shadowlands beta last?
We don't really know how long the beta will last. I'm tempted to use the Battle for Azeroth and Legion betas to speculate — as the closest betas to the present,  they're likely the most relevant, but they're also made under different circumstances. Battle for Azeroth went from alpha to beta in April 2018 and went live on August 14 of that year. By comparison, Legion went into beta in May 2016 — almost a year after Legion was announced in August 2015 — and the game went live on August 30, 2016. Both betas were around four months in length, although to be fair the last month of a beta test is usually more devoted to making sure there are no catastrophic launch bugs, since the final design of the expansion will be formalized by that time.
Still, using these two expansions as models for the Shadowlands beta experience, a July beta launch means it may be December before the game is out. We'll of course be waiting to see if that's how things shake out, but it's following the last two expansions and how their beta tests went.
But please remember — to sign up for the beta, all you have to do is go to the Shadowlands page and click beta opt-in at the top, then click the button on the web page.
That's it. If anyone else telling you anything different, be suspicious.