The Queue: 100 days to Halloween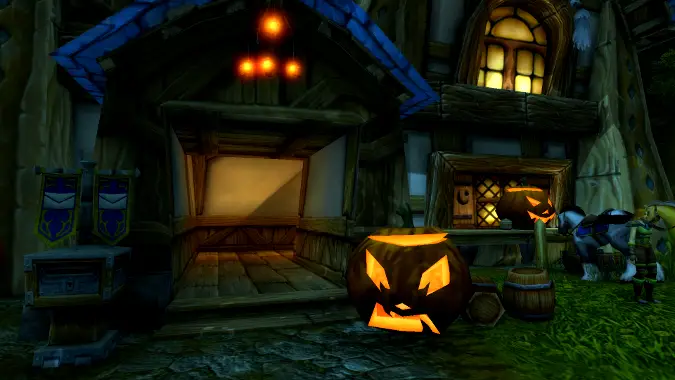 Yes, believe it or not, today means we're officially 100 days away from Halloween! …but we're probably not going to have most of the usual shenanigans this year, which is a mega bummer. Oh well, I'll still do my best to celebrate the spooOoOo0ky season when the time comes.
Until then, how about we Queue?
---
MISTAH JAY IS HAVING ISSUES BUT ALL OUT OF TISSUES:
I haven't been running enough to say for certain, but I've seen others say they're having issues. My go-to suggestion is to check your bank to make sure you didn't actually stash it last time TWing was around. It's an easy thing to do and forget about!
---
ARTHONOS IS UNSURE ABOUT THE FUTURE:
Q4tQ: I know why in 2020 so many companies are afraid to give us a firm release date for their games, but I can't be the only one who took comfort in planning out my entertainment consumption in advance. After August's FF:CC remake there isn't anything on my calendar aside from the big ??? that is Shadowlands vague fall release. Do you think there is any chance gaming companies will be willing to give us a better idea what games might be releasing and when? Or will "surprise, it is releasing next month!" become the new norm?
Oh and before anyone suggests it, I'll have finished off my backlog by the end of the month.
I think we'll still see a mix of long-term announcements and "surprise!" announcements, but I definitely think we're trending toward the latter. Frankly, unless you're going to publicly test a game, it's so much safer for companies to announce a title and release it shortly after. There's not a whole lot of room for disappointment in that kind of window — if you're showing something off, it's probably going to be in the final game.
My only real stake here isn't so much about planning — Yogg knows I don't have much free time to plan anyway — but more so about an interest in the development process. I love seeing games take shape over time, and it's fun to see developers provide updates! But I'm also aware that sort of thing poses a much bigger risk than the payoff is usually worth.
---
RED ANSWERED HIS QUESTION FOR ME:
What is the best zone you've played through over the past few expansions?
I have a soft spot for Drustvar.
I mean, it's Drustvar. That place is one of my favorite zones in the whole game.
But if we ignore Drustvar, I'd have to say either Shadowmoon Valley (WOD) or Spires of Arak. Honestly, for all its problems, I think Warlords had the largest concentration of zones I love. Some of that's because of aesthetics and not so much story, but still. Warlords zones kick some real butt.
---
GLOWING METEOR CARROT HAS AN INTERESTING ONE FOR US:
Aggramar vs the Lich King in a home run contest. Who wins?
Much as I love my boy the Lich King, I gotta give this one to Aggramar. Tasty Snack's* knockback is still painful to think about.
*Taeshalach
---
LUOTIANX HAS A QUESTION ABOUT SAFETY AND FASHION:
Do you think we should get masks in head slots?
I do! But that's not because of COVID or anything. I just like the idea of having more transmog options.
That said, we do have the Vile Fumigator's Mask and several in the style of the Shadoweave Mask. I'd love to see more masks, though. Go crazy with 'em, Blizz!
Edit: LuotianX actually meant things like a Zorro mask, to which I also emphatically say, "Yes!"
---
MUSEDMOOSE WANTS MY THOUGHTS ON THE FUTURE:
What's your guess for the Shadowlands sub-plot that leads into the next expansion?
Man, at this point, I honestly have no idea. Blizz manages to simultaneously create expansions that pick up threads we've already seen and that feel totally out of left field. Granted, Shadowlands was a bit more predictable than previous expansions, but still.
My guess? There's more to the Arbiter — who looks strangely like a Naaru — than we realize, and 10.0 will take us in a place where we fight forces of the Light. Calia may or may not be involved, and I'm not entirely sure how much control she'll have over her actions. I don't trust the way Saa'ra resurrected her, and I'm waiting to find out she's some sort of sleeper agent, waiting to be activated.
Side note: I just finished editing Red's piece on this, though, so my view may be colored a bit by that…
---
CORY (YES, OUR WRITER CORY) EXCLAIMS:
That's not a question, but I do love Toenail. I still think the swamp Murloc is cooler, but I give Blizz props for still managing to create all-around weirdo creations like Toenail.
---
SPENCER MORGAN CLOSES US OUT WITH SOME MITCH:
Q4tQ: how does one live the "Mitch life"?
Q4tMitch: would you recommend the "Mitch life"?
Stay up too late, don't get enough done during the day, and always wish you had more free time. And if we're picking lives, definitely go for someone who's rich and lives on a private island or something. Mitch life isn't bad by any means, but it's far from the best life out there.
And on that fun note, we're done! Please excuse me while I count down the days until Halloween. Also please leave Liz questions.
Toodles!